The Latest
Updated 5:54 p.m.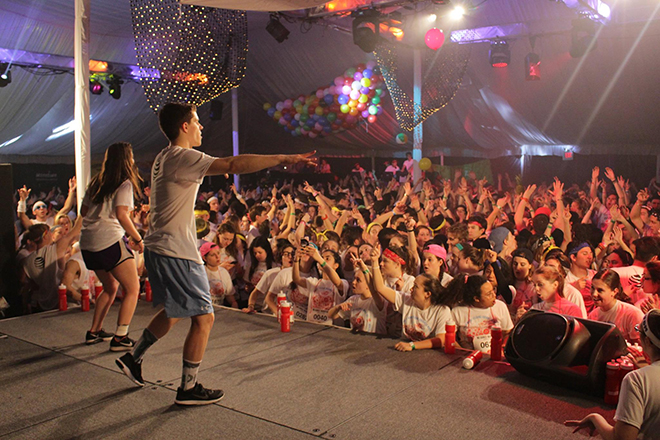 With a grand total of $1,202,216 raised, DM surpassed its total for last year, in the process giving $920,057 to DM's primary benificiary, Blessings in a Backpack. While the physical pain and bodily exhaustion may linger into reading week, we've got the highlights of NBN's 30-hour coverage to remember the high points of DM 2016.
NUDM 2016 raises $1.2 million for beneficiaries: Dance Marathon again demonstrated it's effectiveness as the largest student-run philanthropy in America. Bringing in more than a million dollars, dancers closed Block 10 knowing their dancing made an impact.
Sex or Shower recap: You guessed it: NBN asked DM dancers whether they'd rather have sex or shower throughout all 30 hours. Check out our recap for detailed analysis.
DM haikus: It takes rare skill to command the mental prowess to write a haiku for all 10 DM blocks. Yet that's ...
Time Until DM Ends
Yas [dancing] queen! Congratulations, DM 2016 is over!
Photos From The Dancefloor
Overhear something hilarious in the tent? Tweet at @nbn_overheard with the hashtag #overheardatDM.
Tweet your photos to @nbn_tweets or email them to editor@northbynorthwestern.com.
Haikus by Will Fischer
A dancer sends in a haiku each block; we watch his ability to speak coherently deteriorate.
Block 1
It's really sweaty
How are there nine more of these
Tell mom I love her

Block 2
Sweat rains from ceiling
No one has died yet I think
I'm optimistic?

Block 3
Body is failing
Must be a way to escape
I despise standing

Block 4
Interminable
There's still a fucking day left
How will I survive

Block 5
I am sleep dancing
This is called insanity
Free Bobby Shmurda

Block 6
I think it's daytime
I have no concept of time
Refrigerator

Block 7
Rejuvenation
80s theme did it for me
I should survive now

Block 8
Really exhausted
Sandstorm may be illegal
I can see the light

Block 9
Strangely energized
Did we really make it here?
Smells like sweat and farts

Block 10
Amazing event
I may never stand again
But it was worth it

The Wall
DM Blocks
Block 1: Baby Got Back(pack) (7 p.m. - 10 p.m.) Block 2: Dance Memeathon (10 p.m. - 1 a.m.) Block 3: Middle School Dance (1 a.m. - 4 a.m.) Block 4: Skype Interview (4 a.m. - 7 a.m.) Block 5: Star Wars: the Block Awakens (7 a.m. - 10 a.m.) Block 6: What Team? Wildcats! (10 a.m. - 1 p.m.) Block 7: 80's Workout Video (1 p.m. - 4 p.m.) Block 8: Set Fire to the Rainbow (4 p.m. - 7 p.m.) Block 9: Destination Anywhere (7 p.m. - 10 p.m.) Block 10: This Is What Feeding Dreams is Made Of (10 p.m. - 1 a.m.)
What's Playing At DM