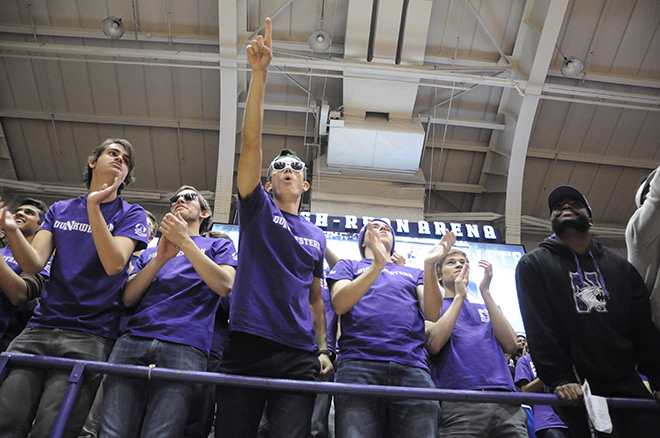 Don't feel bad if you're not already an expert on all things Northwestern women's basketball.
For much of their history, the ladies have been slightly more successful on the hardwood than the men. But that all changed last season, as head coach Joe McKeown led the 'Cats to their first NCAA tournament appearance in 18 years. Note: it was a really big deal.
The 2015-2016 campaign looks to be even more promising for the Wildcats, with Northwestern beginning the season ranked No. 19 in the country. In case you're not already onboard the NU hype train, we've got everything you need to know about Northwestern's women's basketball team before the season tips off.
1) This team could absolutely win the B1G
But it won't be easy, with Maryland and Ohio State presenting the biggest obstacles to a Northwestern championship run.
2)Joe McKeown is one of the best coaches in college basketball
He reached 600 career wins last season and finished a seven-year rebuilding job by leading Northwestern to the NCAA Tournament. After coaching at George Washington for 19 years (and making 15 NCAA tournament appearances), McKeown headed to Evanston, where he's turned the Wildcats into a legitimate B1G contender.
3) This team may not lose a non-conference game…
They only dropped one last year (losing 88-75 on the road to Arizona State), and with teams like Alcorn State and UW-Milwaukee on the schedule, Joe McKeown's team has the talent to start the season 13-0.
4) ... if they can get by No. 22 North Carolina
The 'Cats biggest non-conference test will come during a trip to Chapel Hill for a matchup with UNC on Dec. 2. In the time it took Northwestern to get back to the NCAA tournament, the Tar Heels went to the Final Four twice. Playing a school where basketball is king, it's unclear if the 'Cats be able to grind out a victory on the road.
5)Northwestern returns its top four scorers from last season
Nia Coffey, Maggie Lyon, Christen Inman and Ashley Deary are all back from last year's 23-win team.
6) Maggie Lyon will take over at least one game this year
The senior sharpshooter will always be Northwestern's biggest threat to "go Xbox." She's got range all over the court (currently ranking third in school history with 189 career three-pointers) but also loves to get to the rim.
7) Nia Coffey is all Big Ten for a reason
After being named to the All-Big Ten team as a freshman, Coffey hasn't looked back during a historic career in Evanston. She's got a mix of strength and speed that makes her the fulcrum for Northwestern offense.
8) Ashley Deary has some of the quickest hands in college basketball
Watching Ashley Deary play defense is simply breathtaking. While constantly bodying up her defender, Deary manages to swipe at the ball without ever being called for a foul. She averaged over three steals a game last season and nabbed 10 in an exhibition game this season.
9) Senior Lauren Douglas could play a big role
Lauren Douglas has done it all in her time at Northwestern. In her freshman and sophomore seasons, Douglas was a starter for the Wildcats, receiving a Big Ten honorable mention as a sophomore. She was moved to the bench last season, where she still averaged over 20 minutes a game. It will be interesting to see what role Douglas takes on this year.
10) The 'Cats had plenty of crazy finishes last season…
We can start with the 2OT win over DePaul in November, but it doesn't get any more nuts than NU's victory over Michigan in Ann Arbor. The Wildcats trailed the entire game, until Coffey went coast-to-coast with five seconds left to give Northwestern a huge victory on the road.
11) ..but their season ended with a heartbreaker
Playing their first NCAA tournament game in almost two decades, seventh-seeded Northwestern traveled to Waco, Texas, for a first round matchup with tenth-seeded Arkansas. After the Razorbacks took a one-point lead with 14 seconds left, Coffey managed to collect a rebound and run the length of the floor. With time running out, she got off the exact same shot she'd hit against Michigan to win… and it clanked off the front iron.
12) The team gained some serious popularity in 2015
Before the 2015 season, Northwestern only ran gameday shuttles to men's basketball games. But after the women got off to hot start last year, several students and media outlets on campus decided to change that. They petitioned the school to provide transportation for women's games, which the school agreed to do for "select" conference games. It's not an ideal solution, but hey, it's progress.
13)The 'Cats will have revenge in mind on Valentine's Day
When Northwestern battles No. 9 Maryland in a nationally-televised conference bout on Feb. 14, the 'Cats will be looking to avenge two losses to the Terrapins in 2015.
14)But their biggest conference test comes a month earlier
NU's first real opportunity to turn some heads in the B1G will be when No. 6 Ohio State comes to Welsh-Ryan Arena. The Buckeyes are conference favorites, but NU only got one shot at Ohio State last season.
15) Three different continents are represented on the roster
Joe McKeown's team will have an international flair in 2016, with Israeli point guard Nof Kedem joined by Nigerian forward Pallas Kunaiyi-Akpanah.
16) There's a new assistant coach
After Allison Guth left Evanston to become the next head coach at Yale, McKeown added Shauna Green to his staff. Green helped lead Dayton to their sixth-consecutive NCAA tournament appearance last season.
17) When it's packed, Welsh-Ryan is a tough place for any team to win
The 'Cats went 12-4 at home last season. A New York Timespoll found that visiting teams had the second-lowest free throw percentage in the country when they traveled to Evanston (for men's games), so when students show up, it can give the 'Cats a real home-court advantage.
18) This team's potential is limitless
Northwestern returns all their star players from last season, making this arguably the strongest women's basketball team in school history. The 'Cats will say goodbye to senior leaders Maggie Lyon and Lauren Douglas next year, meaning they'll want to make this a special season.
19) Anything less than another NCAA tournament appearance in 2016 would be a disappointment
The 'Cats have the talent to go dancing this season, but will also have to deal with expectations and their highest AP ranking to start a season in years.
It's shaping up to be an unforgettable season at Welsh-Ryan Arena.