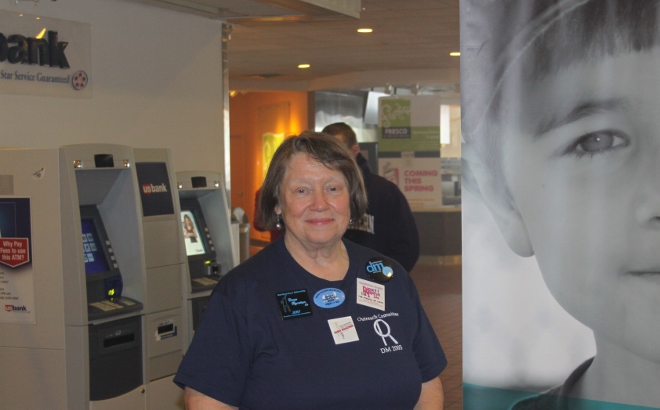 Sarah Schastok, president and CEO of the Evanston Community Foundation spoke with NBN about how DM benefits the Evanston community and how they're making a presence throughout all 30 hours.
What should dancers know about the ECF?
Just as Team Joseph has a passion about Duchenne's, we have a passion too. We really believe in Evanston, both the strength of the individuals and the power of the community. We think that with all of this we can make a difference in the lives in our community. There are so many people who are afflicted by illness or by poverty or homelessness, or just by a lack of hope. We are trying to make this Evanston world a better place.
How does the DM donation help the Evanston community?
What's really wonderful about what Dance Marathon does is that the money that comes to us is unrestricted. It's not like they say "you can only make grants if they have to do with A or if they have to do with X and the co-chairs, Anna and Josh, will be part of the grants committee. They have submitted their ratings for the proposals already, they did that last week. And whatever the committee decides is the best way to improve Evanston this year is what those moneys will go for. That's really generous.
Are there any special plans for this year?
What this donation will do really depends on what we get and what the committee thinks the best things are. Apart from that, we have a very major initiative. We're starting our eighth year of working for a more level playing field of all economic backgrounds in Evanston. Looking at children from zero to three and then from three to five, what's the best way to level the playing field and help them be ready for kindergarten and be better kindergarteners?
How have you and the Foundation made a presence this weekend?
We have been scurrying around behind the scenes to help with such things as breakfast food donation this year and helping DM to get permission for canning in Glenview and all sorts of things. It was my pleasure last night to introduce to Northwestern students the man who needs no introduction, Burgie Howard, who sits on our board, to give the blast-off good wishes on behalf of ECF. One of our grantees, Connections for the Homeless was here at 10:35 pm to make a presentation.
Imagine you're one of the dancers in the tent. We're more than halfway done and you're starting to get tired. What's the song you would want to hear to get you pumped up and keep you motivated?
You're asking someone that has a repertoire of zero songs. I know every year, and I've been at DM for many years, the song "Let's Get It Started" is lively and gets people going. I swore last night that I would not forget the first song that was played and now I can't remember.
I really enjoy the last hour every year. It feels like the whole place is just moving as one and singing at the top of their lungs. After 30 hours, it's just so exciting and motivational.