We sat down with Productions Co-chairs Lizzie Kreitman and Andrew Sonta. Here's what they had to say in between running the lights, sound and action of DM.
What has been the best part of DM so far?
AS: Sunrise. It's a low-key moment, but it also showcases the best part of what our committee does. It's just amazing, with great songs that everyone sings along to.
LK: Mine is probably all the speeches that we've had so far. We're just so lucky to have so many families that have unique perspectives but so much passion for Starlight.
What's the best thing about productions?
AS: What's cool about productions is that we work longer than any other committee. We're here all week before Dance Marathon starts, and then we're up through Dance Marathon, and then we stay at DM a few hours after to strike, sleep for a few hours, get up in the morning to finish load out. It's a lot of hours, but everyone is so dedicated to making the experience of being in the tent as memorable and impactful as it can be.
LK: Everybody on the committee has such incredible specialized skills. And we have some skills, but we don't know anything about lighting really, and we don't know about video monitors and sound systems and we have all these kids on our committee who are our peers, who are younger than us, who blow our minds every day. It's amazing.
If you had to say a legacy that you've left on productions, what do you think that would be?
LK: Probably bringing back the run-around, which is something we had our freshman year. We worked really hard to make sure that everything was cleared for it, and I think that was a really cool thing we got to do.
AS: I think this year, Lizzie and I have focused a lot on talking about the beneficiaries – past co-chairs have obviously done that, but I think we really stressed that this year. We did a lift up video with a hospital, and I think things like that show how we've been taking it a step further.
What's your favorite dance move?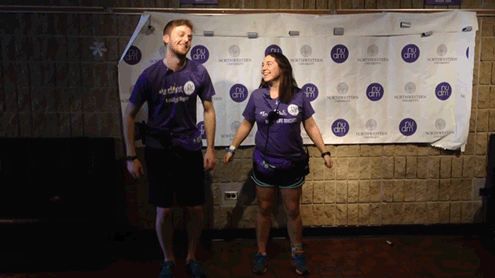 This interview has been edited for length and clarity.