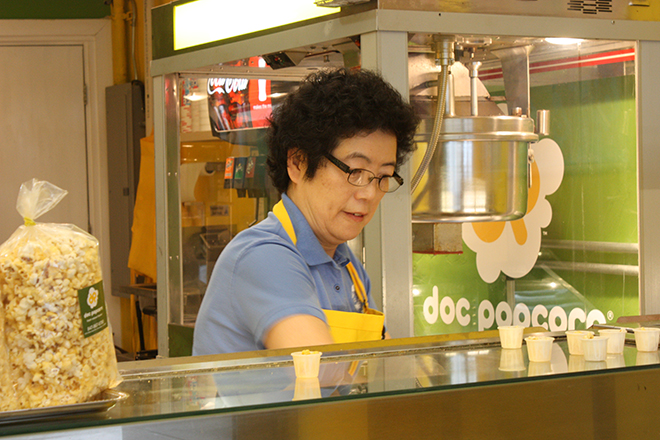 A new popcorn shop with health in mind opened up in Evanston just before Christmas. Doc Popcorn, located on Sherman Avenue, offers seven different flavors of entirely gluten-free popcorn made with natural ingredients. NBN visited with owner Lily Chen to learn a little bit more about the store.
What made you decide to open a Doc Popcorn?
Because of the healthy concept, I went into one of their locations, and it struck me that there weren't many healthy snacks around, especially in the mall with all the junk food. I tasted [Doc Popcorn] and I loved it. Every store is individually owned, so I bought three franchise stores. I've opened up two, including Evanston, so I am looking for a third one after this one settles down a bit.
How do you make popcorn healthy?
If we use butter, we use real butter. And cheese, we use real cheese. All the ingredients are completely natural. Everything is freshly popped, every day. Nothing is older than one hour … You can smell that I just finished popping the triple white cheddar.
How has business at Doc Popcorn been going so far?
We've had a very good response. I've had a lot of repeat customers, including students. Once they taste it, the can't stop coming back, and then their friends too, because they tell their friends. Friday night is usually the busiest because a lot of people go to movies, or watch a movie at home, and they want a bag of popcorn.
What is the most popular flavor?
The most popular flavor is the Chicago Mix, that's cheddar cheese with caramel. It's our number one seller. And the second one is actually jalapeño. My favorite is the jalapeño and the triple white cheddar mixed – I have told different customers to try it, and they have all liked it.
What do you want people to know about this Doc Popcorn?

We do a lot of bulk sales, so if a student is having a party, we give a discount. If you tell us when you are coming, we pop right before you are here so everything will be freshly popped. And also, we do the WildCARD Advantage discount.