Imagine if wind and solar energy could power nations. If electric cars can dominate our roads. If, God forbid, an iPhone 5 battery actually lasts through an entire Saturday night.
SiNode Systems, an energy startup led by CEO and Northwestern alumnus, Samir Mayekar (Kellogg '13), is creating that reality. SiNode began at Northwestern, but is now pushing the boundaries of battery technology in the commercial market.
SiNode was founded in 2012, when Mayekar and his co-founders took a course together through NUVention, a graduate program that joins Kellogg and McCormick students with the resources they need to develop new technologies. Mayekar and the rest of the SiNode team recognized problems with current energy technologies. The energy capacity of batteries increases by a few percent every year while the processing power of semiconductors such as LEDs and circuit boards doubles every 18 to 24 months.
"Battery technologies have not improved at the rate that they need to to match the way that we use everything in a more mobile fashion," said Mayekar. "It's causing a lot of constraints right now, first in the smartphone world and all the way up to vehicles."
The part of the battery that holds the charge is typically made of cheap and durable graphite, but it isn't the best option in terms of capacity. Energy-dense silicon can hold almost ten times as much charge as graphite can, allowing for more efficient, lighter, longer-lasting batteries.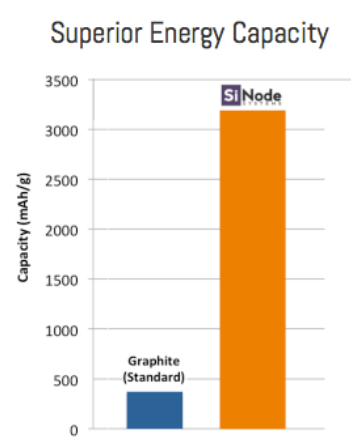 The problem? Silicon expands when the battery loses its charge, causing the silicon to swell and the battery to shatter after only a few uses. This property, known as pulverization, obviously doesn't bode well for battery durability.
This is where SiNode's innovation comes in. Its prototype incorporates layers of ultra-thin graphene, to form an atoms-thick, single layer of graphite that happens to be one of the best conductors known to man. This prevents the silicon from expanding and improves the efficiency of the battery in one fell swoop.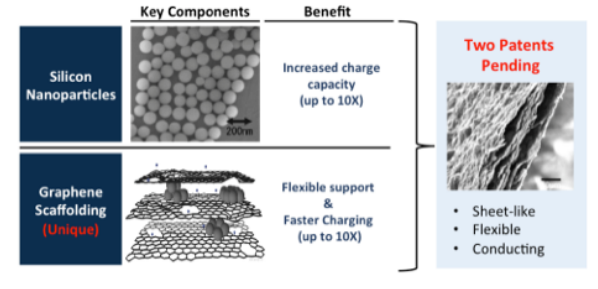 Though SiNode' prototypes are designed to work in smartphones and wearable devices, the technology has implications for a new energy landscape. According to Christopher Wolverton, Professor of Material Science and Engineering, batteries have the potential to change the way we think about transportation.
"An application that has gathered a lot of attention is in the electrification of vehicles, either in all-electric vehicles or in hybrid vehicles," said Wolverton. "A real breakthrough in battery technology could really facilitate a larger and faster switch to these types of partially electric vehicles."
As battery technology becomes more efficient, it might even be possible to reduce our dependence on fossil fuels and rely on two of the most well-known renewable energy sources: wind and solar.
"Renewable energy sources like wind and solar are typically intermittent," said Wolverton. "Advanced batteries could help smooth out some of these intermittent periods, and help us better utilize energy from these renewable sources."
SiNode's prototypes have been patented nationally and internationally, and it has signed joint development agreements with unnamed customers. While Mayekar couldn't say exactly who they are working with, he noted that the best customers for SiNode are in the battery production industry for wearable devices and specialty smart phones, like those used for government work.
As the company continues to gain accolades – they won both the prestigious Rice Business Competition and the National Department of Energy Clean Energy Business Plan Competition in 2013 - Mayekar says there is "no normal day" in their increasingly busy work schedule.
"For the most part we have set technical milestones and technical goals, and week to week we shoot towards those goals. Every day we check in the morning, and then everyone goes in their separate direction," he said. "Delegation is pretty big on our team – we have a small team so everyone is responsible for something."
So maybe SiNode isn't powering nations yet, but it might be able to let you send just one more Snapchat.