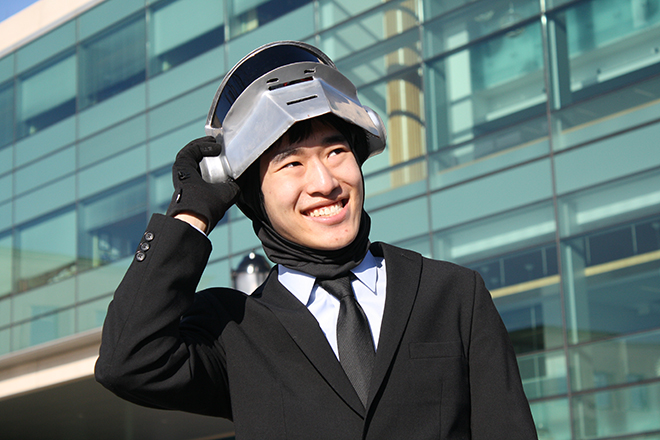 Joshua Kim adjusts his backwards baseball cap and smiles idly across the table. When he begins talking about the origins of his interest in prop making, he smiles even more, and it seems that from there, he never quite stops.
As the founder, Webmaster, designer, spokesperson and physical labor behind Kimer Props, Kim, currently a Weinberg sophomore majoring in Biology, is very visibly enthusiastic about his projects. From a sleek Daft Punk helmet (pictured above) to a lifelike costume of No Face from the beloved Miyazaki film Spirited Away, Kim's one-man prop design company Kimer Props showcases replicas from a wide variety of fantasy worlds, crafted and constructed by Kim himself.
What started as a doodle of a tech-y helmet on the back of a high school Biology final turned into what Kim calls his "extreme hobby". And extreme it is – just about 10 minutes into the interview, he pulls up a library of photos and animatedly launches off into the technical process, explaining how intricate many of the projects become.
Each project requires specialty materials, tools, skills, and, most importantly, time – a single plastic molding can take anywhere up to 24 hours to complete, and many projects are multi-faceted, mixing techniques and materials, which extends them over the course of months and even years. However, when he shows me pictures of his final products, its clear that he savors every minute of it. Currently, he has been working on a detailed replica of the famous Iron Man suit for nearly 2 years, as well as a reproducible mold of the Elucidator sword from Sword Art Online, a popular manga/anime series.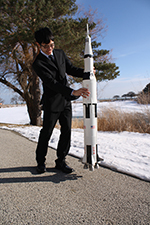 While he is eager to take commissions, the impetus for these and his past projects, Josh says, is mostly personal. He draws inspiration from characters or franchises that he enjoys; hence, many of his previous projects have become personal endeavors or gifts. Prop making, for him, is foremost something that brings him and those around him enjoyment, whether that be in costuming or simply as art for viewing.
"Everyone wants things in the virtual world – you always want the new item or the new weapon. If I can bring that into real life, that's a really cool way of bringing someone's dreams to reality," Kim said.
Unfortunately for Kimer Props, being a fulltime student at Northwestern doesn't allow for a particularly flexible schedule, so most of his props are still individual projects done on his own time. He does note, however, that the community at Northwestern has been continually supportive of his art.
"People [at Northwestern] are interested in what I do and are more inclined to ask about how I do it," Kim said. "People come up to me and ask 'What are you doing?', 'Why are you doing this?', 'What are you going to make next?'"
Being able to share that creativity and inquisitiveness with the rest of the students at Northwestern makes Kimer Props a uniquely innovative venture for Kim. Still, the joy for him personally is in the process. Kim is entirely self-taught, crediting his extensive design knowledge to how-to's, Internet forums, and walkthroughs written by fellow prop makers in the online community.
"If I find something I'm really into, I tend to read a whole bunch about it", says Kim, and he certainly isn't lying – his Internet browser is littered with tabs about different material properties and techniques for molding.
Learning on his own has allowed Kim to become more confident in his problem-solving skills, making him capable of taking on virtually any project. "That's the great thing about prop work – you can start out really simple by repainting Nerf guns and work up to building from scratch".
Kim is pretty far along in the learning process, and he looks forward to gaining more prop-making expertise down the road. In the future, he hopes to expand the business, potentially to produce instructive materials like e-books or prop kits to encourage others to learn prop making. He lists off his wishlist of potential projects, names his ideas he has for the company, and even talks about his end goal of improving the hospital experience for children as a pediatric surgeon.
"I want to be able to bring my stuff to businesses or hospitals," Kim said. "Imagine if your doctor showed up in an Iron Man suit or with a rocket."
Kim is undoubtedly forward thinking, and his ambition and optimism are infectious. In short, Kim dreams big, for himself and for Kimer Props. As he explains the motivations behind each of his projects, he points at his replica of a Legend of Zelda shield and he simply exclaims, "I just want to make it - let's do it!"
And, in a way, that summarizes Joshua Kim's approach to his prop making – an open mind, unadulterated excitement, and an aspiration to make the fictional into something real.
You can see Joshua Kim's complete portfolio as well as business contact information on his website kimerprops.com or at his Facebook page: facebook.com/kimerprops.