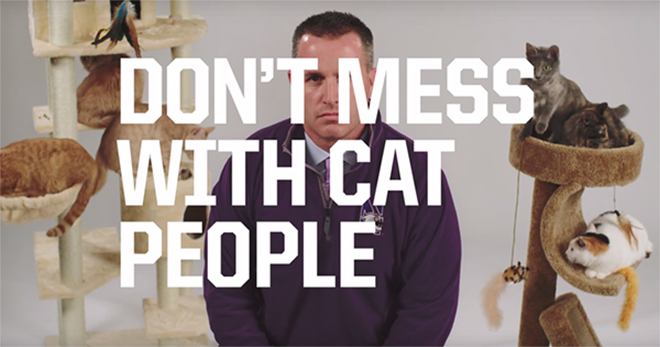 If you're reading this, it means you've made it. You're about to become a freshman at Northwestern University.
Congratulations, nerds!
But before you meet your roommate, hit up those Wildcat Welcome parties and actually start going to class, there's something we need to talk about. College football season gets underway this week and that means you've got to be ready to support your new team. Because like it or not, you're a Northwestern fan now.
You won't actually be on campus for the first game, but this means you should already be a die-hard Wildcat by the time you get to Evanston. And in case you're not already familiar with the ecstasy, agony, heroics and heartbreak of being a Northwestern Wildcats fan, NBN Sports answered all your burning questions about the upcoming season before you even had to ask them.
Q: So, I guess I'm a Northwestern fan now. Are we any good?
A: Well, that really depends on whom you ask. Anyone over the age of 50 will probably tell you the Wildcats are doing great right now, because they actually win games sometimes. Northwestern didn't do a lot of that during the '70s and '80s. But anyone under the age of 30 will tell you the 'Cats are struggling, because they're not competing for Big Ten Championships like they did in the '90s.
Q: Got it, but like right now, are we any good?
A: ¯\_(ツ)_/¯
Q: What?
A: Northwestern went 5-7 last year, which obviously isn't very good. But the 2014 season was just a really strange one for the Wildcats. Mixed in with some horrific losses to California, Iowa and Illinois, the 'Cats reeled off huge wins over No. 17 Wisconsin and No. 18 Notre Dame. But it was still a second-straight losing season for Northwestern, so there's not much national hype around the team coming into 2015.
Q: But wait, didn't we host College GameDay a few years ago?
A: That's true! ESPN came to Evanston in 2013 for a matchup between the No. 4 Ohio State Buckeyes and No. 16 Northwestern Wildcats. It was incredible (so I've heard), but it also proved to be a really depressing turning point for the football program. Northwestern was winning in the fourth quarter that night, but went on to lose the game 40-30. Since then, Ohio State has become one of the best teams in college football, while the Wildcats have gone just 6-14.
Q: Jeez, that's pretty terrible. Did they try firing the coach?
A: Get out.
Q: Wait, what did I say?
A: Pat Fitzgerald is the head coach of the Northwestern Wildcats and has been for the past decade. Somehow, he's only 40. But the man known to many simply as "Fitz" isn't being shown the door anytime soon.
First off, he's one of the greatest players in school history. As a linebacker during Northwestern's Rose Bowl season in 1995, Fitz averaged an incredible 13 tackles per game and was named a Consensus All-American, despite breaking his leg late in the season. After joining the coaching ranks, Fitzgerald was an assistant at Northwestern when he became the youngest head coach in school history after the death of Randy Walker. Ten years and five bowl appearances later, Fitz has become the face of the Northwestern football program and recently signed a contract extension to keep him in Evanston through 2020.
While he's been linked to high-profile jobs at schools like Notre Dame, Texas and USC, Fitz has stayed loyal to his alma mater. He's beloved around campus and you can probably expect him to be here during your four years at Northwestern.
Q: Okay so Fitz is a big deal. But who are our best players?
A: I'm glad you asked! Northwestern is going to be a pretty young team in 2015, relying on strong recruiting classes from 2013 and 2014 to carry the load and hopefully get this team back to a bowl game.
In the backfield you've got probably the best player on the team, sophomore running back Justin Jackson. He burst onto the scene last season as a true freshman, running for 1,187 yards and scoring 10 touchdowns. Jackson was a guy who wasn't even guaranteed a starting spot at the beginning of the season, yet went on to become one of the best running backs in the Big Ten. And yes, he ran for more yards than Ezekiel Elliot if your friend from Ohio State wants to know.
On defense, the 'Cats will rely on a couple redshirt sophomores who broke out last season, with Anthony Walker at linebacker and Godwin Igwebuike at safety expected to make big contributions. Both these guys came out of nowhere in 2014 and stepped up in a couple huge Northwestern wins (Walker against Penn State and Igwebuike against Wisconsin). You can also expect senior captains Traveon Henry and Deonte Gibson to come up with some big plays on defense.
Q: How about the quarterback? I think I saw something about him last week.
A: There's a good chance you did, because Pat Fitzgerald finally announced who the starting quarterback was going to be a couple days ago.
Last year, senior Trevor Siemian was the man under center for Northwestern. He didn't really blow anybody away with his performance, but played well enough to get drafted by the Denver Broncos, where he's currently being teased about his hair and u.northwestern email by Peyton Manning. I honestly can't believe I just wrote that sentence.
In any case, it's going to be interesting to see how difficult it is for the Wildcats to replace him this season.
Redshirt freshman Clayton Thorson will be the first to try after he beat out senior Zack Oliver and redshirt sophomore Matt Alviti for the starting job over the summer. A lot of people are excited about Thorson because he looks set to be a four-year starter for Northwestern if he can impress in 2015. That could give him a chance to develop into one of the most experienced quarterbacks in the Big Ten.
Q: Do we have any cool traditions? I saw some listed on Wikipedia.
A: The person who wrote the Northwestern football articles on Wikipedia is either a huge Wildcat fan or someone who doesn't know anything about college football. That might explain why there's a lengthy article about the Northwestern vs. Notre Dame football rivalry, when the 'Cats have played them twice in the last 20 years (and won both times). But here are a few real ones:
Laking the Posts: something we used to do after big wins. This involved tearing down the goal posts and chucking them into Lake Michigan. For several reasons (mainly because goal posts are expensive), this is no longer done.
The Purple Clock: They're supposed to light the clock tower over on South campus purple after a big football win. But now they do it whenever a Northwestern team wins. We have 19 varsity sports teams. The clock is usually purple.
Push-ups: Our cheerleaders (and mascot, Willy the Wildcat) do this whenever the 'Cats score…just like at every other school.
Keys at Kickoff: Okay this is the big one. Before kickoff at every game, Northwestern students take out their keys and jingle them. This is meant to symbolize that no matter how the game turns out, the students at the other school will be parking our cars one day. Sure it's super elitist and is something your Mom will probably hate, but it's a tradition that hails from back in the day when Northwestern rarely won and we needed a little confidence boost. Also, you'll probably have to use your dorm key because most Northwestern students don't have cars. Seriously, parking on campus is way too expensive.
Put Your Hands Up in the Air: Ugh. You'll probably be able to figure this one out yourself.
Q: Do we have any rivals?
A: Northwestern and Illinois have been trying to manufacture a rivalry for a while now, even creating a trophy that's literally a bronze Abraham Lincoln hat. While the whole thing feels kind of forced, this could definitely become a bigger game in the future. The teams will be playing at Soldier Field in Chicago this year, which is a good first step in making this rivalry a little more legitimate. Plus, Illinois ruined NU's chance to go to a bowl game last season, so you've already got plenty of reasons not to like the Illini.
Q: Okay, so what can I expect realistically expect from our football team this season?
A: That's the best part, because I actually have no idea. Northwestern football is a lot of things, but dull is never one of them. They get to play some of college football's elite programs and, more often than not, actually beat them (Penn State, Wisconsin and Notre Dame know what I'm talking about). If you've ever liked being the underdog, Northwestern football is for you. The 'Cats will break your heart, but they'll also make you wonder how you ended up on the field with thousands of students celebrating a big win.
It's not easy being a Northwestern fan, but it's worth it. Go U, Northwestern!
Q: Why you'd just take your keys out of your pocket?
A: Sorry…