Recently, the first floor of the Henry Crown Sports Pavilion has been more crowded than ever, and it's not just because more people are coming to shed that extra weight for the summer. Many are attracted to the newly opened Peeled Juice Bar. Although the initial promise was to open the juice bar on April 21, the delay didn't dampen the enthusiasm.
If you haven't visited the Peeled Juice Bar at downtown Evanston before and are at a loss when it comes to ordering, fret not. NBN is here to help you order just like a nutritionist.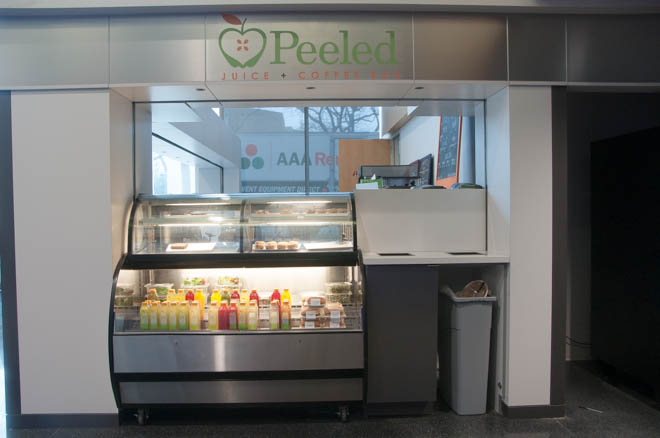 For a caffeine boost to start the day:
Peeled Juice Bar at HCSP offers a wide range of coffee drinks, from an espresso ($1.50) to a cappuccino ($3.25) to a café au lait ($1.95). Caffeine not only refreshes your mornings, but it can actually enhance performance and reduce muscle pain during workouts, according to research done by the International Journal of Sport Nutrition and Exercise Metabolism. According to Alex Perrin, who works at the HCSP Peeled Juice Bar, the bar will also start serving frozen coffee in the next few weeks, in case the approaching summer heat is turning people away from the hot brew.
For an energy boost before sweating:
According to the campus dietitian Karen Sechowski, "You don't necessarily need anything pre-workout depending on the time of day, and everyone is different." However, if you work out first thing in the morning or a few hours after your last meal, it might be a good idea to snack on a carbohydrate-heavy food to provide sustained energy for your body. Sechowski said she recommends smoothies before workouts, which are rich in carbs, fiber and many other nutrients.
Recommendations:
Peeled Juice Bar is famous for their açai bowls, which are basically thick smoothies covered with granola, fruit and other toppings. Açai berries, a "superfood" that originated in Brazil, are rich in antioxidants. In addition, all the açai bowls contain bananas, good sources of potassium and glucose. Other ingredients include berries and honey, which supply carbohydrates, fibers, vitamins and minerals.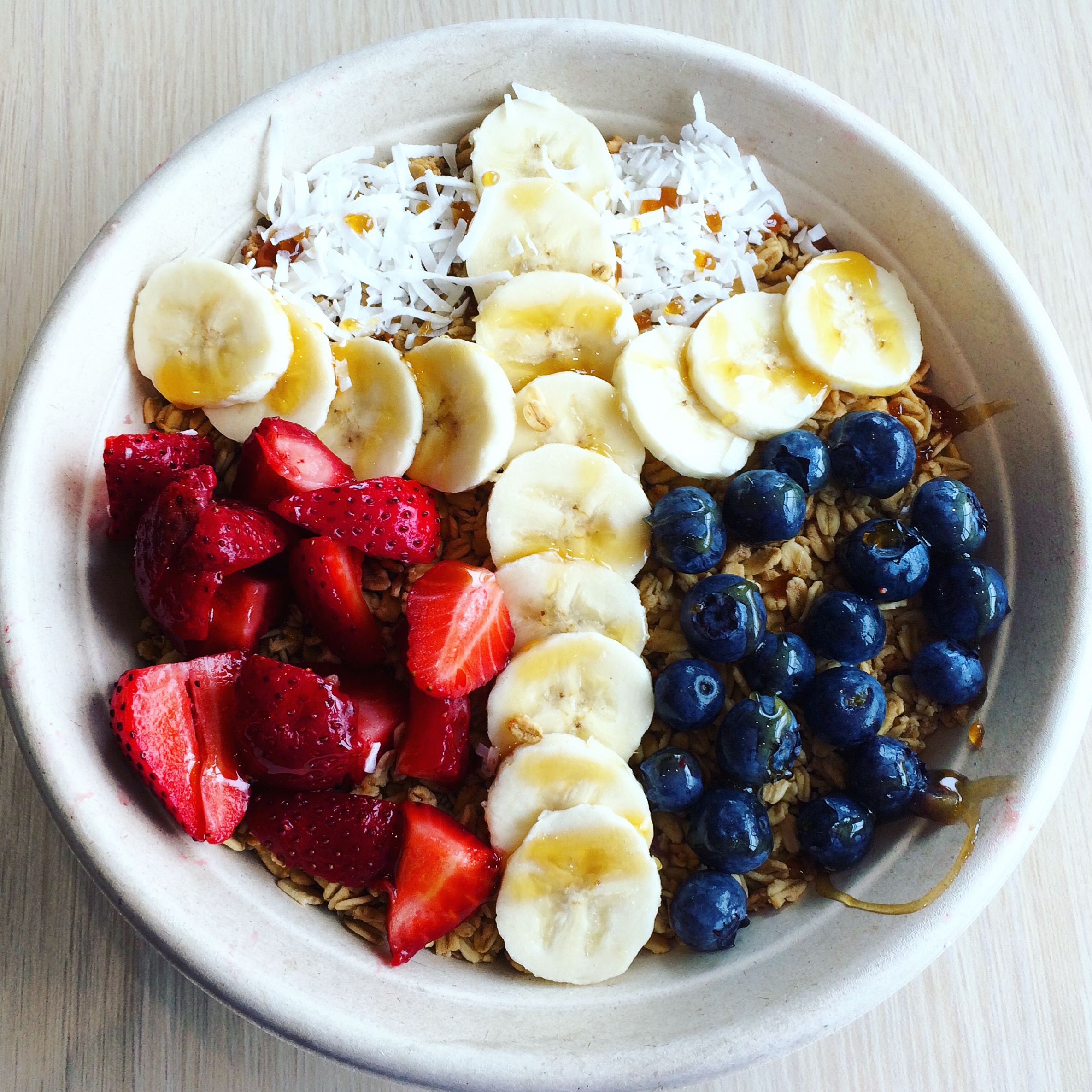 Anna Keane, a McCormick sophomore, said she ordered the Little Miss Sunshine açai bowl before her club swim meet. She said the basic combination of banana and tropical fruits is a good source of energy for swimming.
For people planning to build muscle, Workflow, Autobiography, All Systems Go! and Power Pack contain ingredients rich in calcium, such as cacao nibs and nut milk. Calcium helps with muscular contraction to improve your workout results.
"For those unfamiliar with Peeled Juice Bar, the I Love Life açai bowl is pretty good. It's really basic, so it's a great step-in if you are not used to it," Keane said.
Açai bowls are priced around $10, but Perrin said this price is completely reasonable for college students.
"They are so big that it's worth the price. You can split it into two meals, or share it with another friend, so it's around $5 for a proper meal," Perrin said.
Perrin added that all açai bowls are vegan. So far I Love Life and Little Miss Sunshine are the two best sellers at HCSP, she said.
For a quick post-workout energy replenish:
So now you've perspired and maybe even strained some muscles. This is a good time to replenish lost electrolytes and repair muscles. Juices and smoothies, which are priced between $6.50 and $7.50, can restore water loss after your sweaty workout and prevent cramps by supplying antioxidants and sodium.
Recommendations: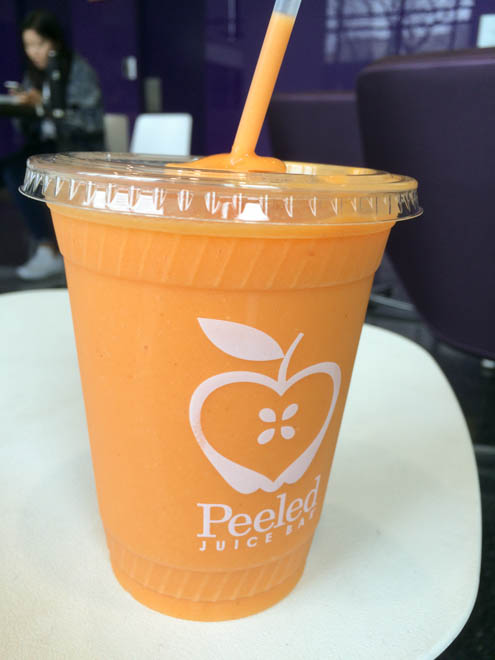 Perrin recommended Strong Like Bull, a smoothie subtly spiced with cinnamon and enriched with l-glutamine, an amino acid that helps to build muscle.
"I really like it after workouts personally, because the l-glutamine inside helps with joints and muscle tissue repair," Perrin said.
Or try Eco-Trip, a blend of banana, mango, goji berries and lime that is rich in antioxidants and vitamin C that helps reduce inflammation and replenish electrolytes.
Before the opening of Peeled Juice Bar, Keane said she would usually go to Evanston for a light snack before or after a workout. Otherwise, she would bring snacks from home or just wait until dinner. However, Keane said the new juice bar is a much more convenient way to get quick supplies of energy before or after a workout.
For something healthy yet tasty to treat yourself:
Almost everyone has been haunted by sudden cravings for guilty pleasure. But don't worry, it's definitely possible to be healthy and indulgent at the same time. Naturally sweetened smoothies are great substitutes for cookies or Coke.
Recommendations:
Instead of promising to take only one bite of a brownie but ending up gorging on a whole box of them, the smoothie Chocolate Factory is a guilt-free but equally satisfying option. Sweetened with bananas and agave, this smoothie satisfies chocolate cravings while supplying nutrients like protein from almond butter and vitamin E. Strawberry Letter is another healthy option, with fruit and agave nectar as sweeteners and a final touch of Madagascar vanilla to bring out the flavors.