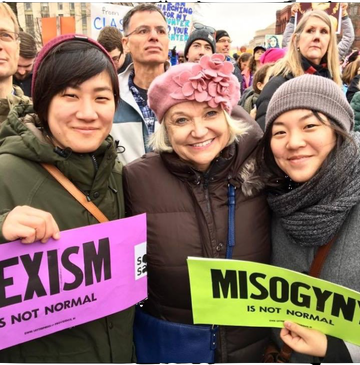 On Jan. 21, millions of people across the country came together to march in support of women's rights and against the Trump administration in one of the largest peaceful protests that the United States has ever seen. Even after the fact, the momentum from the March on Washington has not ceased to exist, and in fact, has led to ongoing conversation regarding what steps to take next.
Within the Northwestern community, many students chose to attend the March in Chicago to show their solidarity. Aside from student participation, a few Northwestern professors decided to travel to Washington D.C. to support the cause and march for their rights.
Cristina Traina, a professor in the department of Religious Studies, traveled to D.C. with a local activist group called "The Wine Bus for Change" that she sought out through mutual friends on Facebook.
"I'm a person whose children are old enough that I don't need to be at home for them, so I had the freedom to attend the march. I wanted to go because I thought that the travel time there and back would be important for thinking with other people from the area about what we wanted to do next, and what kind of ongoing activism we wanted to be involved in," Traina said. "So it was like a retreat on wheels, to think about what our next steps are going to be."
For creative writing professor Jeanne Herrick, the decision to fly to D.C. for the March was a simple one.
"When they first announced the March on Washington, I decided to go within a day or two and went ahead and bought a plane ticket. Not unlike a lot of people who were surprised and disappointed with the outcome of the election, I felt really 'flat' – like I didn't know what I could do about it. I'm still feeling like that to a degree, but I thought that attending the March was at least something I can do that's active," she said. "I'm old enough to remember the days before Roe V. Wade, and I have friends who suffered through those days in a variety of ways. Surely, I don't want us to go back there again."
Much like the March in Chicago, the women said the atmosphere in D.C. was peaceful and welcoming as hundreds of thousands of men, women and children donned knit pink "pussyhats" to show solidarity with those marching for women's rights.
According to Traina, however, the message of the March on Washington went beyond protesting for reproductive rights or against sexual assault.
"It was inspiring to see so many people from so many different backgrounds, of so many different ages coming together to put constructive energy behind important causes that affect our whole society," she said. "It was about the environment, it was about war, it was about policing and the African American community. It was about so many different issues, and yet there was great mutual support among all the people there for all of the causes."
The sheer congestion of people on Independence Avenue made it difficult for people to navigate the crowds and stay with their respective groups. By chance, Professor Herrick managed to meet up and march arm in arm with a former student and her sister – which for her, made the entire experience come full circle.
"I've been marching a long time, and for people of my generation who have lived through the 60s, I think we felt that with Obama's election, we had gotten over the hump. We felt that we had finally pushed that rock over the crest of the hill, and that we had done our job. With the 2016 election, I felt the rock rolling back down the hill and flattening us all. My next thought was, 'At my age, do I have the energy to get up and push that boulder back up that hill?' What I realized while marching with Hannah and her sister is that the torch is passed to the next generation, and I don't have to do it alone," she said. "It was very affirming for me to think that 'this fight doesn't end when I end, this fight doesn't end with my generation, and this fight will continue with the generations to follow."
The impact of the Women's Marches became quickly evident through social media posts comparing the turnout to that of Trump's inauguration. According to both professors who attended, however, the impact does not and should not stop with one major event.
"Those of us who have the freedom to do these things need to do it, because there are others who can't. Some people can go to the marches, some people can write letters, and others can make phone calls. No one should feel guilty that they weren't able to go to a place or do any particular thing; that's the message – just do your thing consistently," Traina said.
The level of political impact differs between student and professor. While professors have credentials and degrees they can put behind op-eds or letters to the editor, students have more time and energy that they can bring to these types of movements in an impactful manner.
"My impression is that this current generation isn't one that has been very involved politically … until now. Because now, you all can begin to see the widespread effects of this new administration and actually do something about it. For me, I'm realizing that it is all happening again, and it could be just as bad as it was before," Herrick said.
Overall, the Women's March on Washington proved to be a peaceful demonstration that brought people together, as opposed to tearing people apart, she said.
"Different marches have different feelings, and this one felt more joyous than anything else. Even though it was a protest, it wasn't angry so much as joyous in not being alone. I think we have a whole shitload of stuff that has yet to be done, and I think it's going to get much worse before it gets better. But to know that I'm not alone, and that there's a whole new generation with new energy coming along is very reassuring."