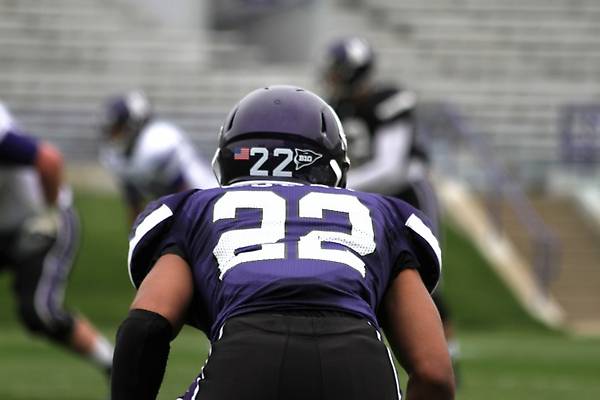 Northwestern's final spring football practice on Saturday was the last chance for players to make an impact on coaches' minds before summer workouts begin in June. Starting running backs Venric Mark and Mike Trumpy sat out the scrimmage portion of practice, giving second-unit players like junior Treyvon Green the opportunity to snag more reps than usual.
Though the highlight of the day might have been the dizzy bat race players participated in at the end of practice, head coach Pat Fitzgerald was happy with how his team has continued to get better with each session.
"I think we had some breakthroughs as late as Thursday and today," he said at the conclusion of practice. Fitzgerald reiterated it was good that players are learning their responsibilities before summer workouts start.
On a few counters and delayed handoffs, Green showed that he was learning those responsibilities. At, 5'10" and 215 lbs., Green has the prototypical size and strength for his position. The junior can beat the defense two ways: He can gain tough yards between the tackles on short down situations with his bruising body, as well as turn on the jets and elude linebackers with a swift spin move.
Green has strengthened his ability to ride the quarterback's handoff on the counters and read options. On one counter that was disguised as a stretch play to the right, he showed his ability to be quick in small spaces, cutting back up field for a first down.
After a fairly productive freshman season with 362 yards and four rushing touchdowns, Green digressed last year with a mere 37 yards from scrimmage. During a Friday practice in early August, Green sustained a tough but clean blow from safety Ibraheim Campbell.
Green was down for about 10 minutes, forcing the medical staff to stabilize the running back and send him to the emergency room. While tests were negative, Green missed a few days of practice.
"Trey[von]…battled back from [the injury]," Fitzgerald said. "What a great example of how to respond from adversity."
A combination of the injury and the emergence of Mark forced Green's playing time to shrink last year. The only real action he saw was during a blowout win against South Dakota State when Green ran for a career-high 33-yard touchdown run.
"[Green]'s incredibly humble, he works diligently hard," Fitzgerald said.
Looking forward, Green's work ethic and focus should help him see increased reps.
"We use those guys in a lot of different ways and our depth is as solid as we've had," Fitzgerald added. Wildcats fans should be hopeful that Fitz has some new ways to use players on offense next season.
Next year, Mark's talent won't be a secret anymore. Defensive coordinators are going to make Mark their number one priority next season, with teams constantly loading the side of the box Mark is lined up in. If Fitzgerald wants to see the same success in the running game as last year, it would bode well to use Mark as a decoy in some scenarios, freeing up room for running backs and slot receivers to make some plays on reverses and counters.
Though Green currently sits on the depth chart as the No. 3 back, the junior needs to be ready to step up when called upon. While Mark is incredibly dynamic, he has had difficulties staying healthy with injuries against both Boston College and Michigan last year.
Green still has some work to do, but if the junior can improve his blocking and blitz pickups, he should be able to give senior running back Trumpy a run for his money for the second spot on the depth chart.
"We've got solid depth there and great competition," Fitzgerald concluded. "It's gonna be a lot of fun to see it unfold."