They step in front of a fingerprint-smudged wall mirror beneath a coffee-brown curtain. A film of gray dust covers the chalkboard on the white-tile wall behind them, and long bulbs dangle from the ceiling like warehouse lighting. Beige bulletin boards hang on two of the walls, though it seems like nobody's posted a memo in months. Everything about the South Rehearsal Room in the Theater and Interpretation Center is drab and dull tonight, except for the floor, which pops and cracks with the strutting, stomping and swaggering of nine young women. And they chant.
"IT'S A SERIOUS MATTER – A VERY SERIOUS MATTER. IT'S A SERIOUS MATTER TO BE AN AKA."
Eleven sisters comprise the "Fly" Gamma Chi chapter of Alpha Kappa Alpha Sorority. Nine of them are current students on campus, one studies abroad in South Africa, one is home in Georgia and they all step.
Their high-heels pound the paneling in synchronized rhythm while their arms coil and release, then bend sharply above their heads, every sashay controlled, every flick of the wrist intentional. Their chants resound with pride – "CONCEITED? YEAH, THAT'S WHAT THEY SAY. BUT WHEN YOU'RE NUMBER ONE, YOU CAN ACT THAT WAY." They slap themselves across the chests and clap under their legs, stomping and sliding and tapping and spinning and rolling until –
"Stop!" Weinberg senior and AKA step-master Raven Smith shouts. "Somebody went early! Y'all hear that? It went ba-doom, boom. Ba-doom, boom."
An untrained ear would have missed the hiccup, but Smith, who has spent years developing her sense of rhythm, wants a flawless tempo. Any glitch breaks the simultaneity of the steppers' movements, and stepping without synchronicity doesn't fly.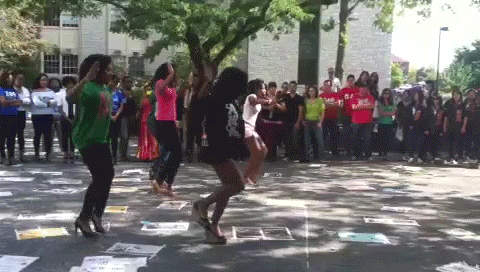 "I used to be a cheerleader so I'm used to performing in front of people," McCormick senior Savannah Enders said. "But I feel like with stepping, you can see mistakes better, and not only can you see them, but you can hear them too."
From its origins in American black fraternities in the '40s, stepping has always depended on precision, according to a 1989 Wall Street Journal article by Asra Nomani. Pledges would march like soldiers around their campus in a demonstration designed to emphasize the unity of the group over the individuality of each member.
In the '60s, the demonstration became a dance, and it incorporated political and spiritual flavors inspired by the Civil Rights Movement, Nomani wrote, before becoming more forceful and aggressive in the '80s. "Cracking," which refers to the assertive wordplay that often accompanies the dance, developed as a popular aspect of this trend. The verbal antagonism continues today as a form of entertaining showmanship and practical self-identification, according to Walter Kimbrough, author of Black Greek 101: The Culture, Customs and Challenges of Black Fraternities and Sororities.
The contemporary style is crisp, prideful and vigorous, and self-assertion remains the standard. The dance retains aspects of each of those decades, fusing the influences of West African drum music, military marches, the Civil Rights Movement and, more recently, Beyoncé.
"When I want it big, I ask, 'What would Beyoncé do?'" Smith said. Last fall, she choreographed a stroll to "Grown Woman" for the 2013 Yardshow at the Rock, an annual showcase event where Multicultural Greek Council and National Pan-Hellenic Council organizations represent themselves in front of one another and advertise themselves to potential pledges.
"I would just tell them, 'Everyone, channel your Beyoncé,'" Smith said. "'Everyone, stop. Everyone, close your eyes. You are Beyoncé. I want to see fierce. I want to see fabulous.'"
According to Enders, AKA usually participates in one or two annual showcase events like Northwestern's Greek Scene, held in Ryan Auditorium in Tech. Most of their competitions happen in the Chicago area, though they support AKA chapters in step competitions throughout the nation. In 2010, an AKA chapter at Indiana University was co-winner of the Sprite Step Off in Atlanta, one of the largest step competitions in the nation.
Success at these competitions demands a balance of intensity and sassiness, SESP junior Ceara Jemison said, from stomping and slapping to achieving what Smith called "the roll," wherein steppers roll their torsos and sit in an imaginary chair.
"Raven does a really good job of putting girly moves between the steps," Jemison said. "So she'll have us do clap – stomp – kick and then roll – body – roll and then do something else cute with it."
But the spirit of the dance is embedded in a more powerful sense of proclamation.
"When you take the stage, you want to command the attention of everyone that's around," Smith said. "You want everyone to stop and say, 'Who are these people? What are they talking about?' Along with that, I tell the girls all the time, 'We're talking major smack. If you get up there and you say all this stuff, you need to deliver.'"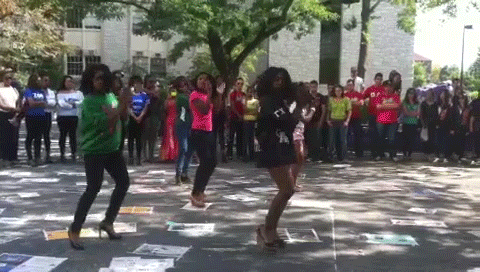 Before she goes on stage, Jemison tells herself, "I'm going out here, and I'm going to kill it. I'm going to be very strong, but I'm going to be Beyoncé while I do it."
The style demands boldness and self-assertion, but the team has struggled to reserve their own formal practice space in the Theater and Interpretation Center. They've rarely been able to coordinate their own schedules before other student groups book the spaces. Furthermore, TI classes and TI student theater groups take precedent over other student theater and dance groups like AKA, according to Jim Davis, who manages space reservation in the center.
"We have a huge lack of space here in TIC, and I do my best to find a way to accommodate everyone," Davis said in an email to North by Northwestern. "The booking priority system is really only used once every couple of weeks."
Though the TIC has no policy of excluding non-theatrical student dance groups like AKA, it does employ that first-come-first-serve hierarchical system of precedence when multiple groups request the same space at the same time.
"Half the time we get booted by someone who has actually reserved the space," Smith said. "So then we'll usually go practice in a random room in Kresge or in somebody's dorm."
But Kresge classes and dorm rooms don't have the wall-length mirrors that the TIC offers, making it more difficult for Smith and the team to match one another's arm positions, spins and rolls.
"It's a really big problem," Jemison said. "[Kresge] isn't really conducive to learning the correct movements because you can't see yourself. Everybody has to be synchronized at the same angle on every single movement."
Stepping demands unity beyond the dance floor as well, a group of sisters in sync in service as well as in step. Though it isn't mandatory for all Alpha Kappa Alpha sisters to step, Smith asks the question, "Why not?"
"Learning and breaking it down with each other and taking extra time to practice facilitates unity," Enders said. "It's just another fun branch outside of the service that we do to get to know each other and spend time in another realm."
Beneath the synchronicity, the syncopations and the call-and-response chants, sisterhood preserves the core of the dance. There are occasional hitches in the rhythm – a lack of rehearsal space, a late teammate or an extra "ba-doom" in the "boom boom" – but that's what practice is for. Then when they take the stage in front of hundreds, they're all together, and they're ready to get serious.