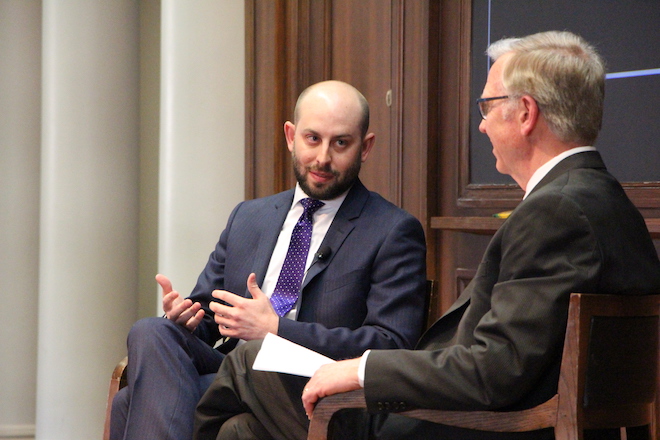 On Tuesday night, seasoned speechwriter Stephen Krupin, who graduated Northwestern in 2004 with degrees in journalism and political science, pointed to a seat a couple rows back from the stage in Harris Hall Room 107.
Winter quarter of his freshman year, Krupin sat in that very seat, listening to former Nixon speechwriter and Northwestern Professor Lee Huebner lecture on the art of speechwriting.
"Lee's class first lodged in my brain that being a speechwriter is a job that people do." It was fitting, he said, that he'd been invited back – technically, as the Department of Political Science's 2017 Barry Farrell Alumni Lecturer – to speak in the same classroom "that really changed my life."
The wide-ranging discussion was moderated by Professor Larry Stuelpnagel, who taught Krupin on two separate occasions.
Speechwriting for Obama, John Kerry and Senate Majority Leader Harry Reid
Anyone who's heard President Obama, Secretary of State John Kerry or Senate Majority Leader Harry Reid deliver speeches over the years has likely encountered Krupin's work. He served as a senior speechwriter to Obama, and chief speechwriter to both Kerry and Reid.
The key to Krupin's work is to remain hidden in plain sight. "Everyone's got a unique voice," Krupin said. "Harry Reid was a trial lawyer. John Kerry was a prosecutor. Barack Obama was a constitutional law professor." These details inform how and what Krupin writes. "Barack Obama talks in much more philosophical terms about values." John Kerry, on the other hand, tends to "talk about evidence … from his years as a prosecutor."
Krupin says he had to be especially mindful that Reid was not as skilled an orator as Kerry or Obama. "I would write something that I was convinced would be the most glamorous, eloquent line ever written." But sometimes, the lines simply wouldn't "work coming out of his [Reid's] mouth." For example, Krupin would notice minor details – "that sentence is too long … he ran out of breath."
Despite approaching each "principal's" speeches differently, Krupin strongly believes that speaking simply is the backbone of effective speechwriting. "I think explaining something very simply is a good way of showing you understand it … All three [politicians] were best when they just spoke most plainly."
Even though he claimed people "can handle nuance," Krupin reminded the audience that the average American reads at a 7th grade reading level. Moreover, he said, storytelling trumps statistics every time.
"If you give a speech full of statistics, nobody's going to remember it," he said. "Most people can tell you the story of the Ten Commandments, but I'd be very surprised if anyone could list the Ten Commandments."
Krupin's upward trajectory
After graduating from Northwestern in 2004 and George Washington University's School of Media and Public Affairs in 2008, Krupin worked at a strategic communications firm. Soon thereafter, he found work in the U.S. Department of State. Volunteering for every speech-writing-related project that he came across, he quickly rose in the ranks.
"The unique thing about writing at the state department is that you're really living on an airplane," Krupin said, referring to his stint as policy advisor and chief speechwriter to Secretary of State John Kerry.
Painting a more positive picture of Washington bureaucracy than most, Krupin offered that "It's really a meritocracy. All of these offices are so overworked and so understaffed … people get noticed because there's incredible volume."
A piece of advice to those aspiring to work in the state department or elsewhere: "Grow where you're planted," Krupin said. "If you're working the mailroom, be the best damn mailroom worker and move up."
Krupin's hard-work has certainly paid off. In addition to his speechwriting for Reid, Kerry and Obama, he also served as director of speechwriting for Obama's 2012 reelection campaign. Currently, Krupin is senior vice president and director of executive communications for SKDKnickerbocker, a strategic communications firm.
Krupin on Obama
Very early into his time working with Obama, Krupin learned an important lesson: "[Obama] is the best speechwriter on the staff. By far."
Krupin claimed Obama intuitively understood the speech-writing art form. "He just understands how to tell a story, how to tell an argument … so it fits into the larger communication objectives."
Obama was also a brilliant editor, according to Krupin. Typing up the comments Obama would leave in the margins of speech proposals, Krupin was continually impressed that Obama managed to "merge his argument and yours into one … It's almost in track changes."
"People who've only written for Obama are spoiled and don't know how good they have it," said Krupin.
On Obama's character, Krupin shared that the former president was "as calm as you would expect him to be."
Even immediately after Trump's election, Obama's poise remained intact – if barely. Krupin recalled Obama calling together and speaking to the entire communications staff, looking like he'd "gone through all 12 stages of grief in 12 hours."
Nevertheless, Obama calmly spoke of the need to treat the incoming administration with grace, "not just to show the country, but to show the incoming administration that this is what it looks like to be professional." Speaking directly to the younger staffers, the former president also emphasized that losing is part of the game of politics.
"The same reason why it would've been so sweet to win is the same reason why you have to accept that you lost," Krupin said, paraphrasing Obama.
Krupin on the future of the Democratic Party
While some point to the Clinton campaign's inconsistent messaging as the reason for the Democrats' loss in the 2016 presidential election, Krupin does not. "Her [Clinton's] convention speech was great," he said. "I can't point to a single part of her speeches that would have solved everything."
Krupin also warned Democrats not to embrace a wholesale rebranding of the party. "I think we need to be very careful about overcorrecting," Krupin said. He reiterated that Trump did not win in a landslide, and that Clinton won the popular vote. He nonetheless suggested that Democrats should rethink how they spend their resources.
But overall, Democrats shouldn't stray too far from their current platform, said Krupin. "What has always worked for Democrats is the simple principle that Democrats fight for people that can't fight for themselves – that is true from the New Deal to the Great Society to Barack Obama," Krupin said, linking the legacies of FDR and LBJ with Obama's.
Implicitly nodding to the white, working-class voters who propelled Trump to victory, though, Krupin did add that Democrats should "widen the aperture of who those people are" – referring to people "who can't fight for themselves."
He's optimistic about the prospects of Democrats going forward. "All the people involved in the Democratic campaign in 2016 – those are all people who want to work for mission-driven organizations," he said.
Many of those people, too, realize that the "fight is more important than ever." He included himself in that category. Krupin cited the recent marches and angry town halls as proof that many Democrats had been "activated."
Currently "working with members of Congress and candidates and non-profit leaders" in the fight, Krupin doesn't know exactly what his long-term plans are.
Still, one thing is certain: In the 13 years between Tuesday night in Harris Hall 107 and Freshman Speechwriting, Krupin – not yet 35 years old – has undoubtedly grown where he's been planted.