Although we are only in Week 2, many fall sports are nearing the end of conference play. NBN Sports has you covered with brief season recaps of Northwestern's non-revenue sports.
Women's Soccer
Claire Kuwana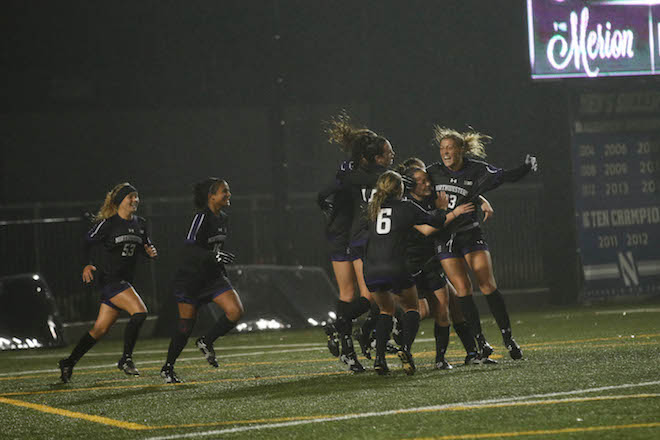 Throughout August and early September, the women's soccer season was off to a strong start. The team clinched a win against ACC team Wake Forest and tied Big 12 team West Virginia, who is now #16 in the NCAA RPI ranking. The Wildcat's defense proved solid as the team went on to break the program's record for longest shutout. To kick off conference play, Northwestern (8-4-2, 2-4-1 B1G) tied Wisconsin (10-2-3, 4-1-3 B1G), but was upset by Minnesota (8-6-1, 4-3-1 B1G). The Wildcats returned home and bounced back with a huge win against Penn State (9-5, 5-2 B1G). The 'Cats also tallied four goals – a surprising amount considering Northwestern had not yet scored more than two goals in a game – in their win against Michigan (7-7, 3-4 B1G).
The team suffered losses against Ohio State (7-5-1, 4-2-1 B1G), Rutgers (9-1-4, 5-0-2 B1G), and Maryland (4-7-4, 2-4-1 B1G), despite logging almost three times as many shots as the Terrapins and setting a new program record for shots taken during a game. In order to advance to the Big Ten tournament, Northwestern needs to be one of the top eight teams in the conference. From where the 'Cats currently stand, they would likely need to win all four of their upcoming games in order to do this. Fans can help cheer them on at their next three games, all of which are at home: Indiana on Oct. 11, Purdue on Oct. 14, and Illinois on Oct. 18. The team will then finish off the regular season with an away game at Iowa (Oct. 21).
Women's Cross Country
Meredith Ellingson
Northwestern women's cross country entered this season with their eyes on November: The team fell short of a bid to the NCAA Championship last year and does not want to be in the same position come regionals. With a handful of talented freshman and a solid returning core, the team is positioning itself well to be competitive at Midwest Regionals and vie for a coveted spot at nationals.
Building on her impressive outdoor track season, No. 1 runner Aubrey Roberts has picked up right where she left off. The only member of the team who competed at nationals last year, Roberts has finished second and sixth in her first two races of the season, with teammate Sarah Nicholson close behind.
As the 'Cats enter the middle of their season, closing the gap between the top two runners and the rest of the team will determine their postseason fate. First-years Rachel McCardell and Sielle Kearney have made an immediate impact on the team, finishing in Northwestern's top seven all three meets. Along with McCardell and Kearney, veteran Isabel Seidel is a bright spot on this team.
The 'Cats head back to Madison this weekend for the Pre-NCAA Invitational, where they had a strong showing in September in the Badger Classic.
Men's Soccer
Isaac Sultan
Following a disappointing 2017 season, Northwestern men's soccer (4-5-4, 0-3-2 B1G) have again experienced mixed results so far this season. With just three conference games remaining, Northwestern currently sits in the 8th spot in the Big Ten.
Early season non-conference matchups saw Northwestern notch a string of shutout victories against Cleveland State, Valparaiso, Loyola and University of Missouri at Kansas City. The Big Ten slate, however, has proven much more challenging for a relatively young Wildcat squad.
Still, while the 'Cats remain winless in Big Ten play, there are signs of potential that suggest the team is poised to break out.
On Sept. 26th, Northwestern went head to head on the road against Indiana, currently the top-ranked ranked team in the nation. An 87th-minute Hoosier goal en route to a heartbreaking 2-1 defeat ensured there would be no shocker in Bloomington, but it's gutsy performances like that that make clear this team can play with anyone.
Northwestern will conclude its regular season with two out-of-conference matchups versus the University of Illinois at Chicago and Concordia-Chicago and three crucial league clashes against Rutgers, Michigan State and Wisconsin.
Women's Volleyball
Navpreet Dhillon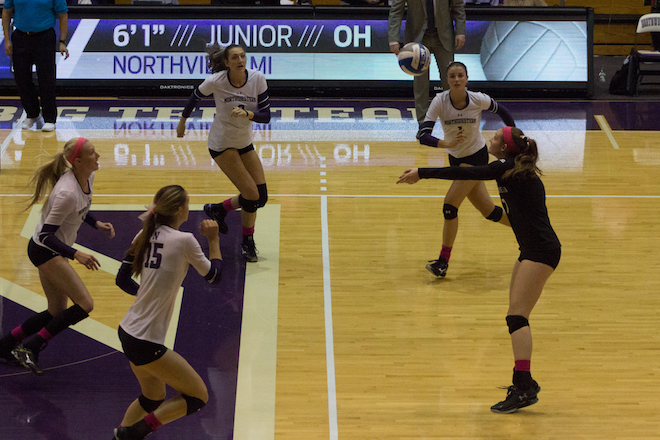 The women's volleyball team (10-8, 0-6 B1G) has had a rough first half of the season. With a current standing of thirteenth in the Big Ten Conference, their record may suffer as they prepare to play against three ranked teams in the coming two weeks. As expected, the team had a lukewarm start, but after winning the Chicago Cup in mid-September, they faced six Big Ten teams and their luck shifted.
Despite the team's strong offense against teams such as Minnesota and Illinois, the 'Cats' defense was their downfall, allowing 42 kills from Minnesota and 37 from Illinois. The Wildcats' errors, especially against Illinois -where they made 21 errors compared to Illinois' eight – contributed to tough plays that were difficult to bounce back from. The team's best performance in a Big Ten matchup came in a 3-2 loss to Iowa: the 'Cats had a season high of 15 blocks. Given their current six-game losing streak, Northwestern needs a drastic turnaround to move up in the rankings. By tightening up their defensive play, the team could show life in conference play moving forward.
Field Hockey
Charlie Sidles
Northwestern's field hockey team has had an incredibly difficult schedule this season, but that has not stopped the team from earning a winning record through their first 14 games. The Wildcats (8-6, 3-2 B1G) have played nine ranked teams so far this season, but despite the many challenges they have proven they deserve their No. 17 ranking with wins in four of those top 25 contests. A key piece to the team has been senior Puck Pentenga, who leads the team in both goals and assists with nine of each statistic. Junior Kirsten Mansfield has also been a catalyst for the Northwestern offense with nine assists this season. The Wildcats have four more regular season games before they host the Big Ten tournament in early November.