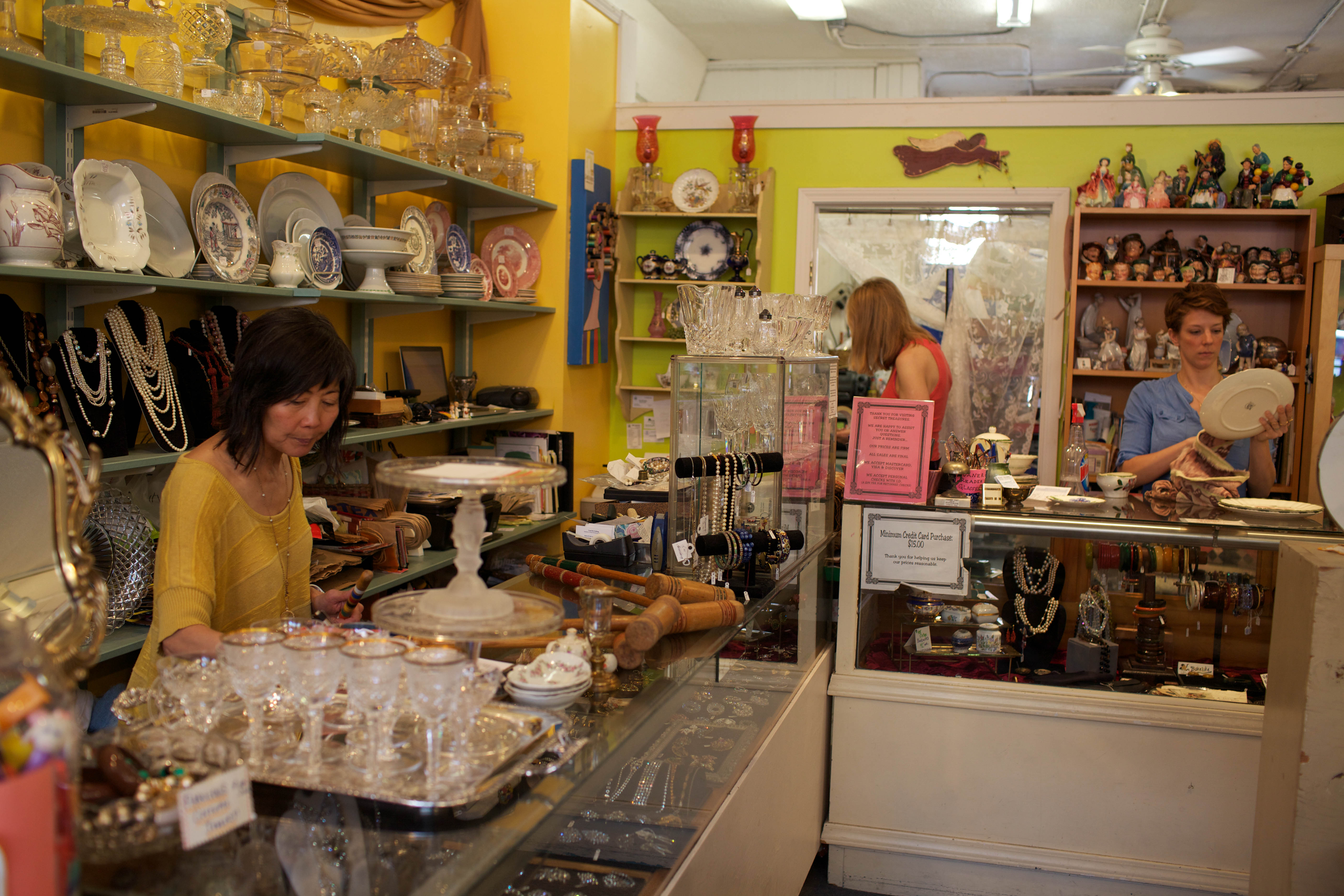 As a cool breeze floats into Secret Treasures Antiques & Collectibles, customers walk around the store, shuffling through the linens, kitchenware and postcards. Store founder and owner Dawn Okamoto greets each customer who comes in. They'll chat briefly before she invites them to browse, making sure to give each person her time and attention. She calmly maneuvers between the spaces of the small store, helping her staff unpack new merchandise as pop music plays softly overhead.
Employee Donna Eckert leans on an old wooden cabinet after helping one of the store's regular customers choose between two framed paintings. Among all the store's vintage items, she can't pick a favorite. There are too many to choose from.
Eckert started working at the Dempster Street shop 15 years ago. The store's motto is "Secret Treasures: Where the real secret is the price." For the many college students who live close by, this secret is the big selling point.
"It's on the lower end of the spectrum; it's not a real high-end store," Eckert says. "We get a lot of people who are furnishing apartments for the first time. It's very affordable stuff that people can have fun with."
Okamoto left the corporate world 19 years ago to open her shop. She displays its inventory—ranging from costume jewelry to porcelain figures—with pride.
"There's just a lighthearted spirit in our store," Okamoto says. "I think that reflects in our staff, and it reflects in our customers. The whole point of that is for people to come in and always find something they can have fun with and not worry about if it breaks."
According to Eckert, items don't last very long in the store. The turnover of the merchandise is so quick that there's something new every day—and customers know this.
"They just don't want to miss anything," Eckert says. "They know that if they see something they want, they almost have to buy it right then and there."
Okamoto greets a customer named Brian as he enters the store.
"He's our special friend," Okamoto says. Brian is one of the store's regulars. He bought all of the chocolate-covered strawberries made by the staff last Valentine's Day.
The staff members invest time in getting to know their customers and making sure they're taken care of—the same way they treat their merchandise. Okamoto, Eckert and the rest of the staff go to area flea markets and estate sales to find unique things for the shop. Okamoto has contacts that are constantly calling her to sell things.
Okamoto says the items she buys for the shop are things the staff has knowledge about. They want to be able to explain the background of each and every piece.
"In some ways, every piece is our favorite piece," Okamoto says. "We try to share that with the customers because it makes the piece more interesting and gives it more character."