At Northwestern, finding that special someone is hard. Any student reading this article will agree that life is hectic on the quarter system when you're also trying to have an active social life, eat regular meals, go to SPAC (okay, maybe only sometimes), sleep (also sometimes) and join extracurriculars to make yourself look like the best dang preprofessional candidate whatever grad school you're applying to has ever seen. Try adding a significant other on top of that, and it gets even worse. For some, you even have to schedule in time with your partner, like you would a DM committee meeting.
That's too much for some people and they turn to turn to what Northwestern students love to hate and hate to love: our hookup culture. This subsect of Northwestern student life has been bolstered up until now with Tinder, Grindr, and the lesser known (and used) Friendsy. However, it can get awkward when you see your TA on Tinder and strange when you get requests from people who go to colleges states away on Friendsy.
Confusion aside, sometimes the people you see on these apps just aren't up to your standards. Maybe they don't go to a school you like, are only in town for the weekend or their bio just has the classic "420 friendly" and a leaf emoji in it. You might be a little frustrated because it seems like you can't break into either the dating or the hookup game around here. If you relate to this, there's a new app out there for you: The League.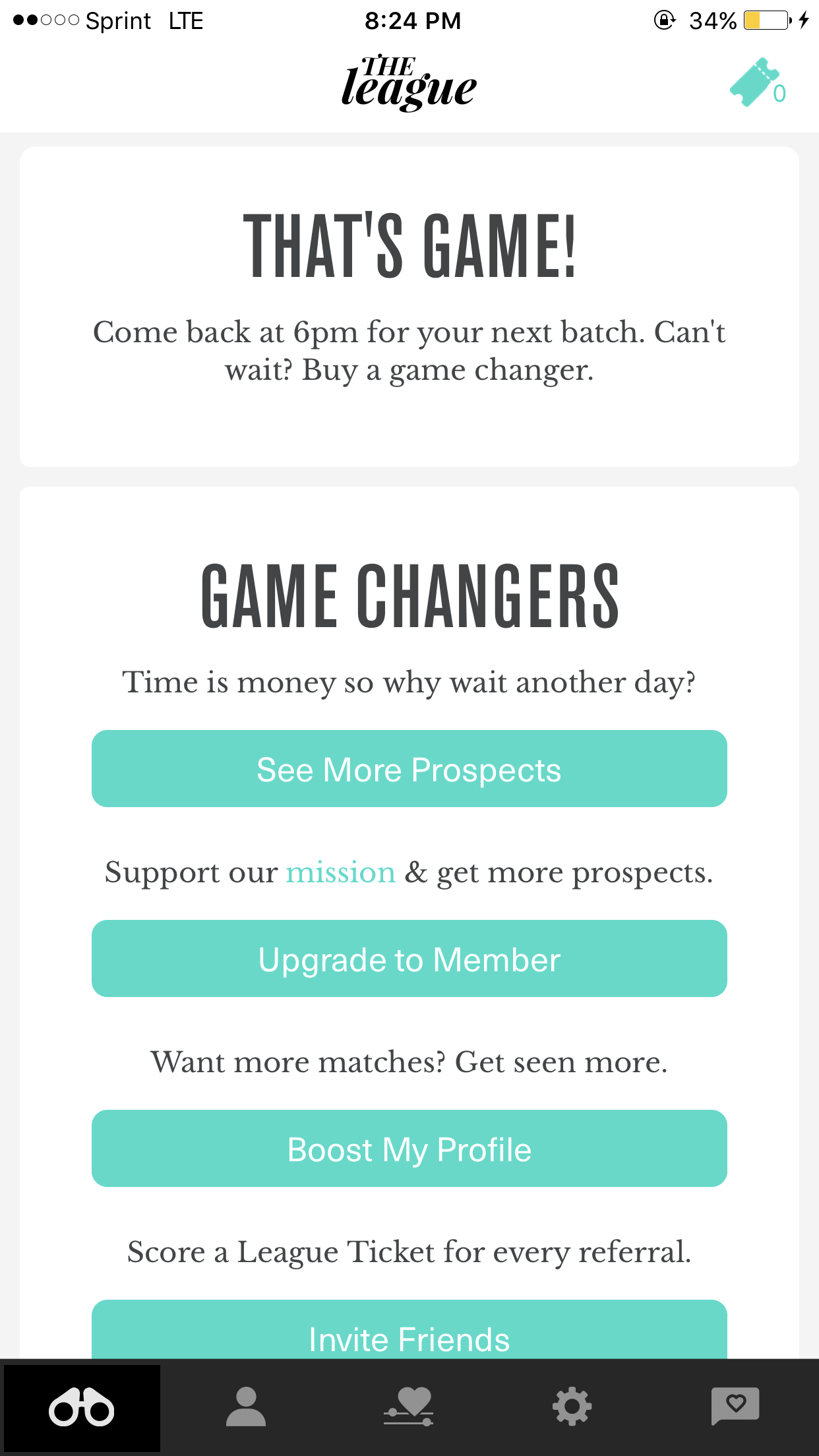 The app, which was launched in 2014 by Carnegie Mellon and Stanford alum Amanda Bradford, describes itself as "Equalist. Not Elitist." It beckons to interested users, whispering, "So you want to date someone that shares your same education level AND ambition/drive? And maybe, just maybe you'd like them to be in your same neighborhood, attractive enough to at LEAST look good in a black-and-white photo, with a height that meets your way-too-restrictive height preferences. ... While your mother may call you picky, we call you self-aware. It's about to be happy hour, so go get 'em."
The League, which is live or in beta mode in Chicago, Boston, Washington DC, New York, San Francisco, LA and even London, is known for its exclusivity. You have to submit your LinkedIn profile for review to create an account, and when the app launched in Chicago this past October, the app currently has almost 9,000 people on the waitlist just for the Chicagoland area and almost 160,000 people worldwide. Two Northwestern sophomores, Wendy* and Caleb*, are some of the "chosen" ones, and shared their experiences with the app.
"Basically, my friend sent me the invite because … you can technically sign up yourself but it will take longer to get off the waitlist, but if you're invited by someone the process is faster" Wendy explained. While Wendy got off the waitlist in less than two days, she said she knows that not everyone's that lucky. "My sister is on the waitlist in New York and has been for months," she said. "Even some of my friends at Northwestern who I've invited are still on the waitlist even though it's been a month."
Caleb said he remembers being in the 4000s on the waitlist before receiving an email stating "You've been invited to The League!," so the numbers don't always give you a good indication of when you'll get in.
Once you're on the waiting list, you create your profile, set your preferences and get a concierge. The concierge is a staff member at the League who answers your questions, tells you how the app works and answers your questions. Your profile includes a short bio (where humor is apparently rewarded, the app cheekily hints), the college you've attended, past jobs, interests, height, religion and any ethnicities you identify as. For your preferences, you go through the typical motions of stating how far away you want your matches to be, what gender(s) you are looking for and set an age range for your potential suitors. Unlike other apps, you can also set preferences for height, ethnicity and education based on selectivity of the institution and religion.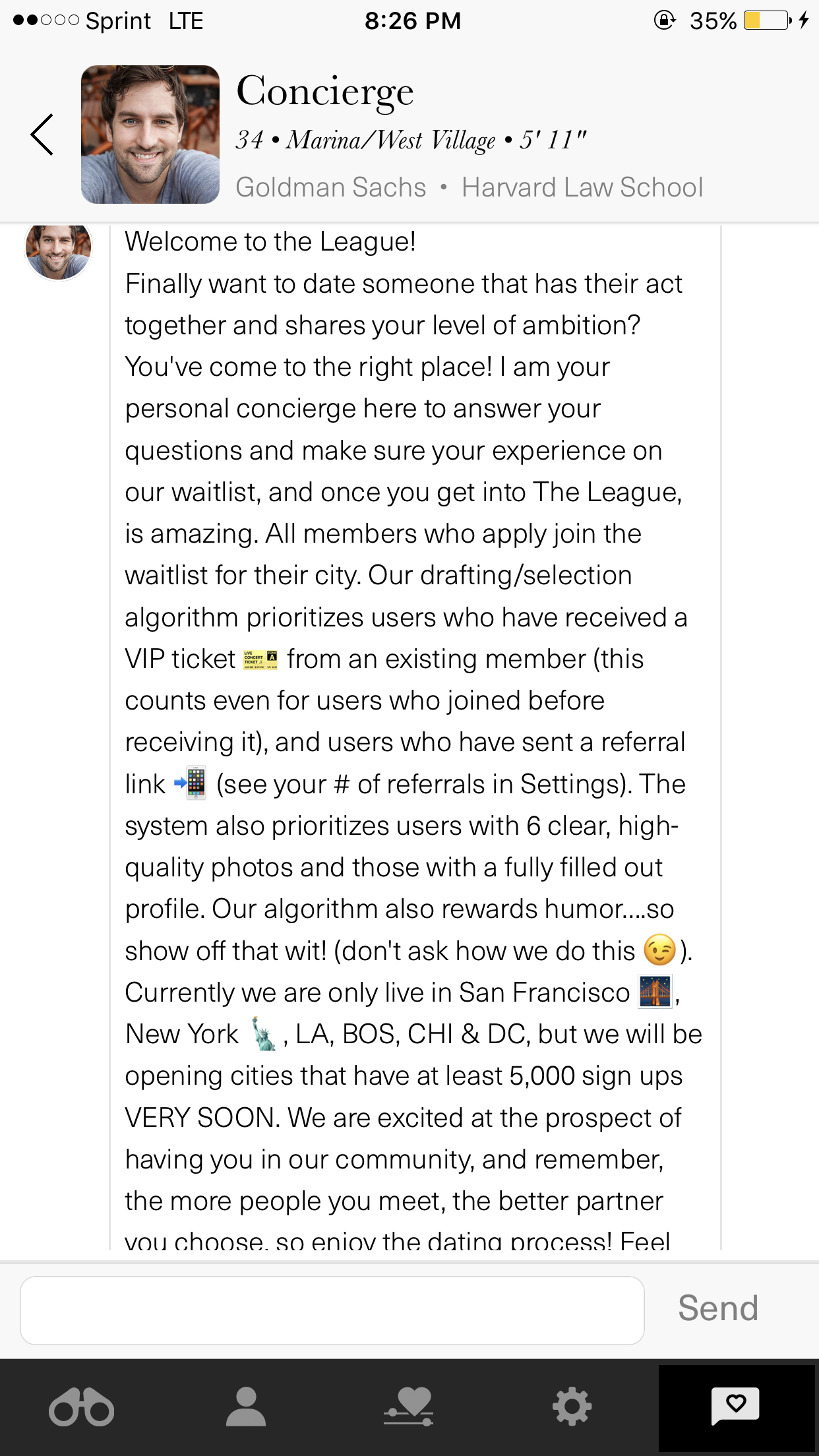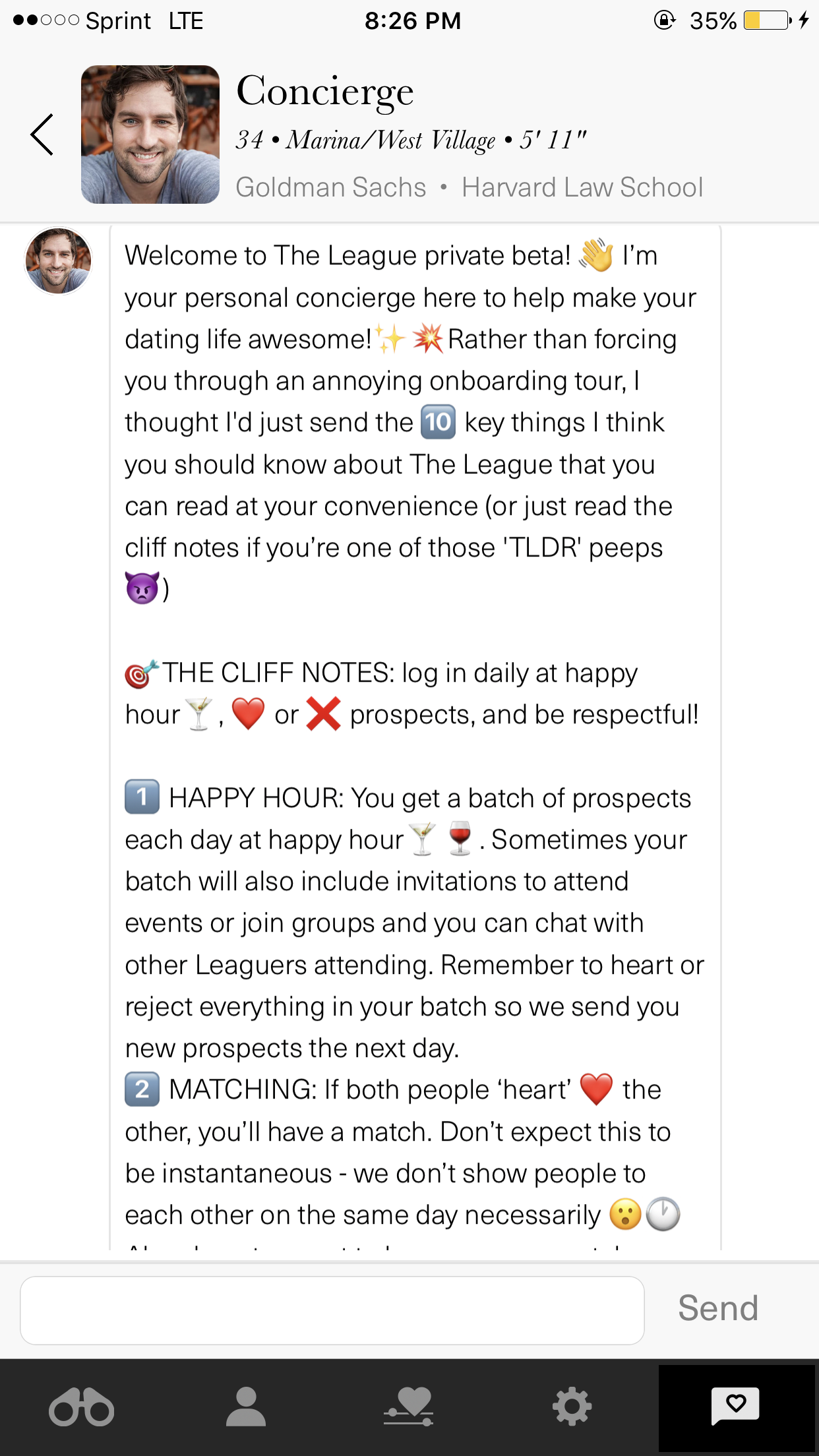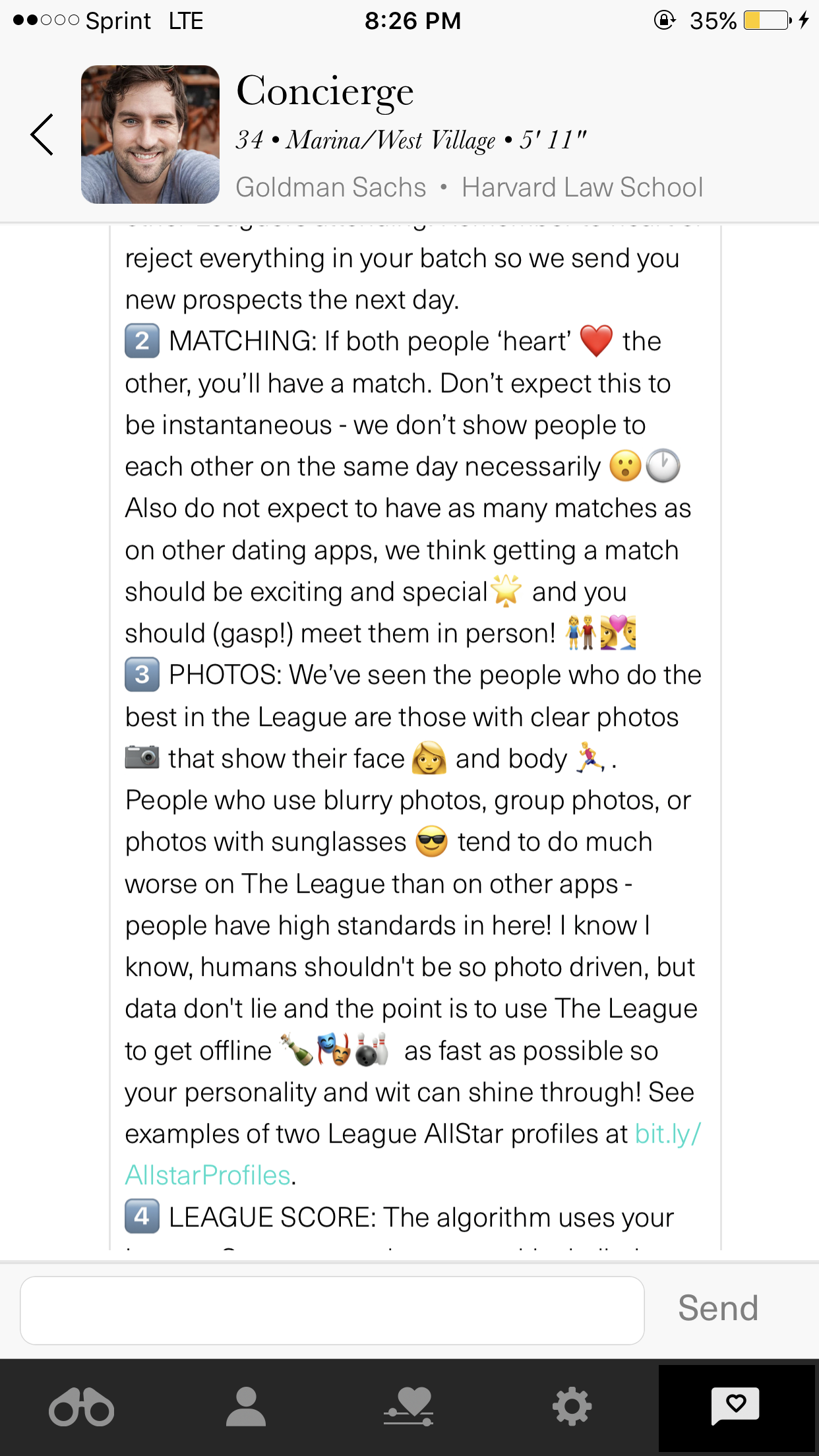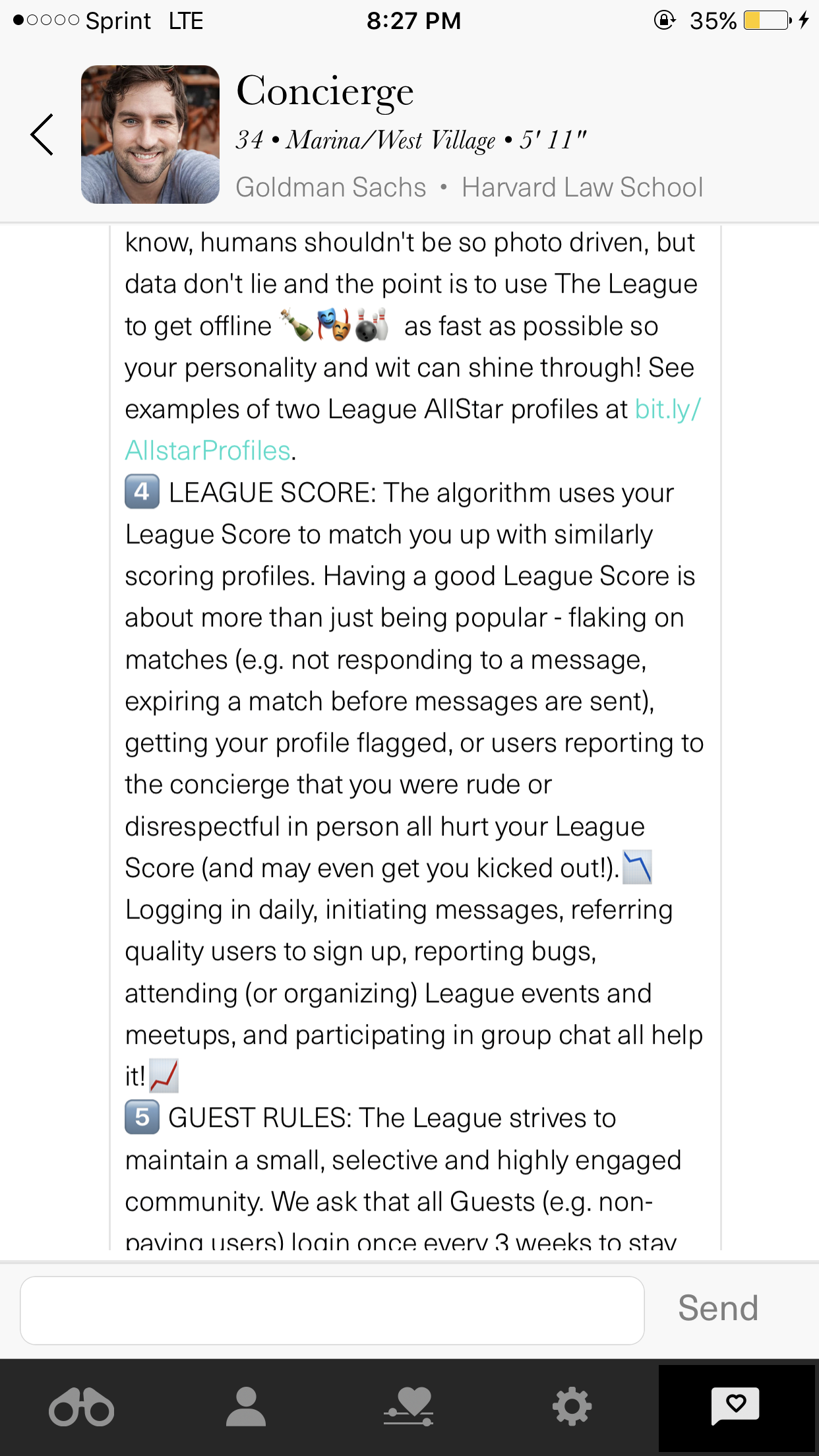 Once you're off the waitlist, which apparently only happens once your profile is reviewed and you match the preferences of someone already in the app, you get to "meet" your matches- but slowly.
"You get 2-4 people to swipe on each day" Wendy said. "At 6 p.m. every day it's called 'Happy Hour' and that's when they release the new matches." Once you've matched with someone, you have 21 days to message them or the match goes away. The same thing goes for when one of you messages someone else. However, ghosting someone on this website gets you punished.
The app itself ranks you on popularity, pickiness, initiation rate, ghost rate and flakiness, which then impacts how many matches you see during Happy Hour. Caleb said he thinks this is The League's way of making sure that "people aren't just swiping for the sake of swiping." "Apparently, if you 'heart' too many people or if you never message people, their algorithm will adjust so your profile is served to less potential matches," he said. "They really try to push their users to actually find dates, not just play around."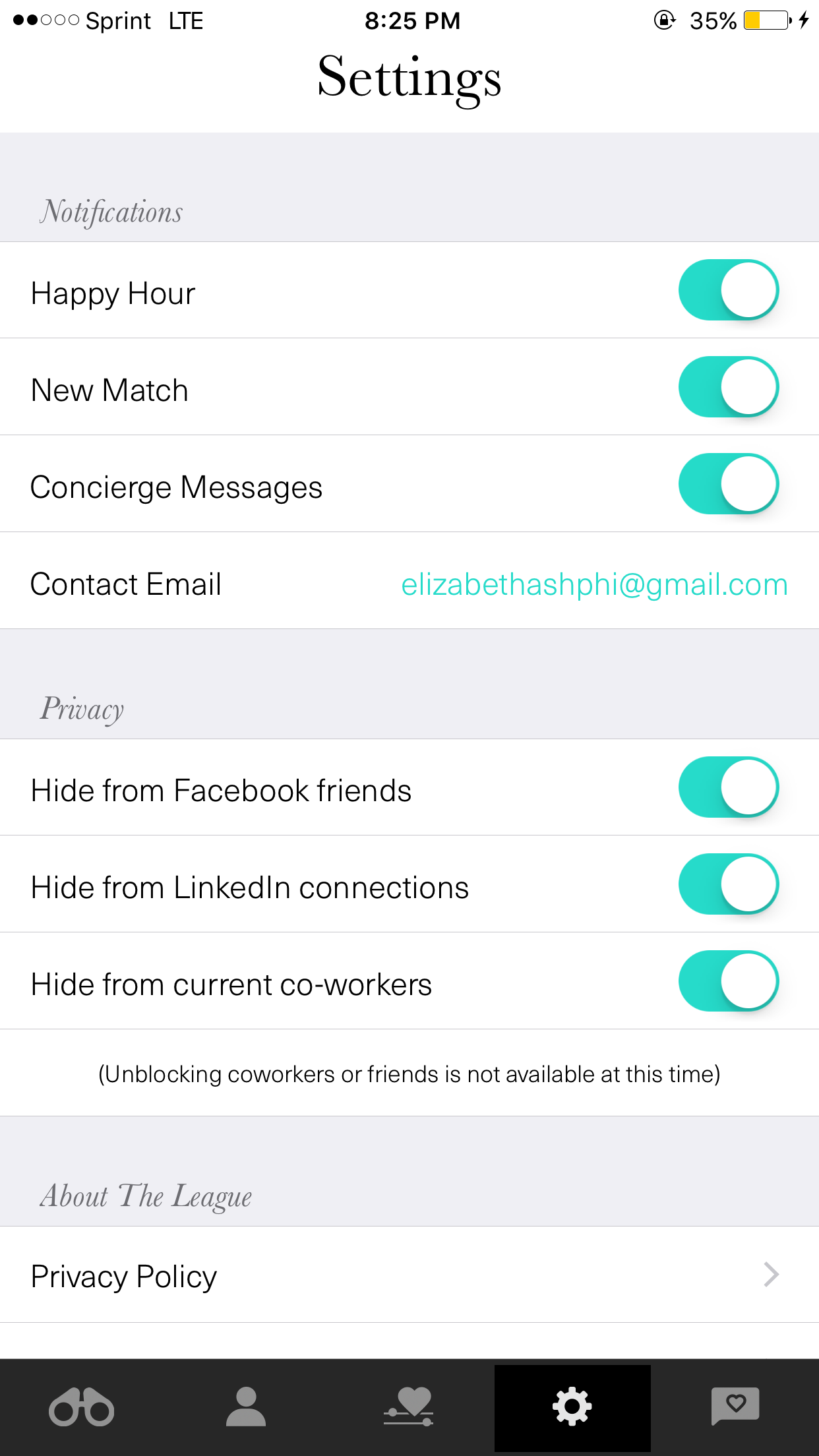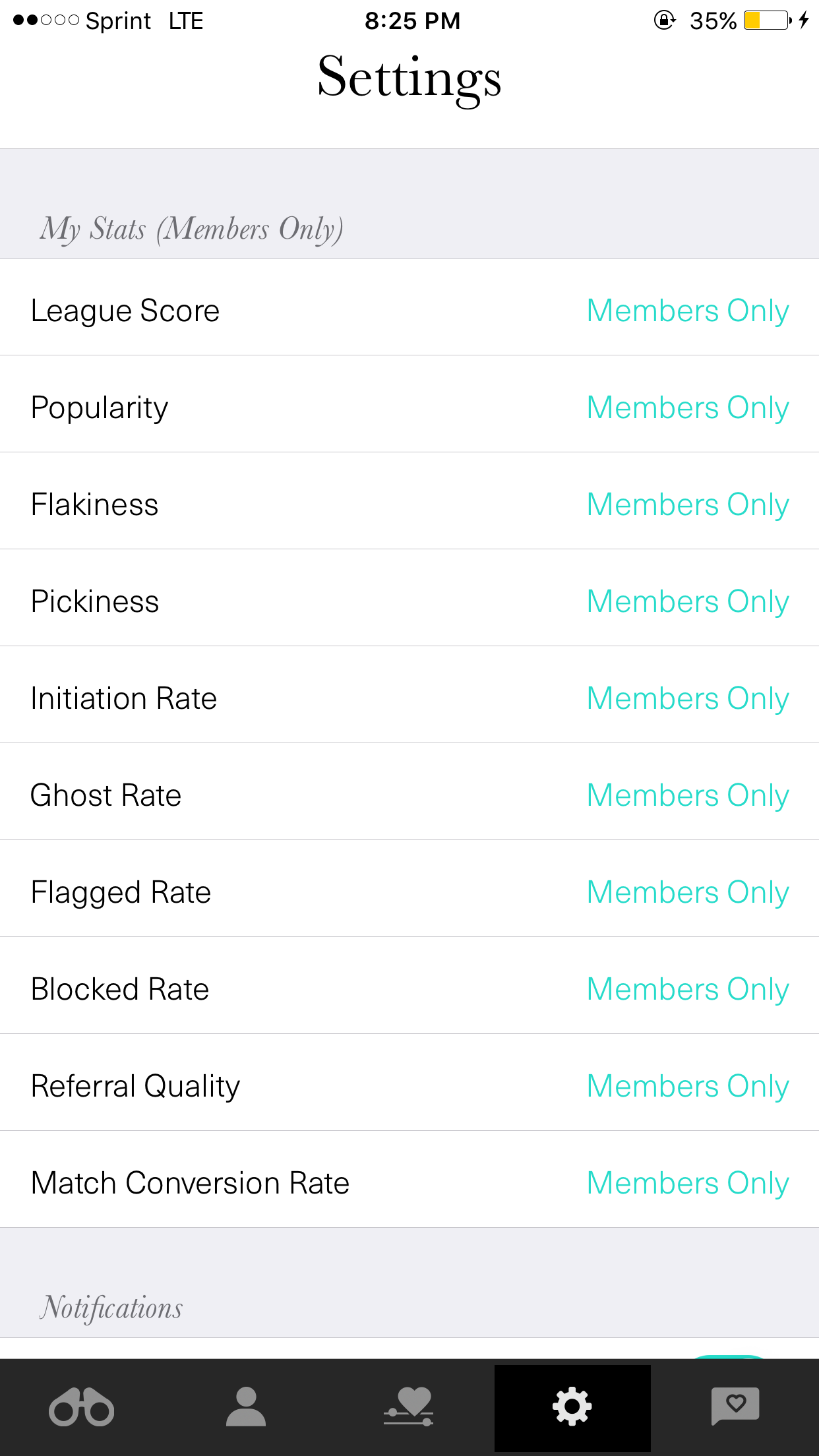 If you match with someone, you should expect a response because nobody likes getting bad "grades," but Wendy said getting ghosted or a lack of initiation is still a problem. This might be because, unless you're a paying member, you don't actually get to see your scores for these traits.
For those of you who are worried more about how people you know will react when you say your formal date is someone you met on The League rather than some app's algorithm, Wendy said not to worry too much about it. "Some people respond negatively like 'Oh, that's the elitist dating app,' and other times I don't think people care that much," she said. "I think a lot of people in our generation are using dating apps so it's becoming less stigmatized."
Beyond that, no one ever has to know. The app blocks all of your Facebook friends, coworkers and LinkedIn connections from seeing you. Even if The League becomes popular at Northwestern, no one will have to know you're on it unless you tell them so yourself.
So, now that we know all the special features and protections given to members, it's important to know about the actual people in the app. After all, the app's purpose is to connect people, and not just for users to figure out how to create a captivating bio or think about how far down the Red Line you're willing to go for a date. According to Wendy and Caleb, the people may or may not be that much more "special" than those on any other app.
"I've used other dating apps and I don't think it's any better," Wendy said. "I think the model is interesting ... but I don't think the quality of the people who are on the app are any better [than on other apps]. I don't find the matches are necessarily more elite education or profession-wise."
According to Caleb, the users may look a bit familiar to you. "It is very much targeted at young, upper middle class college graduates; I've seen quite a few Kellogg students on the app. Consultants. Investment bankers," he said. As far as the "eliteness" of users goes, Caleb said he is a bit underwhelmed, but admitted that the app doesn't let just anyone onto it. "Every profile I have seen is either a current college student or a college graduate," he said. "Many people have had some sort of work or internship experience."
So, should you try to "get drafted"?
Caleb said that he recommends The League to his friends, but "very ironically." "If you want to see young millennial elitism in action, then The League is definitely for you! But for college students, I really think Tinder, Grindr or any other app would be more suitable," he said. "They're more casual and require less commitment, which seems to be the Northwestern way in regards to dating and relationships."
Still think it's worth a shot? Go buff up your LinkedIn profile, find a friend to invite you and be prepared to wait.
*Names have been changed to protect students' identities.