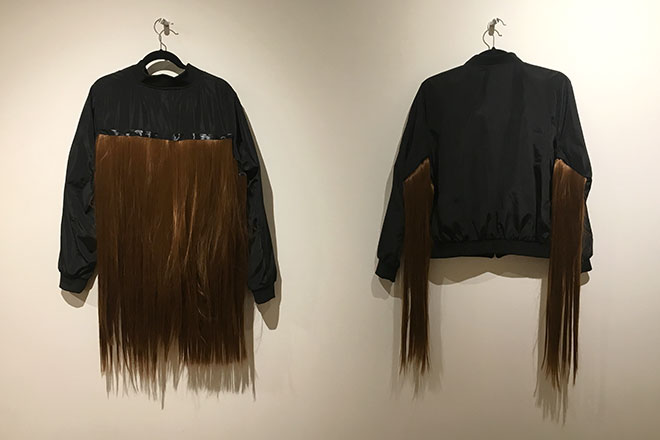 When you first walk into Dittmar Gallery's current exhibit, you are immediately confronted with hair. Lots and lots of hair.
The swaths of hair extensions, hanging over the entrance to the gallery, are part of the Dittmar exhibition FEELINGS?, which celebrates the work of three seniors in the Department of Art Theory and Practice. The students focused on ideas of identity and personal experience in their pieces.
The art on display sharply departs from the traditional paint-on-canvas medium, showcasing the vibrancy and innovation of the students. Aside from hair, there are works that involve a full-length mirror, a sleeping bag, cartoon characters, a video installation and hand-scrawled text written in Sharpie.
So, what's the explanation for the hair? Weinberg senior Isabel Ngan created the pieces with hair. Besides the hair that covers the entranceway, Ngan also created four pieces that include hair extensions attached to clothing: "Un-Removed: Back", "Un-Removed: Underarm", "Un-Removed: Legs" and "Un-Removed: Crotch". Black pants and jackets hang from the gallery walls, sprouting hair from various areas of the body in a way that looks akin to a horse's tail. Ngan said this work examines how bodies are defined.
"I use objects that resemble parts of the body," Ngan said. "Altering and redefining things that connect so closely with the self is a way of questioning how we see the world, why we see it that way we do, and why we feel the way we do about our bodies."
Another student artist included in the exhibition, Weinberg senior Daniel Eghdami, takes his inspiration from comic strips. Two of his pieces are Calvin and Hobbes comic strips interspersed within different media, including an electronic screen and printed ink on canvas.
A second comic strip, featuring the character Mr. Meeseeks from the TV show Rick and Morty, takes up an entire wall of the gallery. The blue cartoon character, described in the strip as "intrinsically productive," is depicted as frustrated by slow-moving institutions such as politics. One panel, for instance, inserts Mr. Meeseeks into a scene of applause at a State of the Union address, screaming, "How can they be so happy to do nothing??" Eghdami utilizes these cartoons as a way to rethink the world around him through a different perspective.
"I want to appreciate what happens in the world around me rather than being dominated by the feeling that it is stressful and disturbing," Eghdami said. "That is why, as an artist, I strive to characterize unspoken truths and highlight uncommon opinions that help me – and hopefully others – gain some fresh perspectives."
Weinberg senior Heiwon Shin completes the trio of senior Art Theory and Practice majors on display. Her works consist of everyday objects, including perfume samples, a sleeping bag and a full-length mirror, covered with text written in Sharpie. The objects lie close to slips of paper featuring messages such as "Eat Me," "Smell Me," "Sleep In Me" and "Look At Me."
A piece of text next to the perfume samples reads: "We might both see the same sky, the same clouds, the same flowers but feel completely different things. We might smell the same thing and think differently." This idea parallels Shin's own musings on her identity, especially regarding her name, which changes definitions depending on the language it is pronounced in.
"As my home and my name changes, my voice and personality also change in different languages in countries," Shin said. "When I meet new people, I don't know how to tell them how to pronounce my name or where I'm from or even who I am. Through my work as an artist, I explore my experiences of shifting home and name."
Together, the three artists have created something much more than a celebration of their time in the art department. They have produced a sensory experience in Dittmar that causes the viewer to reexamine and question the way that their own identity affects the world in which they live.
FEELINGS? will be on view in Dittmar Gallery in Norris University Center through June 17.