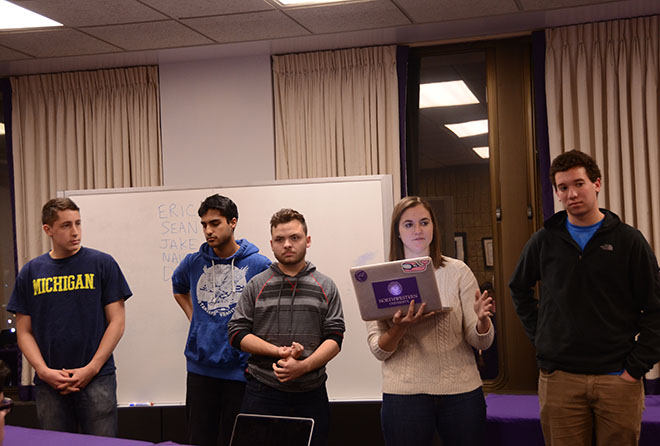 In an effort to increase awareness of the new conduct policies at Northwestern and to clear up miscommunication between students and administration, Assistant Dean of Students Tara Sullivan presented to ASG Senate Wednesday night.
Since January, Sullivan said she has been "putting in a lot of work to change our conduct system." All cases are now heard through the University Hearing and Appeals system, UHAS. UHAS includes cases involving Title IX content, which addresses gender discrimination and sexual misconduct. Administration has eliminated the Sexual Assault Hearing and Appeals System, SAHAS, in order to condense the processes into a unitary system.
"We're looking for transparency, accessibility and understanding," Sullivan said. "We want to make these reports timely and efficient."
Sullivan emphasized the focus on students' rights and responsibilities, indicating that the process "gives the students the opportunity to be heard" by providing a fair hearing on their perception of an event.
Sanctions are aimed to ensure that "accountability meets the actions and the policy violation," according to Sullivan.
Following the presentation, senators confirmed School of Education and Social Policy senior Andrew Green as the new chief of staff. Green will be replacing Weinberg junior Rafael Henriquez.
"I am interested in creating a stronger community in ASG," Green said.
Additionally, the Wild Ideas Committee granted allocation of $750 to the Northwestern University Native American and Indigenous Student Association, NAISA, for the 150th anniversary commemoration of the Sand Creek Massacre. The event, set to take place on Nov. 22, is also sponsored by SESP, which will cover the remainder of the expenses.
"This type of funding fits the mission of the Wild Ideas Fund," said Weinberg senior Serene Darwish, vice president of student activities. "This commemoration is something that happens across the country, and this is the first time that this is present on Northwestern's campus."
As a relatively new group on campus, NAISA is working towards gaining ASG recognition as a student group. "NAISA has gained so much traction and is seeking recognition," Darwish said. "This can help them secure consistent funding for the future."