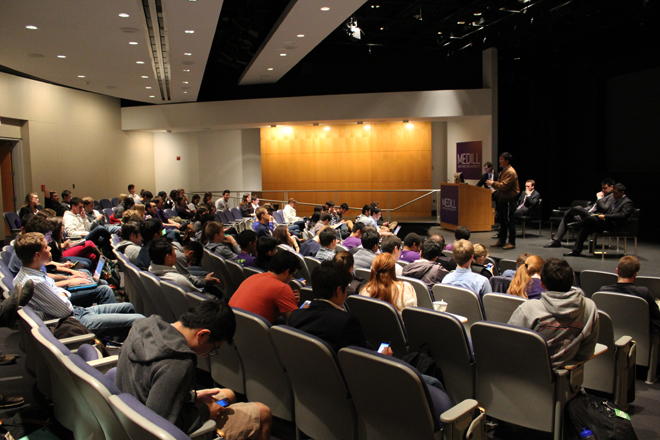 This is the first of two pieces addressing the ASG presidential debates. Check back for an analysis of Tuesday's debate in preparation for the Coalition of Colors debate in Swift 107 Wednesday at 5 p.m.
The four ASG presidential candidates met for their first debate in the McCormick Tribune Center Tuesday night, addressing user-submitted questions in relation to their respective platforms for approximately 90 minutes. Weinberg sophomore Alexander Deitchman moderated.
Openings
In their opening speeches, the candidates stressed their experience working with ASG and other student groups.
SESP junior David Harris spoke first and described his vision for Northwestern as "idealistic." He emphasized his leadership in DM and ASG, as well as his running mate Josephine Lee's experience.
SESP junior Benison Choi opened with his experience in student government, which stretches back to the third grade. He made the first of many mentions of his campaign's 3 E's: "Enable, Engage and Empower."
Weinberg junior Aaron Zelikovich thanked the ASG senators in attendance for their service, and highlighted some of his accomplishments as a senator for Hillel and IFC.
Weinberg junior Ani Ajith said he wanted to bring different communities together if elected president, and identified the Deering Days event from Wildcat Welcome Week as an example.
"We've been deliberately and very intentionally trying to seek out a lot of different communities and a lot of different perspectives," he said.
Questions + Rebuttals
Candidates were asked to identify their top two priorities for the coming year. Zelikovich, Ajith and Harris agreed that mental health was one of the campaign's most pressing issues. Harris and Ajith both said improving and expanding mental health services were necessary, while in his rebuttal Zelikovich argued for a "change in the culture (of) mental health on campus."
All the candidates except Choi said campus meal plans needed to be improved. Choi's answer focused on making ASG more accessible for new senators. He said he would create a unified social calendar for student groups.
Zelikovich also proposed adding a shuttle stop to Cahn Auditorium to serve the sorority quad, and to increase the frequency of Campus Loop shuttles.
Deitchman then asked the candidates how they and their running mates decided who would be president. Zelikovich said he and Henry Brooke, with their different social groups, would bring different perspectives to the ticket. He added that they would "definitely be the biggest ticket in the history of ASG."
Ajith said he and Alex Van Atta had a shared vision for Northwestern, but that his experience as ASG speaker of the senate made him a good fit as "the external face for the organization."
Harris said his partnership with Lee was "love at first sight." He praised her leadership and ambition, speaking at length about her extracurricular activities on campus.
"Her ability to be a mentor, a guide, a leader, someone who can reinvigorate ASG with energy, enthusiasm, passion and the discipline to make it all a reality I think makes us a team that will drive results."
Choi met Danny Kim at their first meeting as ASG senators during their freshman year and quickly became friends. He said that he had lined up another running mate who decided not to run. Choi then turned to Kim, who quickly accepted.
"It was a phone call, and then we met and then we started with coffee, and then dinner dates, and then sleepovers," Choi joked.
When asked about their leadership style, candidates had a variety of responses. Ajith stressed "empowering people" by encouraging senators to draft and advocate for their own legislation.
Harris cited a TED talk and said he will ask "why, then how, then what," to formulate goals and ultimately achieve change.
Zelikovich described himself as an "egotistical" freshman but said that he has learned the value of listening and will emphasize it as president.
Choi said his high school slogan was "Go Big or Go Home," but that in college it had shifted to "Fatty Style," which to Choi means "being OK with who you are and doing whatever the hell you want."
Candidates were then asked to respond to the following proposition: "ASG doesn't do anything. Convince me why I'm wrong."
Harris said ASG needs to "lobby better" on behalf of the students by "leveraging data, relationships with administrators and research from peer institutions." He proposed sensible student funding, echoed Choi's earlier proposal for a central event calendar to make sure ASG services are better publicized to students.
Choi praised some of ASG's internal changes to make inexperienced senators feel less alienated. He said Campus Voice, a website to deliver student feedback to ASG, was "awesome," but that too few students know about it.
Zelikovich said ASG could do a better job empowering other student groups and making a more visible presence on campus. He claimed that only 19 of ASG's positions are democratically elected.
Ajith said ASG's main goal should be "to make day-to-day lives better." He spoke about meeting with members of Rainbow Alliance about gender-neutral bathrooms and emphasized "sitting down with communities," and co-sponsoring events like a celebration of Hispanic Heritage Month with Alianza.
In the rebuttal, Harris and Zelikovich disagreed over how to best reach out to the student body. Harris advocated improving PR as a way to improve coordination with other student groups, while Zelikovich said face-to-face interactions would be a better method.
The last question of the traditional Q-and-A was referred to by Harris as "the name-drop question" and focused on the candidates' experience with NU administrators.
Opting for the humorous route, Choi opened with his first interaction with an administrator: as a freshman changing his major. However, he moved into more serious discussion by admitting that he may not have the same relationship with campus administration as other candidates, but did not see it as an issue.
"Let's be real: We share the same campus, we share the same motives, we share the same purposes in life ... What I'm saying here is though I may not have the best connections or relationships with admin, I'm going to work on that," Choi said.
Zelikovich focused on his professional relationship with Patricia Telles-Irvin, vice president for student affairs, but shifted his focus to improvement of dining retail services and being able to "work through the bureaucracy" of campus administration. Erroneously, Zelikovich referred to Choi by his running mate's name, Danny Kim, while explaining that, regardless of the winner, each would have to wade through campus bureaucracy.
Playing off of Zelikovich's error, Ajith opened with a joke about his own name before moving into his own experience with the administration. By his own claim, Ajith played roles in the employment of Tony Kirchmeier, director of off-campus student life, Dean of Students Todd Adams and Lesley-Ann Brown, director of campus inclusion and community.
Ajith also included other high-profile names and groups, including President Schapiro and the Board of Trustees, but ultimately said that dealings with administrators required presenting a "united front" of student groups and individuals and that "the way we're going to do that is by relationships Alex and I have already built."
Harris began his answer by stating, "I think I have been in more Board of Trustees meetings than any other student," but continued on to list his many interactions with "all the other administrators who run this place." Through that, he expressed that a prior relationship with administrators was useful to get agendas off the ground "from Day 1, not Day 90," but that the most important part of this interaction mattered in empowering the student body when advocating their needs and wants.
"The single-most important responsibility that we have when advocating is to be unified, to present a single voice because we're so much stronger together than we are apart," Harris said, agreeing with Ajith's statement. "And if we're advocating for the same changes in our policies, the same new initiatives, the same enhancements to Northwestern University, we're much more likely to see things accomplished than if this group is doing this thing and this group is doing this other thing."
For the first time, Choi utilized a rebuttal in order to present the idea that a lack of pre-existing relationships with administrators did not make him any less viable a candidate, while Zelikovich stressed the idea in his rebuttal that, even with pre-existing relationships, it was important to "not be [the administration's] puppet" when it came to the needs of students.
Lightning Round
Each candidate had one minute to respond to the three lightning round questions. Rebuttals were prohibited in this round. Zelikovich opened with discussion of the University in 2020. Zelikovich brought the room to laughter, beginning with, "Everyone's tall, everyone's big," before envisioning a "Big Ten powerhouse" of a football team with updated athletic complexes, more efficient dining halls and a happy student population.
Ajith shifted the conversation to a more personal tone by discussing his younger sister as a stand-in for future students, citing it as "the most math" he had done in a while. By using his sibling as a placeholder for future Wildcats, Ajith proposed his ideals for the campus from the role of older brother in order to "lay the groundwork" for a future campus she can enjoy.
"Before she comes here, I want to make sure this campus is right for her. She is more important to me than anything else in my life and I want to make sure that, when she comes here, it's a welcoming campus," Ajith said. "It's a diverse campus that is inclusive and she feels like she can join any community."
Harris opened with a joke about being "only five years away" from a new student center in 2020, eliciting laughs from the audience and identified the school as being on a solid path, but also listed a few possible improvements for the sake of student happiness.
"I think that's one thing that's just kind of overlooked. I'm confident that we will have stronger academics," Harris said, "but I really do hope that we're putting the mechanisms in place to ensure that the students here are joyful, are engaging ... are proud to be painted in purple and proud to be graduating from this university."
Choi echoed Harris' student pride by declaring that he wants to see "purple everywhere" in 2020, adding that the Happiness Club should have A-status in ASG by this time and that students should be able to "run around...naked." Harris jokingly inquired if he could rebut the nudity point – Deitchman and Ajith disagreed.
Moderator Deitchman continued the lightning round with a question also utilized in Monday's executive vice presidential debate as candidates complimented the opponent seated to their right. Ajith spoke of Zelikovich's passion, while Harris praised Ajith's love of the University. Choi described Harris as "the epitome of Northwestern," additionally referring to him as "beautiful." Zelikovich praised Choi's gregarious nature, explaining that Choi was someone "who knows how to have fun."
Candidates closed out the lightning round by talking about their proudest moments while at Northwestern. Harris cited the Jan. 1 Taxslayer.com Gator Bowl win over Mississippi State University before including the Spring Quarter 2012 diversity forums on Deering Meadow.
"To see us come together, not with vitriol, not with division but in a real sense of unity, openness, consideration and have a productive conversation where I think everyone left having felt that their opinions had evolved," Harris said. "That was a pretty cool moment."
Choi presented the entire election campaign as his proudest moment, as it allowed him the opportunity to present himself to the student body, while Zelikovich utilized an example of counseling two AEPi brothers during the fraternity's own election season, but also expressed hope that Election Day would be his proudest moment.
Ajith said contemporary usage of Deering Meadow, including Wildcat Welcome Week's Deering Days barbecue, exemplified his proudest moment on campus because of the collaboration involved.
Closings
In reversed protocol, Ajith began closing statements. Restating one of his main goals as mental health, Ajith pushed the idea of collaboration between student groups and administrators in order to tackle student needs and "further the conversation."
"We're here to support you because this is important, because what you're doing contributes to this community, contributes to my experience, to your experience, to the Northwestern experience," Ajith said. "It's plausible, it's doable, we've been doing it, do it bigger – as Benison said – and thank you for your time."
Zelikovich, echoing one of Obama's 2008 slogans – "change we can believe in" – went on the offensive in his closing by identifying two candidates with "five years of exec experience" between them with a claim of minimal tangible results, emphasizing a "fresh face to bridge the gaps" between ASG and student groups.
"Every [group] that has been talked about already has a Senate seat, is already engaged. These student leaders have, I would say, a special interest in student government," Zelikovich said. "The question is, how do we bring in the periphery?... That's the people we need to be focusing on. That's how you bring change, and that's what Henry and I want to focus on. We want to be proactive."
Choi reiterated the "three E's" of his campaign and acknowledged that ASG would be utilized "to its fullest potential" under his leadership.
"We want to put you back into the equation, ASG is just as much yours as it is ours. I will be your biggest fangirl, I will make sure that your voices are heard, I will be on my phone, I will give you my phone number," Choi said. "We will make things happen, so vote for me, because I'd vote for you."
Harris ended the debate with a closing statement first acknowledging the other candidates, moderator Deitchman and the various campaign supporters in attendance. He continued with an emphasis on not being "complacent" despite being content at Northwestern.
"One thing I always say on my tour is 'go up to a student' – and it doesn't have to be a tour guide – and ask them what it is they're passionate about. And see their eyes light up like mine do when I talk about Dance Marathon," Harris said, "because people here really care about making a difference... we are the single thing Northwestern is about: Students make the university."
Editor's note: Assistant News Editor Mitchell Caminer is a brother in the Tau Delta Chapter of Alpha Epsilon Pi Fraternity, which candidate Aaron Zelikovich is also a member of.