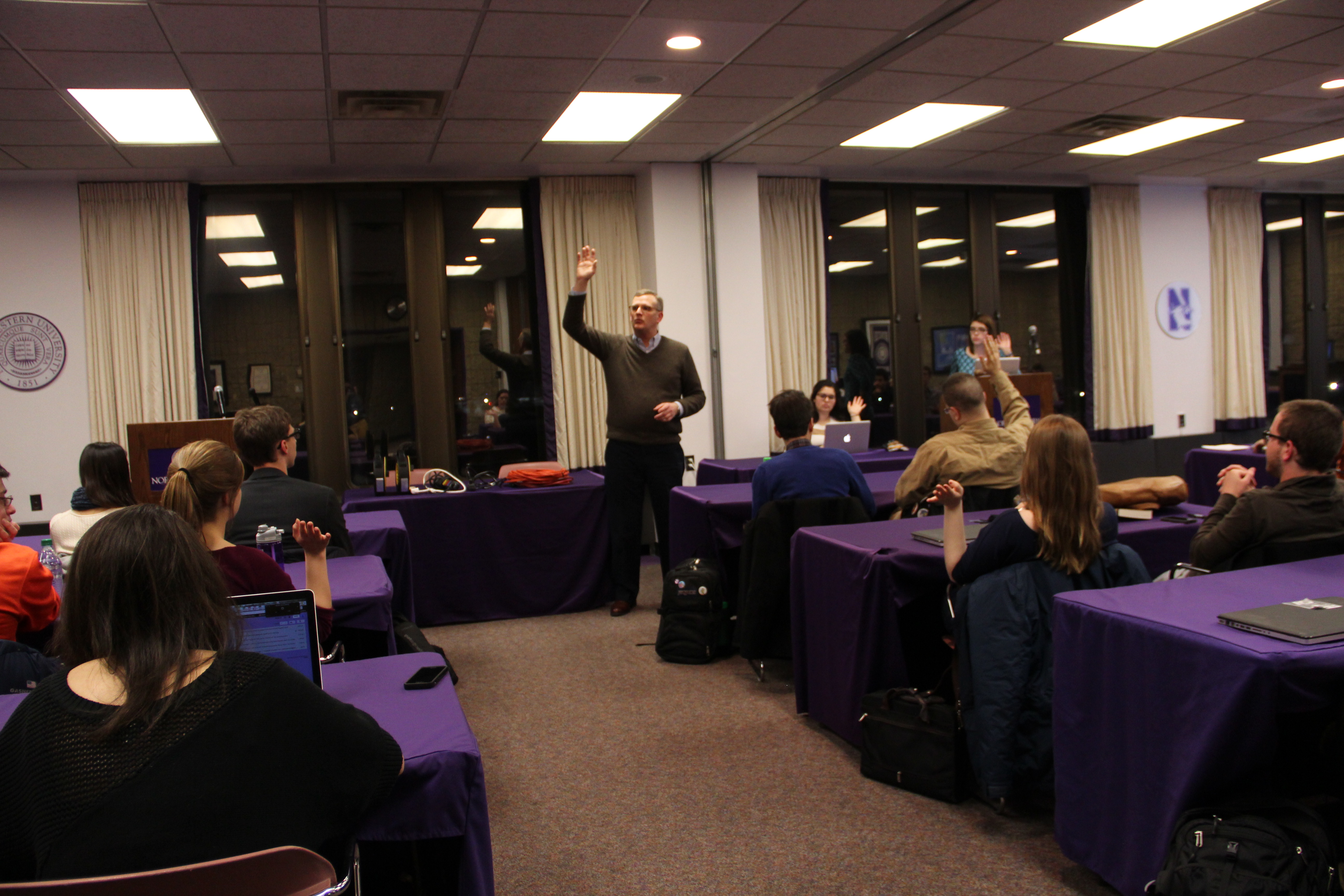 ASG heard from the Dean of Students on the updated sexual misconduct policy at its Wednesday meeting. ASG also expressed support for expanded undergraduate shuttle service and passed changes to its code and funding for Mega-Shabbat.
Dean of Students Todd Adams addressed ASG to explain Northwestern's updated sexual misconduct policy. Adams emphasized the policy's application to all faculty, staff and students at the university. The updated sexual misconduct policy specifically addresses stalking, as well as dating and domestic violence, after about ten to eleven months of work on the update.
While sexual misconduct policy has been a long-time discussion point at Northwestern, the recommendations for college campuses in the amendment to the Violence Against Women Act "became an impetus for us to talk about it with a broad range of university folks," Adams said.
Adams also note that while updating the policy, they examined what sexual misconduct looks like at Northwestern, how it is defined and what our expectations and standards are for the community.
"We're proud of not only the language we have addressed and come up with in the policy, but also I think to the degree which we outlined consent in this policy," Adams said. "One of my sincere hopes is that [the policy] doesn't become something that is filed. This is one that needs to be a campus conversation, we need to have a dialogue around relationships on this campus, around sexual misconduct, around what we mean by that, how we view it."
When asked about encouraging reports of sexual misconduct, Adams said NU Help, launched by ASG in the fall, has heard "dozens upon dozens" of reports. Adams also referred to traditional methods of reporting incidents through campus officials. He concluded with his hope that students will invite officials in to talk to various student groups and facilitate the conversation on campus.
ASG also passed changes to its code, introduced last week by Ajith and Vice President Alex Van Atta.
In shuttle services, Haley Hinkle, Student Life Director of Transportation and Senator Isaac Rappoport introduced a proposal that "supports the expansion of daytime Evanston Loop and Campus Loop shuttle services," according to the legislation.
Hinkle said the university reached out to ASG to show student support for increasing undergraduate shuttle service to help expand the budget. The authors noted how shuttles do not cater to the schedules of undergraduate classes, while ASG members asked questions about shuttle traffic and suggested increasing Evanston Loop service. Given the imminent nature of budgeting deadlines for the Fiscal Year of 2015, ASG voted to pass the proposal.
For the third annual Mega-Shabbat, the organization requested $200 to contribute to the cost of renting Allison Dining Hall for the campus-wide Shabbat dinner, which it expects to draw around 400 people. Mega-Shabbat expressed a state of sufficient finances, requesting ASG funding out of symbolic support from all student groups. Citing Mega-Shabbat's ability to access other sources of funding, unlike some other student groups requesting funds, an amendment reduced the ASG contribution to $150.
Ajith acknowledged Mega-Shabbat's funding, but also noted ASG's goals of supporting such cultural events. ASG passed the proposal.