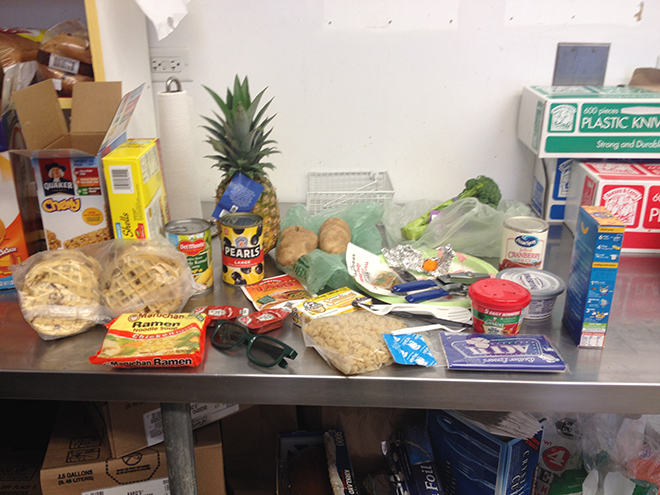 Look, the dancers at Dance Marathon have a mostly miserable time, I understand that, but if you think that consideration stopped us for a second, then think again. When some of my Delta Chi brothers and I looked to assemble the worst care package in the history of Dance Marathon for Team Delta Chi/Kappa Alpha Theta, we absolutely went for it. This was not a "Oh, hey, that was cute," sort of care package, nor was it a "Wow! that was surprisingly practical!" care package. This was a care package that was utterly and entirely useless. If you received this care package, you would hate us. I kind of hate us. Nevertheless, we all must live with our choices.
My compatriots and I approached the assembly of the care package with the philosophy of "Hey, here's some goofy shit, let's throw it in!", and I have to say, it worked to maximum effect. Here's what we put together, and for the record, we spent real money on this and it was absolutely worth it.
The Worst DM Care Package of All Time
one package of taco seasoning
two raw potatoes
one whole, uncut pineapple
raw broccoli (for vitamins!)
frozen Eggo waffles (chocolate chip flavored, because no expense was spared)
hard taco shells (seriously – they are halfway to a full taco bar already, they should be thanking us at this point)
soy sauce packets from Joy Yee
a tub of cream cheese
an old cheeseball wrapped in foil (classic late addition – we found it under the Delta Chi pantry; it wasn't like we were going to throw that away anyway)
jellied cranberry sauce
uncooked Kraft macaroni and cheese
uncooked Velveeta shells (two kinds of cheesy mac? I feel great about this!)
uncooked Ramen noodles (and the Holy Trinity of crappy pasta is complete!)
one condom (you never know!)
ketchup packets from Five Guys, and "old brown" mustard from Potbelly's (new idea – we should do this every year and have local restaurants sponsor us)
tin of sardines
3-D glasses from The Hobbit: The Desolation of Smaug
one can of corn
one can of olives
a can opener (come on – it's not like we're animals here)
unpopped popcorn
one uncooked personal serving of Chef Boyardee ravioli
one napkin
one plate
two forks and knives
a single wet wipe (you know, for hygiene)
Do we suck yet?
Oh, I better tell you that we packaged all of this in a giant box of Goldfish crackers, so not only was this intentionally malicious and terrible, but it was also treacherous and deceitful. I love describing my own actions in this way. Feels great.
The delivery had to be an efficient effort thanks to the suspicious hustling of DM Security, but luckily, our concerns that the can opener would be confiscated as a bladed weapon went unfounded. Also abated were our fears that Team DX/KAT was going to reject our magnificent gift, but the dance-weary Greeks, in their near-feral state of primitive thought, dove right into the goodies. Someone ate the broccoli like it was a giant turkey drumstick. The can of jellied cranberry sauce was immediately broken open and devoured. The pineapple was hacked to bits with one of the plastic knives. The potatoes disappeared. Indeed, the conspirators of this care package greatly underestimated the desperate urges of the DM participants.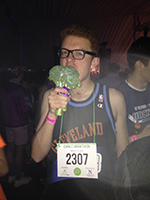 Now, I know what you may be thinking: The positive reaction in no way negates our horrible intentions. And you know what? You are probably right, but that is why we followed up the Worst DM Care Package of All Time with four pizzas, plenty of popsicles, a package of cinnamon rolls, a crate of Gatorade, five bananas, and a whole bunch of oranges. See that? Twist ending, suckas!
After all, this is the thing: we ultimately wanted to tell the people on our team that we cared about them, and that the DM community goes far beyond the tent. On the outside, campus seriously shuts down for the entire weekend. All of Northwestern is dedicated to making this an unforgettable, meaningful, and emotional experience whether there is a number pinned to someone's chest or not. This package (both packages, really) was an act of love, because this weekend is about our community coming together for a great cause.
Go 'Cats, and go Team Joseph!