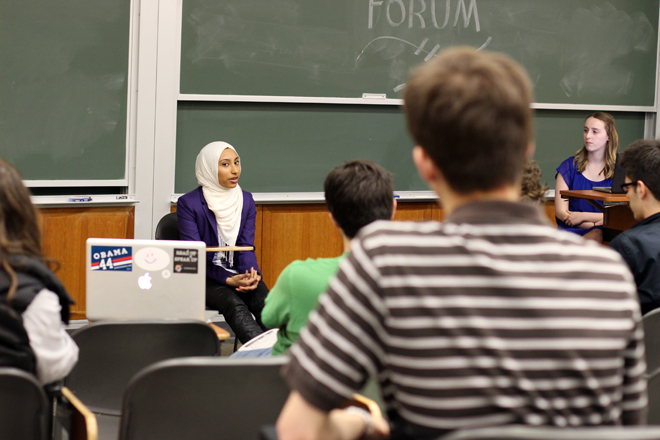 Friday's debate for academic vice president turned into a Q-and-A public forum directed at Sofia Sami, who is running unopposed in the April 19 ASG election, as she fielded questions in Annenberg Hall in front of about 15 students.
Sami explained to audience members her platform, which focuses on creating a "holistic Northwestern experience" for all students.
The Weinberg junior currently serves on the Student Activities Finance Committee, the Academic Committee and the Diversity and Inclusion Committee.
Sami said her decision to run came after a month-long sabbatical she took from Senate earlier this year.
"It gave me an opportunity to reflect on what I value about Northwestern, and what literally disappointed me to the point that I actually wanted to fix it," she said. "We move away from home to come here because we do believe this is higher education. The entire purpose of being here is to learn, which means it is a 24/7 experience. It is more than the four or five units you take."
Extracurricular activities, especially ones with leadership potential, can mean as much to students as their classes, Sami said. She told students she wants more recognition for the work put into theses activities, which she said can offer similar lessons as those from outside learning opportunities such as the Medill Journalism Residency Program or the McCormick Co-op.
"Much of my platform is seeing if credit can be applied," she said. "We're looking to see if a quarter could be three units of classes and a fourth unit student involvement," citing not only experiential benefit but also lessened stress and improved mental health.
After a series of submitted questions, Sami took questions from the audience, covering how she would deal with conflict within ASG and with University administration and better use of technology on campus. She voiced support for pursuing a cross-school diversity requirement with collaboration from the administration.
Sami said she hopes to make a difference for student life at Northwestern in the coming year.
"For me, it's tying in all those pieces together," she said. "So we do feel like it is a very consistent, holistic view while we're here."
Missed the forum? Watch it here.