Bryant McIntosh hates losing. When he committed to Northwestern five years ago, he set out to make sure his team would be winners – quite a feat given that the team had a second-year coach and had just finished second to last in the Big Ten. But the scrawny guard from Greensburg, Indiana, was up for the task, and he's become of the most important players in NU Basketball history after leading the 'Cats to their first ever March Madness.
McIntosh was no stranger to winning in high school – and no stranger to doing it under pressure. As a junior at Greensburg Community High School in Indiana, McIntosh led his team to their first basketball state title in school history (sound familiar?) and did so by hitting a decisive three pointer in overtime. McIntosh took Greensburg to the promised land once more in his senior season while also making the decision to decommit from Indiana State to come make history for the 'Cats.
However, when he arrived in Evanston, his freshman season was anything but historic.
"We lost 10 in a row my freshman year in the Big Ten," McIntosh said while shaking his head and laughing to himself for what seems to be the hundredth time. He remembers his early years at Northwestern well, in part because he's cited it as motivation and a turning point so often. But also because, as McIntosh and any other longstanding Northwestern basketball fan knows, that had long been the norm for the team.
"I think the biggest change in this program [from my freshman year] is we no longer hope to win: we expect to win, and we're good enough to win," McIntosh said. "We have that belief in ourselves. I just see this program continuing to go further and further up the ladder."
With all the excitement surrounding the Northwestern men's basketball team making it to March Madness for the first time last year, it might be hard to produce an equally exciting encore. Coach Chris Collins and the players know it – but senior point guard McIntosh embraces the hype, and he's set a lofty goal for his senior season: a national championship.
McIntosh, a team leader in points per game (14.8) and assists per game (5.2) last season, was a major player in last March's tourney run. While he understands the gravitas of the Tournament berth and was obviously elated to be the first to take Northwestern there, he is already locked into this season.
"I understand that it's something everyone is excited about, but I don't think it's something I'll be able to appreciate until later in life when I look back on everything we accomplished," McIntosh said. "Reminiscing can happen 20 or 30 years from now. Right now I'm just focused on this year."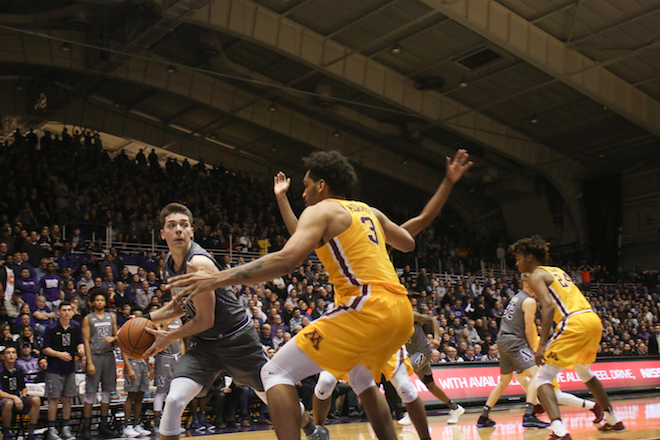 Last year's Round of 32 loss left McIntosh and the rest of the team unsastified. Despite nearly pulling off a huge upset against runner-up Gonzaga, the 'Cats are hungry for more.
"We accomplished the one thing everyone wanted us to accomplish, but we can't be satisfied," McIntosh said. "We haven't won a championship here, and it's my last year. I come from a championship pedigree in high school and won championships – and that's how I want to go out."
Winning has always been on McIntosh's mind, and always within reason, through all the lows and disappointments, it's just now coming to fruition. And with the fairy tale career McIntosh has had, he justifiably wants to end his career with Northwestern on a high note.
"When I came here, I came here to win championships, and I haven't done that yet," McIntosh said. "As a senior, and with my fellow seniors, we want to win championships, we're not just satisfied with just making the championship. It's our last go around, we have to make it count."
Along with wanting to bring a national championship to Evanston, McIntosh also wants to add a few more bullet points to his already stellar resume in his final year as a Wildcat and build upon his all-B1G second team selection last year, setting his sights on a first team all-B1G selection.
To achieve this, McIntosh has improved his diet, keeping a closer calorie count, and continued to work out as if it were mid-season – including practicing his famed floater.
"I just started taking shots that I'll get in the game a lot, rather than just getting volume shots," McIntosh said. "The isos at the top of the floor, coming off ball screens, shooting a lot of floaters. Those are the shots I get a lot. Working on those and studying film the way I was before are the key parts of my regimen that allowed me to perform the way I did."
America must have taken note: McIntosh has been named to the watch list for the Bob Cousy Award, which is awarded to the nation's top point guard, the Naismith Award watch list, awarded to the nation's most outstanding player, and the preseason All-Big Ten team, setting the bar high for his performance this season. But as always, McIntosh is up for the challenge and ready to exceed expectations.
But McIntosh is anything but solely focused on individual awards, as he is widely recognized as a leader for the team both on and off the court. Sophomore Isiah Brown, who was McIntosh's backup at point guard last year, has spent the past year learning from McIntosh.
"It's like a big brother, little brother type situation," Brown said. "It's been like this since I got to campus, the first day of my freshman year. Getting to watch him, getting to follow after him, seeing how he carries himself day in and day out has been a huge help to me, and I've learned a lot from him."
As evidenced by his efforts to improve in every way possible – be it diet, fine tuning workouts or just working out at mid-season intensity to begin the season – it's obvious that McIntosh works hard to improve his game and help the team win. Fortunately for Collins and the rest of the team, this mentality seems to have rubbed off on the younger players.
"His work ethic [stands out]," Brown said. "He's been here for four years, so he knows how everything is supposed to go and how everything is supposed to look. He's vocal, and he's going to make sure things are working. Having a guy like that as a leader on your team is going to keep the young guys in check."
Northwestern Basketball has come a long way since the soft-spoken point guard/messiah arrived on campus in 2014. But as McIntosh would have it, his program has its sights set on defying the odds and achieving the unachievable once more.