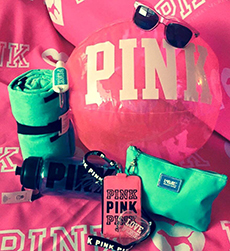 While Northwestern students are still drooling over the latest Victoria's Secret Pink collection, idolizing the journalists published on the New York Times or digging in their pockets for coins to buy a can of Monster, some of their fellow Northwestern undergraduate students are already working for these companies – as their campus representatives.
"I market the Pink brand on campus and generate excitement among students," said Weinberg junior Nancy Wei, a campus rep for Victoria's Secret at Northwestern.
Most of campus reps run a company's social media account on campus and organize events, such as social media contests or advertising booths, to market the brand. Weinberg junior Sarah Goldstein, Friendsy's campus rep said she could even earn a $50 bonus by writing articles like "7 reasons why you have to download Friendsy RIGHT NOW."
And yes, as campus reps they do receive shipments of free merchandise such as shirts, pens and sunglasses. "And yes, I kept a lot of them," Goldstein said.
Still, most of this merchandise is for promoting the brands rather than for the reps' own use. During a Snapchat contest that Wei organized for Pink, the first few girls who responded to a question and sent over their bra size could get a free bra. Around 60 girls participated.
Although Wei is not paid by Victoria's Secret, she received free trip to the company's headquarters in Ohio one weekend for training. Goldstein, on the other hand, works directly with Friendsy's founders, two Princeton students, through email and Groupme to discuss how to improve Friendsy's popularity on campus.
"It doesn't matter whether Friendsy is a popular brand, as long as I think the app is good," Goldstein said.
These campus reps landed in their jobs in different ways. Wei said she planned to be a campus rep even before entering college. She joined street teams that marketed the Pink brand before applying for the campus rep position.
Some were just lucky. Weinberg junior Kevin Russell, Monster's campus rep, got his job because he was the only one who submitted an entry in a photo contest to select the campus rep. Others benefitted from checking their emails often. Goldstein received an email from Freindsy when she was a user, and simply followed the job application instructions in the email.
Goldstein said her friends were largely support her work, despite sometimes getting a little tired of her nagging.
"I would say like, 'hey, want to download Friendsy?', and my friends would roll their eyes," Goldstein said.
Most campus reps agree that the job isn't time-consuming. Martina Barrera-Hernandez*, a Medill junior representing the New York Times, said the job occupies around three to four hours per week. Russell even has enough time to takes up a second job at SPAC besides his campus rep duties.
"Being a campus rep is more independent, more laid-back, but you have to make sure you are on top of everything," Russell said.
Wei said working for a brand she likes is an enjoyment. "Victoria's Secret is such an empowering brand that makes women feel better," Wei said. "It stands for a lot of great things."
*Martina Barrera-Hernandez is a senior editor for the North By Northwestern print magazine