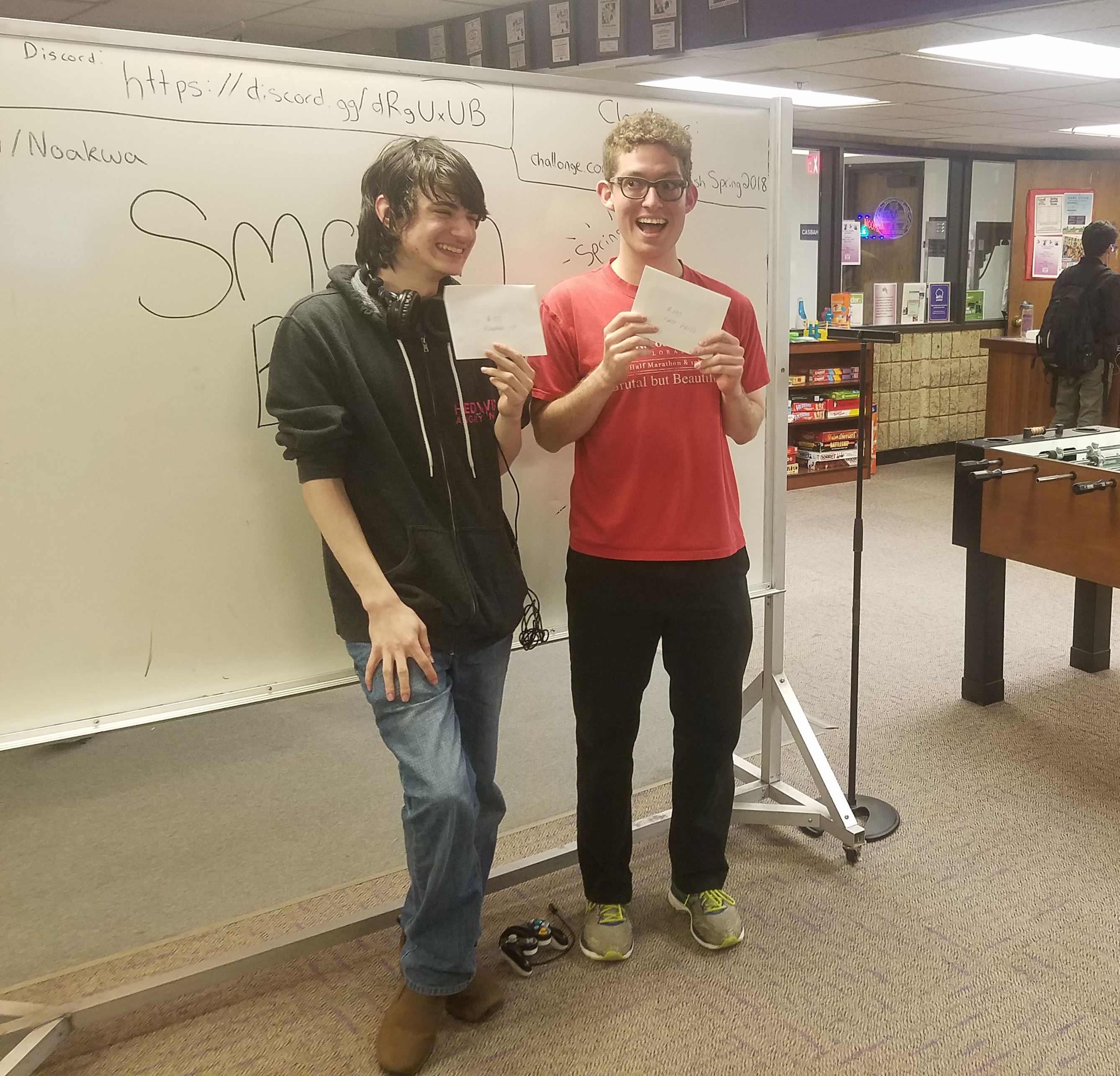 When I walked into the Norris Game Room Saturday, it was alive with the smell of popcorn and the sounds of clicking controllers. Northwestern students of all ages gathered to battle it out at Smash Bash, a Super Smash Bros. Wii U tournament that has become a staple event for the Smash Club.
Smash Bash started three years ago with the founding of Northwestern's eSports club, and while attendance has decayed a bit since its inception, the level of competition between the players has not. While the weekly Smash Club tournaments are always just for fun, this one gives students the opportunity to earn cash prizes for being a top performer. With the incentive of receiving $150 for a first place finish or $50 for second, players had been practicing extra hard, and everyone was out for blood.
I had spent the previous afternoon practicing with a few of the top club members. What was supposed to be a quick practice session to help me work on my rusty skills turned into a marathon training session from 4 to 10:30 p.m. I used to be a top-three player here, but school got in my way and I fell from my glory. This time, however, I finally felt ready to earn my spot back and potentially earn some money. Even though I had accidentally put off tons of homework and my fingers hurt, I was happy with the progress I made that night.
The morning of the tournament, my phone was buzzing from people in the practice group chat trying to get warm-up games in. Even though we have a tournament for fun every week, this one garnered way more hype. By the time I walked into Norris, every available TV was already being used by all the players who regularly show up to the club.
This tournament marked the first time the club was going to try a livestream. McCormick freshman Noah Wolters had his computer connected to one of the setups so he could stream the top matches to Twitch.tv for anyone to watch. All the competitors, myself included, were really excited to be able to commentate games that our friends were playing. While the stream didn't get many viewers, it was a great pilot run for something that may become a staple for Northwestern Smash.
Even though there were only 17 players in the bracket, all of Northwestern's top five and most of the unofficial top 10 players showed up. The tournament started with best of three round robin pools and led to an eight-player double-elimination bracket with sets being judged best three out of five.
The biggest upsets happened in pools. Weinberg sophomore Troy Biermann, a Mr. Game and Watch player who has never placed on Northwestern's ranking system, managed to make it into the bracket by beating both the first- and fifth-ranked players.
"My pool was miraculous," Biermann said. "I guess the stars aligned for me today."
After his peak performance, Biermann very quickly got beat 3-0 by Wolters and then 3-1 by me, knocking him out of the tournament at 7th place. While I was confused, and slightly nervous about how he'd cleaned up his pool, I tried not to think about it and just played the game. I put on my headphones, listened to calming music and used what I had practiced the day before to methodically take advantage of his weaknesses.
There was a lot of inconsistency throughout the bracket as well, with only two of the currently ranked top five placing in the top four. While I've been fairly inconsistent this past year, I definitely took advantage of my bracket demons being taken out by people who I thought I could handle.
"I think we saw a caliber of play from all of our players that's higher than normal, which I think really has a lot to do with the real incentive," Communication junior Jordan Bolin said. He organized and ran the past two Smash Bash events. "Even though there's always the incentive of power rankings and bragging rights, I think having a cash incentive really brought the game up to a higher level today. I heard a lot of people talking about how they put in a lot of effort beforehand, and I'm happy to see people trying to improve in the community."
Wolters went on a tear, placing 3rd with good wins over number three and four, and is looking to make the rankings for his first quarter. I got 4th place after a big lack of attendance this year, which I was proud of. Even though 1st and 2nd place went to the two best players in the club, and who were expected to win, Smash Bash made everyone realize that the skill gaps are a lot closer than they seem.
While Bolin was happy with the event, he's hoping that more people can attend in the future. For those who are not currently members of the club, he would like to create an open community to anyone and everyone who enjoys playing Super Smash Bros.