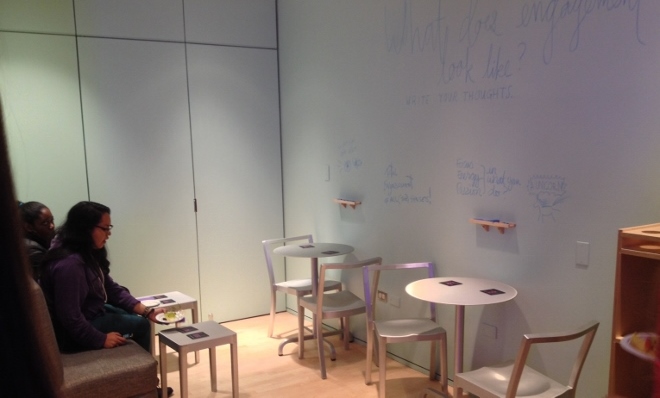 With an abundance of counters, coasters and chalk, the Mary & Leigh Block Museum of Art formally opened a new study spot Wednesday evening. The Block has redesigned the lobby space, now called the Block Spot, which offers work space and WiFi for visitors.
"We're envisioning it as a quiet place to study and to read, and also a place to meet your friends," said Burke Patten, Block Museum communications manager. "We have some ideas to do events in this space. It's going to be a solo and a group environment."
Block Spot will be open during regular museum hours as well as on Mondays, when the exhibitions are closed. There will be extended hours during reading week. While the museum will not serve food or beverages, visitors are welcome to bring their own to the Block Spot.
"This is what change feels like," said director Lisa Graziose Corrin as she mingled among students, faculty, staff and community members in the Block Spot.
The Block Museum also welcomed Susy Bielak, incoming associate director of engagement/curator of public practice, who offered a preview of how she intends to engage the Northwestern and Evanston communities.
"Engagement is about communication, education, art and using art as a springboard for talking about everything else," Bielak said. "I'm a generalist and I'm extremely excited about working across disciplines."
Bielak projected examples of art projects and initiatives that exemplified what she intends to bring to the museum. While she did not offer any specifics, she hinted at the possibility of a parade.
The Block Museum exhibitions remain closed as the museum repairs flaws in the water sprinkler system. Three new exhibitions, all curated by current or recently graduated Northwestern students, will open on Jan. 17.