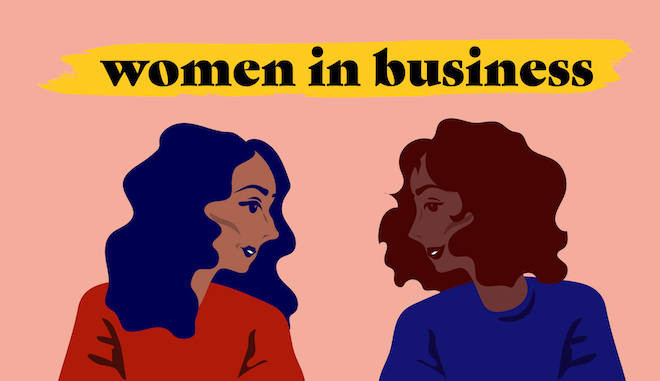 Google, Apple, Facebook — these are the brands that come to mind when we think of successful companies. And as a small business owner, they are your inspiration and aspiration. When Facebook contacted Tamika Price, owner of Standout Style Boutique in Chicago, with an offer to promote her business, it was an opportunity she couldn't pass on.
Price displayed a pop-up shop in Facebook's Chicago headquarters for two days in October, giving her business valuable exposure to a credible network in the the city's world of entrepreneurship.
How did Facebook find her in the first place? Through BOSSY Chicago, a platform that connects feminist customers to women-owned businesses. This platform has its roots on Northwestern's campus, more specifically, in the Garage.
Sam Letscher, McCormick '18, and Isabel Benatar, SESP '18, founded BOSSY in 2017 and developed the company through support from the Garage and Northwestern students.
BOSSY promotes local, female-owned companies through social media and blog posts and offers a free online directory of women-owned businesses in Chicago. Although both founders have graduated, Letscher plans to continue growing BOSSY as a company.
Among the hundreds of women-owned businesses BOSSY has featured on its catalogue, Tomate Kitchen, Artemesia Theatre and Standout Style Boutique are three BOSSY has a particularly close relationship with, Letscher said.
Standout Style Boutique
In 2017, BOSSY posted on Facebook asking their followers to tag their favorite women-owned businesses. Tamika Price, owner of Standout Style Boutique in Chicago, was tagged in the post, introducing her to BOSSY for the first time.
What Price didn't know was that a year later she would have the opportunity to open a pop-up in the Facebook Headquarters as a result of her listing on BOSSY's directory.
"It's great to see that [Facebook], as a larger company in Chicago, is showing support for women-owned businesses as well," Letscher said. "It's just another opportunity for us to build out our site as a way that companies can find ways to support women-owned businesses with their platforms."
Q&A With Tamika Price:
NBN: How has BOSSY helped Standout Style?
Price: They have listed my boutique in their directory, written an article and shared our business on their social media platforms. I can't quantify it exactly, however, I know I have gained opportunities from being featured on the BOSSY Chicago directory. For example, Facebook Chicago headquarters reached out to us to do a pop-up shop there based on seeing our listing on BOSSY.
NBN: Why is it important to buy from female-run businesses?
Price: Making a positive impact on women-owned businesses is imperative to helping grow communities, economies and having a positive impact on families.
NBN:Did you face any struggles as a woman in creating your own business?
Price: Yes, everyday. Getting capital, finding cost-effective ways to market my business and retain customers amongst a handful of other things.
NBN: What does BOSSY's mission to support female-owned businesses mean to you?
Price: It means support. It means the future. Women-owned businesses are booming and growing at such a fast pace. If you're not intentionally supporting women-owned businesses, you have to understand the positive impact and experiences you're missing out on.
Tomate Fresh Kitchen
Letscher had been to Tomate Fresh Kitchen, an Evanston Mexican restaurant, a couple times before, but when she found out it was woman-owned, she became a loyal customer.
She said that her personal experience in discovering that Tomate was women-owned underscored the need for a platform like BOSSY in the company's early days.
Letscher frequented Tomate and built a close connection with owner Tania Merlos-Ruiz who would often ask her advice on new promotions, website changes and projects the restaurant was working on.
Q&A with Tania Merlos-Ruiz:
NBN: How did your relationship with BOSSY start?
Merlos-Ruiz: BOSSY found us. Sam and Isabel used to be our customers, and then they told me what they were doing. We went to go see them when they pitched their idea at school. We were there when it first started, and we've been part of it ever since.
NBN: How have you and BOSSY worked together?
Merlos-Ruiz: Students know us from marketing that BOSSY's done. That's how word gets out at Northwestern – from students. Some women come in here, and they love the fact that it's a women-owned business because most restaurants are owned by men, and they love that. They let me know that's why they're there.
NBN: Why is buying from female-run businesses important?
Merlos-Ruiz: I think it's important for women to help other women, to support each other, to catapult each other up into whatever realm we want to be in.
NBN: What do you love about BOSSY?
Merlos-Ruiz: Their push for female-owned businesses – it's very important that it comes from a younger generation. It's a younger generation of women that supports all of us. That's what I loved about BOSSY.
Artemesia Theatre
Artemesia Theatre, a feminist theatre company based in Chicago, was one of the first non-brick-and-mortar businesses featured on BOSSY. In March 2018, BOSSY expanded its directory to include businesses without physical storefronts, including service-based and online businesses.
Q&A with Julie Proudfoot
NBN: How did your relationship with BOSSY relationship start?
Proudfoot: We found each other through social media, and we were singing each other's praises basically. Sam reached out to me because I reached out to her about our Fall Festival, and from there, that's how the friendship started.
NBN: How has working with BOSSY helped Artemesia?
Proudfoot: It's been so recent that it's hard to track that. But I do believe that them letting their followers know about us has helped us gain a lot of support from Northwestern. It's really opened up our relationship with young women at Northwestern, which has really been an asset to us. It will be interesting to see in the next six months what happens with younger feminists.
NBN: What does BOSSY's mission to support female-owned businesses mean to you?
Proudfoot: As a feminist who believes in equality and making the world a better place, it sort of means a lot. To give women this sense of power around their lives financially has huge ramifications on all kinds of issues that women struggle with: domestic violence, being trapped in relationships because of money, not believing in themselves in human beings that they can succeed on their own. I think it's a very simple, and yet incredibly powerful multi-layered impact culturally.
Women from around the country have reached out to Letscher, asking when BOSSY will be available in their city. But she doesn't want to rush things. She would love to spread the impact of BOSSY nationwide, but is first focusing on finding a profitable equation that works in Chicago.
"A big part of why people love BOSSY is the local impact," Letscher said. "I think it's a major part of what sets us apart from other movements around supporting women, which oftentimes feel disconnected from local issues, and I want to stay as connected and plugged into local communities as much as possible."
"I just want BOSSY to be the go-to platform to find women-owned businesses for whatever you need. That just means that I want to be building this movement around buying women-owned in the city, and at the end of the day helping women owned businesses acquire new customers."