Used more than Wildcards and refilled more than shot glasses, water bottles are an accessory that Northwestern students can't live without. Just walk around campus and you'll see a multitude of drinkware options to fulfill the daily eight-cup quota, from the classic Camelbak to the suave S'well. With so many different options, how is a student supposed to pick which one is best? Simple: our first ever NBN Student Hydration Guide.
Most Basic: Camelbak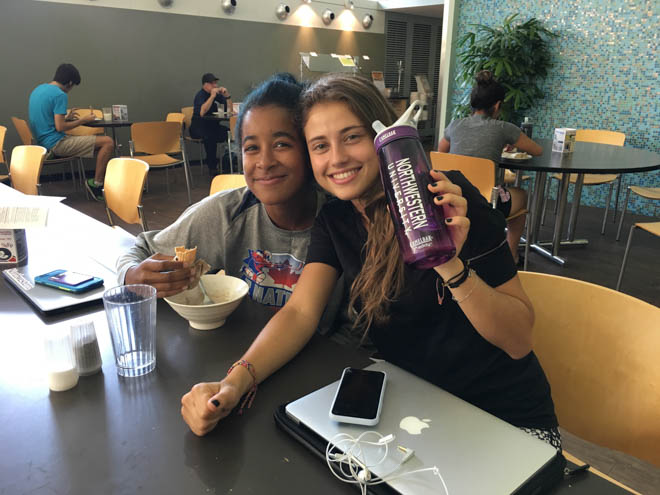 The Camelbak is arguably the most common water bottle on campus – and for good reason. It's reliable; it's economic; and there's a darn good return policy. But for some, it comes down to the little things that keep Camelbaks flying off the shelves faster than you can drink 20 fluid ounces.
"The reason I have a Camelbak is for the spout," said Weinberg freshman Leah Broger. "It's hooked up to a fairly large straw; I drink more because of it."
Yet the straw can sometimes be problematic.
"I put soda in mine once," said Caroll Clausse, an exchange student from France. "When you do that, you have to be careful not to press on the spout or it starts to bubble everywhere."
Most School Spirit: Free Northwestern Bottles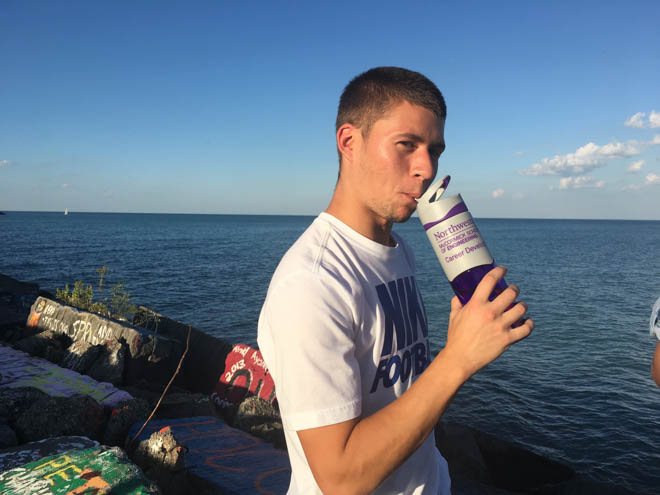 Northwestern is not exactly short on money – or at least you wouldn't think so from the number of free water bottles circulating campus. From the Alumni Association bottles reminiscent of new student dances and dub-dub-'16 to the McCormick models made of geometrically-angled plastic, it's not hard to spot purple drinkware from those backpack side-pouches.
"I got this during Wildcat Welcome three years ago and I still use it every day," Weinberg junior David Huang said. "It works great but I guess in terms of looks, it could be improved."
Most Leak-proof: Contigo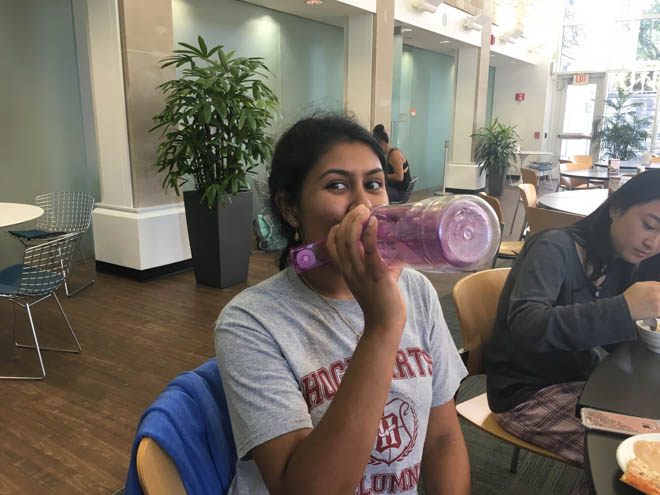 One of the most common complaints of water bottle users worldwide is leaking. Contigo prides itself in bottles with spouts clasped underneath the cap when not in use - a feature that has given them the opposite reputation of a dining hall waffle maker: leak-proof and germ-proof.
"I went to Guatemala this summer and was told that any bottle with an exposed mouthpiece would be susceptible to bacteria," Weinberg freshman Raveena Aggarwal said. "I liked it so much that I still use it today."
Most Hipster: S'well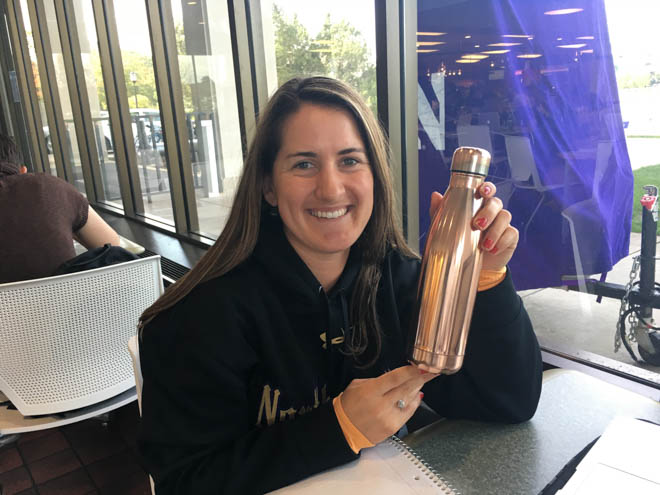 You can't call yourself a hipster until you've taken a picture for your color-themed Instagram of your aesthetically-pleasing desk with the corner of your MacBook, a spiky-looking succulent, glittering fairy lights, and of course, a S'well bottle. Its unique insulating system keeps drinks cold for a full day and warm for a solid 12 hours.
"If you get the big one, you can fit an entire bottle of wine inside," said McCormick sophomore Libby Kerrigan.
"My only complaint?" Communications freshman Olivia Winn said. "It has to be washed frequently or it starts to smell weird… which is a pain in college."
Most Thirsty: Nalgene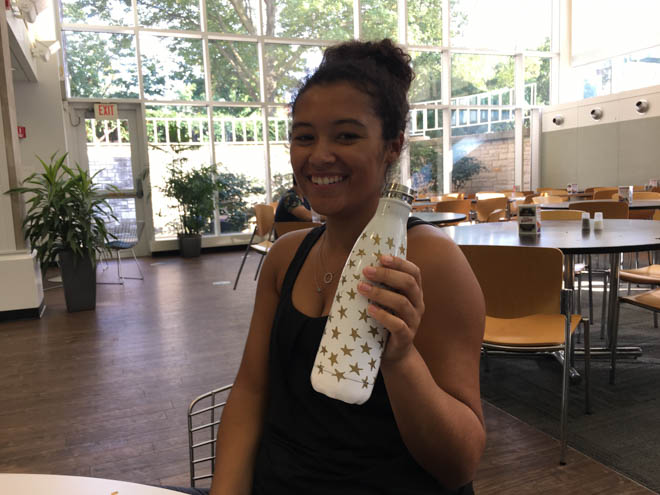 If filling up your bottle between classes is starting to get annoying, do what McCormick junior Jack Chen did and get a Nalgene. Due to sheer size, the bottles hold more water than your average water tower – great for hydration, decent for housing small marine species, not-so-great for transport.
Being an engineer, Chen has noticed some design flaws, too.
"The water is hard to access because you have to unscrew the whole thing instead of just popping out a straw, " Chen said.
Most Collectible: Starbucks Tumbler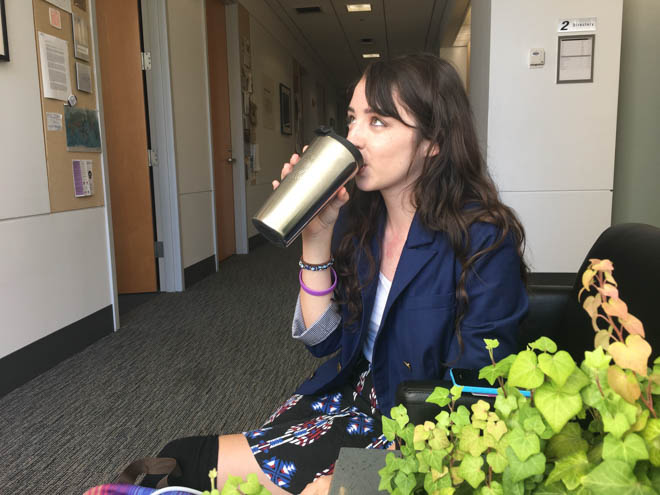 Unlike most options in the drinkware aisle, Starbucks tumblers come in their own customized patterns and designs, not just solid colors. Those who are nuts for the city-themed tumblers will go out of their way to find as many different location-themed bottles as possible.
Even if you're only using the bottles for their functionality, though, they still receive top marks.
"I use it for the utility, not the aesthetic," Medill freshman Elizabeth Guthrie said. "So I got a color that matches everything."
Most Practical: Hydroflask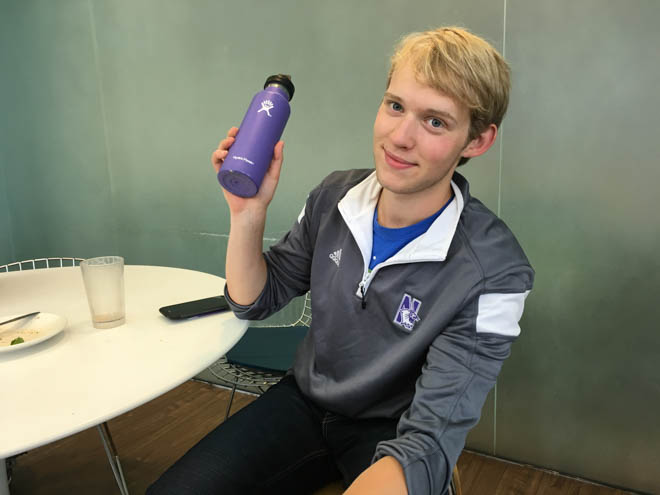 According to Communications freshman Daniel Gest, originally from Seattle, these bottles are all the rage on the west coast. The unique dual-layer design makes this model a high-tech replacement for your S'well by keeping liquids ice cold without any condensation on the outside with such ease that we question whether or not they were made by Elsa herself.
An unintended use to the rock-solid metal exterior? "I've used it to drive stakes into the ground before," Gest said.
Quickest: Plastic Water Bottles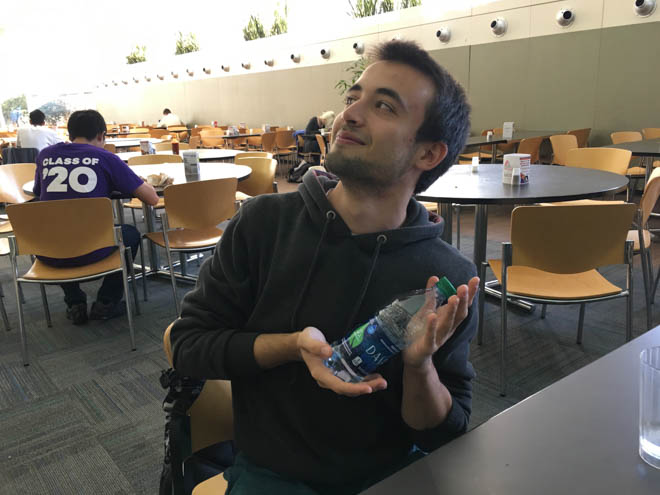 If you can't fathom dropping over ten dollars on a portable drinking vessel that will greatly improve the health of your body, it makes sense to just spend hundreds of dollars a year on disposable Aquafinas instead.
"I know it's probably wasteful, but I'm too lazy to buy a real water bottle," Weinberg freshman Emre Turkolmez said when asked about his constant companion – a trusty, disposable Ice Mountain bottle. "I pick one up from the vending machines every day out of convenience."
For one bottle, that $1.50 is a no-brainer, but over the course of a quarter, this daily purchase amounts to upwards of $85. Not the best option for your wallet – or the environment.
With so many different options, it's definitely a struggle to determine which bottle brand is the winner. Just like picking most things in life - a car, a college, a boyfriend - it all comes down to what suits your unique lifestyle. Whether you opt for school-spirited designs, leak-proof coverage or long-lasting insulation, just know that any reusable bottle is helping reduce your carbon footprint, all while keeping you hydrated all day long. Now that's something to drink to!
1: Ratings based on apparent commonness on campus, not based in actual research.