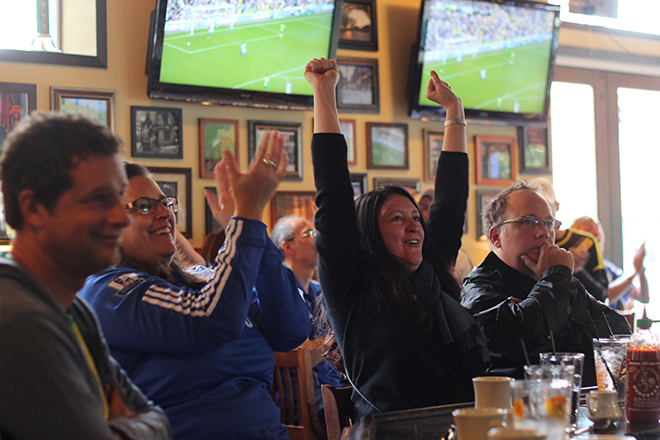 It's 9 a.m. on a Saturday and the fans are on their feet, joyfully singing and chanting in unison. They clink beer glasses and ignore their breakfasts momentarily to taunt opposing fans, high five one another and gleefully praise their team.
No, it's not a tailgate for a Northwestern football game. This scene of song, beer and sport takes place nearly every weekend at one of Chicago's many soccer bars.
Walk into one of these bars on a weekend morning—when, due to time differences, European matches are played—and you'll be swept up by emotion and passionate cheering for teams playing thousands of miles away from the Second City. Here's a look at our favorite Chicago soccer-viewing venues.
The Globe Pub | 1934 W. Irving Park Rd.
The Globe is king of Chicago soccer bars. The U.S. Soccer Federation has even recognized it as the best soccer bar in America on multiple occasions. The bar attracts herds of soccer fans—supporting a wide variety of teams from around the world—for all types of matches. You can practically hear its patrons singing and chanting from the nearby Irving Park Brown Line El platform, as if you were approaching an English stadium rather than a North Center neighborhood pub.
Prominent patrons: Arsenal, Manchester City, basically any team
Don't wear: Anything Tottenham or Manchester United
Atmosphere: Boisterous
Pro tip: On the day of a big match—the UEFA Champions league final, for instance—get there well in advance before it fills up.
A.J. Hudson's | 3801 N. Ashland Ave
Only a short walk from The Globe, A.J. Hudson's is another fixture of weekend soccer ritual in Chicago. It's impossible to miss from the street: The outside of the bar is painted a vivid blue, much to the delight of the many Everton supporters who congregate there for matches. Inside, television screens cover the walls. The atmosphere is not raucous, but fans cheer loudly and proudly when their team scores.
Prominent patrons: Everton and Liverpool
Don't wear: Anything Manchester United
Atmosphere: Festive
Pro tip: When it's baseball season, watch a match in the morning and then head to Wrigley Field for an afternoon Cubs game.
The Temple Bar | 3001 N. Ashland Ave.
If you're not a Manchester United supporter, stay away from Temple Bar on match days: The British expats don't take kindly to overeager fans of Man U's opponent. But if you do support United, you'll love the apparel and memorabilia adorning the walls. Members of the Manchester United Fans of Chicago belt out a barrage of songs and chants throughout the match.
Prominent patrons: Manchester United
Don't wear: Anything Manchester City
Atmosphere: Spirited and partisan
Pro tip: If you're not a United fan, at least wear red. And make sure that red doesn't include an Arsenal or Liverpool logo.
Atlantic Bar and Grill | 5062 N Lincoln Ave.
No Arsenal supporters allowed. The Chicago Spurs—Tottenham's Second City supporters club—pack the Atlantic Bar and Grill during matches as if it were a cold, rainy afternoon at White Hart Lane (Tottenham's home ground in North London) rather than a dreary morning in Lincoln Square.
Prominent patrons: Tottenham
Don't wear: Anything Arsenal
Atmosphere: Passionate
Pro tip: Follow the Chicago Spurs on Twitter @chicagospurs to get updates on match viewings, Tottenham news and other events.