In his freshman season, Bryant McIntosh was a very promising point guard. He showed flashes of great passing and shooting ability, and he was named to the Big Ten All-Freshman Team. At the time, he seemed a perfect complement to leading scorer Tre Demps, but McIntosh has expanded his game as a sophomore. Having already leaped Demps to become the team's top scorer, McIntosh has become the main focus of the Wildcats' offense.
He is now in the company of the plethora of good Big Ten guards and is jockeying for a slot on an All-Big Ten team. In the end, it is up to coaches and media to decide all-conference teams, but McIntosh's elevated play to this point gives him one hell of an argument.
As of Jan. 18, McIntosh has averaged 15.8 points per game, compared to 11.4 a year ago. The primary reason for the boost in scoring has been his willingness and ability to finish at the rim, where larger defenders reside. He is getting to the free throw line at a higher clip, averaging 1.2 more free throw attempts per game than he did last year. He has also averaged 2.4 more field goal attempts per game, and 1.8 of those have come from two-point range. An increase in field goal attempts would normally suggest a subtle decrease in efficiency, but his field goal and three-point percentages are both up significantly from 2014-15.
While this bump in scoring has been nice, if not necessary, for the 'Cats, the most noticeable improvement in his game has been as a distributor. His assists per game jumped this year from 4.7 all the way to 7.3, currently fourth in the nation and first in the Big Ten.
Part of this increase in numbers can be attributed to McIntosh's heightened experience and development, but a boost of 2.6 assists per game doesn't happen overnight. Head coach Chris Collins and his staff have been finding situations that allow McIntosh to thrive. While he isn't the open-court threat of, say, Tre Demps, McIntosh is a beast in half court sets, and he is able to see defensive rotations before they happen.
One of McIntosh's specialties is the pick and roll, where he has been able to eviscerate opposing defenses with both scoring and assists. Coming off a screen, he has an uncanny ability to find a soft spot in the defense. Even when a soft spot does not exist, his subtle fakes and clever passing can create one.
A major key to McIntosh's pick and roll success is his pull-up jumper. It forces the roller's defender to come out to an unnatural position, which usually leaves someone open. In the play below, the roll defender follows the roller (in this case Dererk Pardon) to the hoop. McIntosh's defender lags behind, leaving a wide open jumper for McIntosh, who subsequently knocked it down.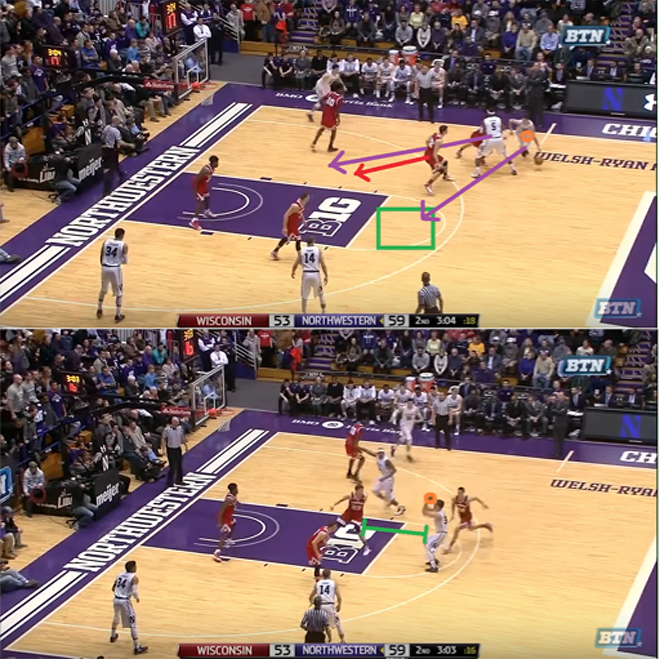 Teams generally don't like to give up wide open shots, so they often send the roll defender up to contest McIntosh's shot. This works … for a moment, but it frees up the roller for an easy bucket and McIntosh for an easy assist. In the play below, the defense does exactly that, and Joey Van Zegeren is left for an uncontested dunk.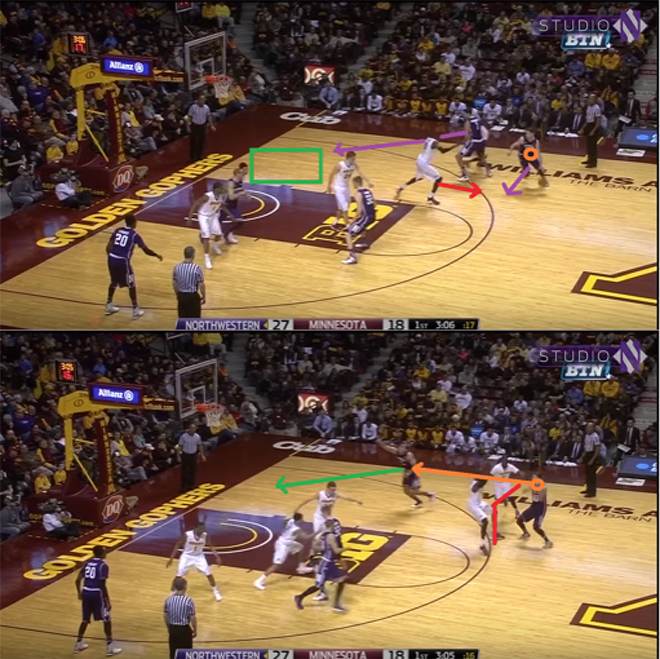 Sometimes it's that easy. However, Big Ten coaches are smart, so they find different ways to adapt. One popular way to protect against plays like the one above is by having a third defender cheat from the corner to defend the paint. While this takes away the easy two, it leaves a man open for a three in the corner. In the play below, it's Aaron Falzon. I shouldn't have to tell you how this play ended.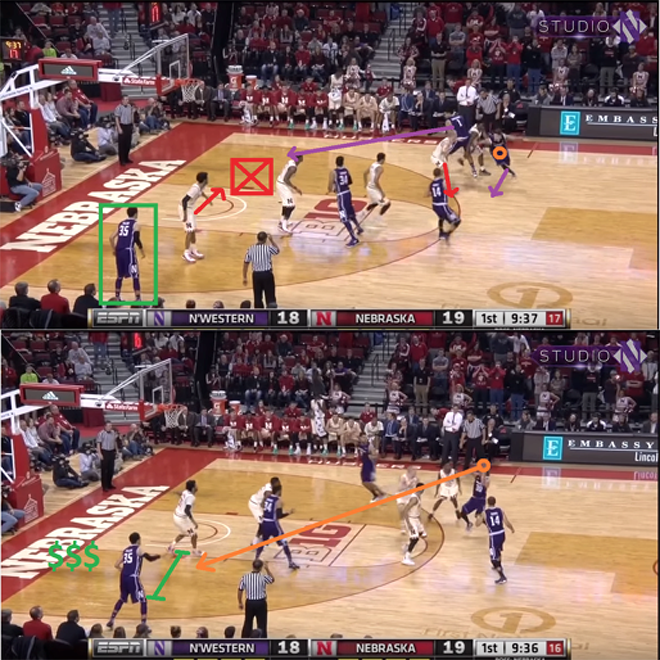 It's hard to notice in the picture above, but McIntosh gave a quick look to the roll man (Van Zegeren) immediately before passing to Falzon. This froze the defender in the paint and gave Falzon extra time to relax and put up a shot. McIntosh has mastered moves like these. He'll use quick jolts and subtle pump fakes to get defenders leaning one way, and at the last second sling the ball in the opposite direction to an open man. In college basketball, that extra split second can be all that matters.
While it's deserving of much praise, McIntosh's game is not perfect. His transition defense can be shaky at times, and he is one of just four NU players with a defensive box plus/minus (DBPM) below 0, per Basketball Reference. To his credit, he has been the Wildcats' best defensive "point guard," as his DBPM is still higher than Tre Demps' and Jordan Ash's. McIntosh's subpar defensive numbers could also be a result of sharing the floor so often with Demps, who has the worst DBPM and defensive rating of any NU player to see more than 200 minutes this year.
Even if McIntosh were to forgo defense entirely, it might still be worth it to keep him on the floor. His assist percentage for the season is 41.0, meaning he has assisted on an estimated 41 percent of his teammates' field goals while on the floor. That ranks him fifth in the country and second in the Big Ten, trailing only Michigan State's Denzel Valentine by a negligible margin of 0.1. McIntosh has been on an absolute assisting tirade in conference play, averaging 8.2 assists per game with a whopping assist percentage of 48.1.
To carry NU to its first ever NCAA Tournament, McIntosh will have to continue his stellar play and then some. The Wildcats still need to boost their tournament résumé with a couple quality victories, but all hope is not yet lost. The tides are shifting in the Big Ten, and certain matchups are beginning to look more and more winnable (cough, Michigan State, cough, cough).
Alex Olah has effectively been out for all of conference play. Tre Demps is still looking to find his groove in a changing role. Make those two statements at the beginning of the season, and very few would have predicted NU to still be in realistic contention for the tournament. But role players have stepped up, and Bryant McIntosh has seamlessly grown into his role as the alpha dog. While opposing teams have their eyes on number 30, he already has his eyes on the open man.