Part One: Bullet journaling??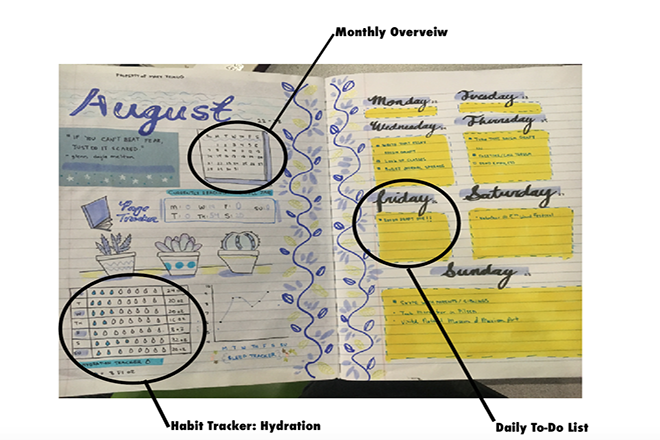 Whether you're talking to wiser classmates or scrolling through an Odyssey article on your Facebook feed – the number one tip everyone seems to have for college life is "GET ORGANIZED."
Like most things these days, there are many apps for that. But in the vast universe of digital organizational options, one trend that's gripped the internet recently is distinctly …handwritten: bullet journaling.
Bullet journaling uses just a notebook that condenses every planner or app you could use for organization. The basic layout consists of an index, a "monthly spread" (where you lay out goals and information trackers for the entire month) and "daily logs" (where you put your to-do lists and keep track of your day).
If you still feel like "Huh? What are you talking about?", this "bujo" guide can help you decide if it will be your silver bullet for managing college chaos.
Part Two: The pros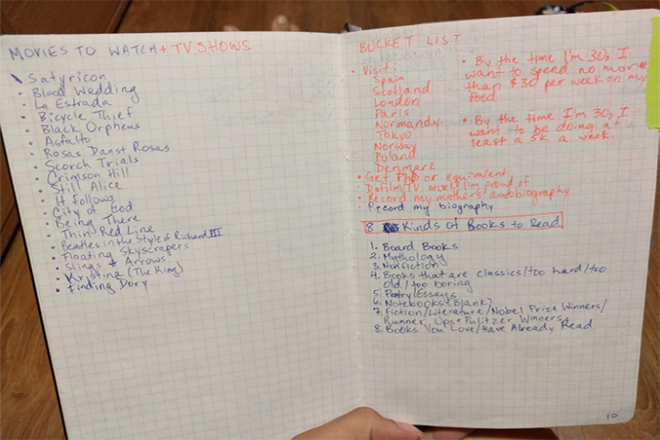 1. You only need one notebook to keep EVERYTHING organized.
Having just one place to keep my to-do lists and notes is probably the only reason I'm not falling apart in a mess of obligations and crying over an ice cream cone in the dining hall.
"Bullet journaling keeps track of everything in a concise, simple and organized way," Weinberg freshman Elizabeth Blair said. "This is great because I am a very logical, structured kind of thinker."
2. You can freestyle with your bujo.
My bullet journal pages are filled with shopping lists next to my bible study notes next to lists of my current anxieties. There's no limits on how you want to format it.
"I love that [bullet journaling] is a template," Communications freshman Kimani Isaac said. "For me, the best thing about it is that I can customize it to fit my needs."
3. Your bullet journal can be your creative outlet – if you want it to be.
Weinberg freshman Mary Truong decorates her bullet journal as a creative outlet for her artistic talent.
"Honestly, I feel like making spreads for my bullet journal wastes a lot of time, and I only do it because I enjoy making art and it kind of helps me de-stress," Truong said.
But you don't have to be extra talented to make your journal creative. I've used magazine collage to decorate mine, and Kimani Isaac recently decorated her journal with stickers from the Art Institute of Chicago.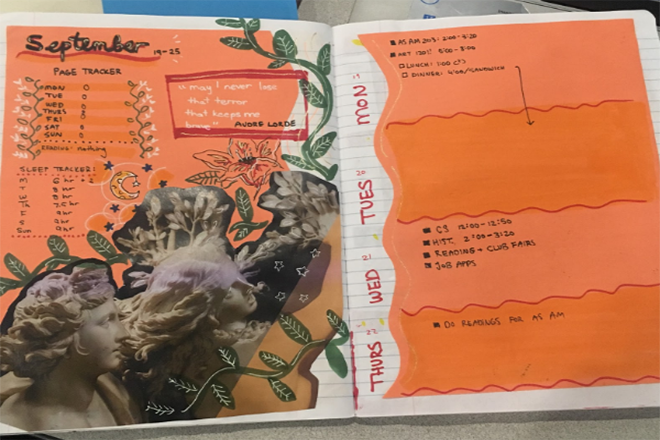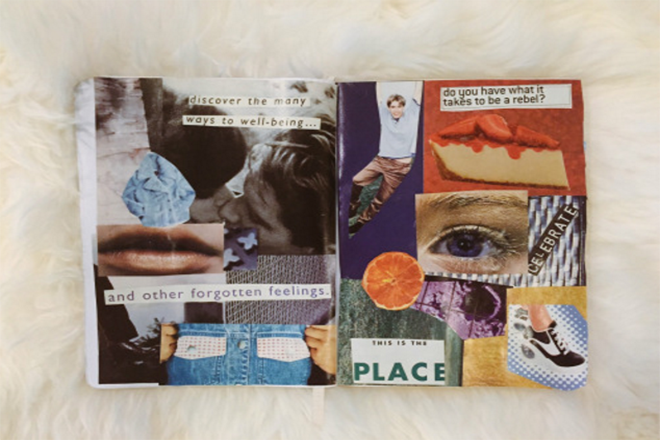 That doesn't mean less artsy people are excluded from the club, though.
"If you don't like art or making things ...keep it a low commitment thing," Truong said. "It doesn't have to be fancy at all."
Part Three: The cons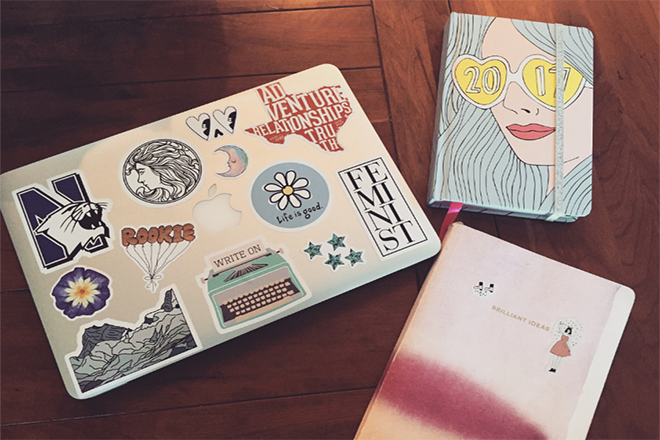 1. A bullet journal is, by nature, handwritten.
Bujo really requires you to go back to the good old pen-and-paper duo, and that may not be for everyone.
"I only kept it up for a few weeks because I really hate my own handwriting," Weinberg freshman Linnea Narducci said.
2. Setting up a bullet journal takes time
Some students find using apps or planner notebooks more effective, while bujo-ing only creates an illusion of productivity.
"Bullet journaling requires time devoted to organizing, which could be spent studying," Weinberg senior Wan Kwok said.
3. Keeping up with the bullet journal format can be intimidating and disappointing.
If you're not able to keep up with your bullet journal, it can feel like just one more thing you are doing for the sake of doing. If it stops being enjoyable to you, you are less likely to be productive.
"It actually made me feel actually less on top of things," Weinberg freshman Sharmain Siddiqui said.
Part Four: Time to try it out!
Still intimidated to start? Here's some bujo basics.
1. You'll need a notebook. Dotted or gridline notebooks are popular for bullet journaling, but lined notebooks work well too. However, try out with a journal you already have before investing in anything fancy like a moleskin.
2. Set up a monthly spread and start your day-to-day lists. There are two things you have to remember about bujo: it doesn't have to be perfectly aesthetically pleasing all the time. It's designed to make your life easier and that's all that matters.
"Look to other bullet journals for inspiration, but don't let them define your standards," Isaac said.
3. Have fun with it, and don't forget some Northwestern-specific spread ideas!
A meal swipe spread – to make sure you aren't running out of dining hall deliciousness each week.
An exercise spread – to keep track of your SPAC trips, or just your minutes spent dashing to class.
A sleep schedule spread – to help better understand why you doze off in lecture on Monday mornings.
A daily gratitude spread – to help remind yourself that Lake Michigan really is that beautiful.