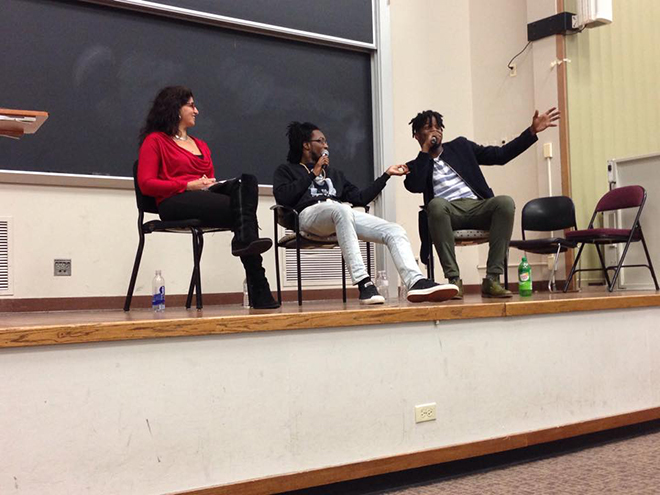 In a discussion held Tuesday night, Chicago rappers Mick Jenkins and Saba spoke about media representation of hip-hop, politically conscious rap and the term "Chiraq" to a packed audience in Fisk Hall.
"It's really easy to be anti 'Chiraq,' but at the same time, I understand why it exists, because for some it's a reality," Saba said. "Still, to some extent it's a glorification."
African American and Asian American studies professor Nitasha Sharma moderated the discussion, where the two up-and-coming musicians discussed their craft and some of the important social themes of their music. Sponsored by For Members Only, the Contemporary Thought Speaker Series and the Northwestern Community Development Corps, the rappers were playful with Sharma, the audience and each other, and both offered up snippets of unreleased verses upon an audience member's request.
The two discussed the state of mainstream rap, in particular the success of rappers that emphasize the "money, cars, clothes, hoes" themes prevalent in many successful hip-hop songs.
"When crossing over from the underground to the mainstream world, it's really how much you're willing to compromise," Saba said.
Jenkins added, "Why is it that [people like] Kendrick Lamar and myself and Saba have to put out five mixtapes before people notice?"
Asked about writing songs in response to current events, especially in light of events over the past year, both artists acknowledged that most songs and projects take months and years to develop, making it nearly impossible to actively respond to what's happening. However, the two noted that some of their songs most directly engaged with social issues, Saba's "Scum" and Jenkins' "Treat Me Caucasian," respectively, developed rapidly, expressing pains and frustrations they've felt their whole lives as black men in America.
"It was so easy to write ["Scum"] because that's been going on forever," Saba said. "But in general you have to create something that you feel is timeless enough that it'll still sound good next year."
Mick Jenkins' latest release is The Water[s], put out last August. The mixtape uses water as a metaphor for wisdom, and received wide attention upon its release, including a cover story in the Chicago Reader in March. In that profile, Jenkins revealed that he's planning on releasing his next project, a ten-track EP called Wave[s], sometime in 2015.
Saba, leader of Chicago hip-hop collective Pivot Gang, released his second mixtape ComfortZone last July, featuring the single "Burnout," which was recently aired on MTV. He first gained wider attention with a guest verse on "Everybody's Something," a song on Chance the Rapper's 2013 mixtape Acid Rap. Earlier this year, both artists toured the U.S. together, with Jenkins headlining.
Reflecting on his Christian faith, Jenkins pushed the audience to think beyond merely worrying about the direct issues of social equality, and instead realize how individuals aren't always capable of escaping larger social pressures.
"We could have racial equality, and everybody still not be right in the eyes of God," Jenkins said. "White people are victims as well, that don't realize how they've been raised from birth and never been allowed the chance to not be racist. It's hard to have that conversation with other black people for them to agree with me and see it from that angle."