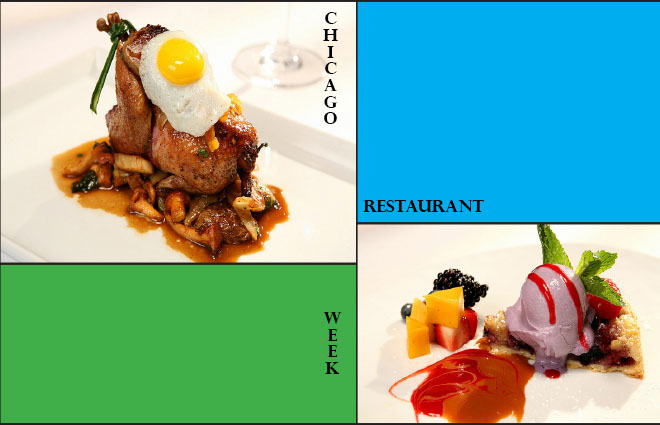 When a pause to the Northwestern hustle comes along, it may be time to deviate from the late-night Wings Over booty call. Chicago has opened yet another opportunity that might help us minimal income students craving tasty cuisine. Hosted by Choose Chicago, Chicago Restaurant Week is from Jan. 30 to Feb. 12 and is when restaurants around the city offer prix fixe menus, meaning one total price for a multiple course meal.
Maybe not as known or highly anticipated as Fall Quarter's Big Bite Night, promotional events such as these offer incentives for students to branch out beyond the Chipotle border and explore areas of Evanston that maybe are too pricey for the average night. As for the restaurants, Chicago Restaurant Week benefits them with new customers. In Evanston, four restaurants are offering prix fixe menus: Farmhouse Tavern, Bistro Bordeaux, Oceanique and Quince at the Homestead.
"It's a great opportunity for college kids who are unsure of the restaurant and want to come out and try the food," restaurant manager of Farmhouse, Jessica Mika said.
These restaurants offerings are all unique in their own way. Bistro Bordeaux offers a French food option with their special menu including steak tartare, gnocchis Parisien aux légumes de saison (Parisian style squash flavored gnocchi) and pain perdu au calvados (sweet fried brioche). If the French cuisine isn't top choice, Oceanique's menu brings the sea to the table. Their menu offers appetizers such as the wild Maine day boat scallops and entrees like their organic Scottish salmon.
The American option is still available in Evanston with Farmhouse Tavern and Quince providing traditional menus with a twist. Farmhouse Tavern offers both a lunch and dinner option, which include beer battered Wisconsin cheese curds and chocolate pretzel bread pudding. Hybridizing between national and international, Quince offers a dinner menu with options, such as a Ribeye steak with brussels sprout kimchi.
"I would do [Chicago Restaurant Week]. I think it's a fun one-time thing," said Medill freshman, Emagin Tanaschuk. "I could go with my friends and it could be a weekend thing. We could find out about new places."
Besides the food, the restaurants' environments might also be a pleasant advantage for students. Oceanique's owner and chef Mark Grosz described his restaurant's atmosphere as very elegant but casual and something students might enjoy.
Although these prices are deals relative to the restaurants' normal prices, some students might see this opportunity as still too expensive. With the prices ranging from $22 to $44, the average prices are still higher than a normal meal.
"Twenty-two is too much for one meal," McCormick freshman Nathan Lindquist said. "I can go to Chipotle and get a really good meal for seven bucks, which makes me just as happy."
When looking at whether Chicago Restaurant Week is worth the exploration of Evanston cuisine, the tradeoff is clear: price or experience, which is nothing new for the economic minds of students.
For more info on menu options and pricing, visit the Choose Chicago website.