Los Angeles is the undisputed epicenter of the chicken and waffles sensation. It's home to Roscoe's House of Chicken and Waffles, and while Roscoe's may not have been the first put the two together, it put the combination on the map. Since then, it's become a bit of a popular curiosity: some wonder what it is that draws people to this seemingly bizarre combination of sweet and savory. Others are puzzled that anyone would ask that question in the first place.
The national jury seems to still be out on the matter. Lay's surmised that chicken and waffles is a popular enough combination to warrant producing a chip in its flavor-image, but it was pretty much universally found to be an abomination.
Chicago, being the cultural and culinary hub that it is, is home to dozens of restaurants that take advantage of the phenomenon. The place that comes most readily to mind is the aptly titled Chicago Home of Chicken and Waffles (brace for smooth jazz after the jump), which opened a new location on Dempster in January.
The relatively convenient location and Yelp score make the Chicago Home of Chicken and Waffles a fine place to start a culinary quest into the realm of sweet-savory breakfast-dinners, but such a journey cannot be limited to the territories north of Howard. In that spirit, we checked out the Chicago Home of Chicken and Waffles, but kept some other purveyors of the classic(?) combination in mind.
Chicago Home of Chicken and Waffles By Emily Wickwire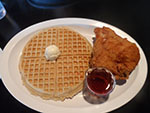 Walking into Chicago's Home of Chicken & Waffles in Evanston—so far west it's within sight of the "Welcome to the Village of Skokie" sign—I can't help thinking the setting is a bit incongruous with the type of food they're serving up. There are huge, wrought iron and glass doors leading the way into an interior of cozy booths and modern décor in deep shades of brown. To put it simply, I guess you could say I didn't expect to chow down on crispy fried chicken and sticky, buttery waffles in a place where the napkin is there for a classier purpose than just serving as a bib.
But I should preface this with another story, the story of the only other time I've had this sweet, savory, and wonderfully unhealthy dish. I was in a tiny restaurant in the Appalachian town of Boone, N.C., eating off of a white-and-red checkered tablecloth with my hands. So I was a little concerned that eating this sloppy dish in such a refined establishment might ruin the country, down-home feel of the chicken 'n' waffles experience.
Fortunately, I was wrong. I ordered "Monique's Love," as the description was "fried chicken breast" with the option of potato salad, home fries or a waffle. Though the fried chicken breast was served alongside the waffle (instead of on top, smothered with gravy and/or syrup, as I would have preferred), it was still perfectly crispy. Though it was a little drier than I typically like my chicken, the sweetness of the waffle and syrup more than made up for the juiciness it might have lacked. And all for $8.50? Not too bad. And though the place may not be nestled into a shabby space in a rural town center, it serves up a pretty satisfying—albeit sophisticated—twist on finger lickin' Southern goodness.
Daley's Restaurant By John Hardberger
Remember that weird kid from your high school who decided to go to the University of Chicago instead of Northwestern? What do they do down in Hyde Park, so far from Heavanston?
Aside from making lame Harlem Shake videos, I can only assume they spend most of their time eating at Daley's. I had the good fortune to stumble upon it while visiting my weird U-Chicago friend and its chicken and waffles is the only thing that's ever made me wonder if I made the right decision choosing NU.
Daley's does chicken and waffles as, I'd image, Roscoe's does: old school. The bone-in chicken is fried like it was fried for the picnics of our dreams: perfectly crispy and dry on the outside while hot and juicy within. The waffle was fluffy with a similarly crispy edge, not excessively sugary or sweet, but enough so as to offset the saltiness of the chicken. Daley's does the combination proud by treating the components as such, individual and insoluble. If the unique flavors aren't good, how can you expect them to taste good when combined? Take notes, Frito-Lay.
Daley's is adjacent to the Cottage Grove stop, at the very end of the Green Line. The distance is formidable, but the chicken and waffles are well worth the pilgrimage. Tell your own weird U-Chicago friend to walk two blocks south from campus to meet you there. The charming classic-diner atmosphere of Daley's should be enough to convince anyone not already won over by the impressive menu.
Grass Fed By John Hardberger
If Daley's serves the traditionalist grandfather of Chicago's chicken and waffles family, Grass Fed serves the hip, college-aged grandson, and rightly so. Grass Fed is located in Bucktown, a few short blocks north of the crossroads of Chicago hipsterdom at the six corners. In that spirit, the staff at Grass Fed all look like Etsy models (in a good way) and can probably tell you the mental health of your chicken before it was cooked.
Grass Fed is a prime weekend brunch spot for the gentrified population of Bucktown and that reflects in its menu, which, for the most part, consists of organic meat, farm-raised eggs and kale. There is, however, a delightful and surprising exception to prove this rule: Grass Fed serves a mean chicken and waffles plate.
The boneless, fried chicken breast is lighter (and probably healthier) than the fare at Daley's, more Martha Stewart than 1920s box lunch. It is, however, almost equally delicious. Served on a springy Belgian waffle and served with apple butter and syrup, Grass Fed's rendition of this dish is hard to ignore. Take your hipster boyfriend/girlfriend/urban adventure pals here to impress them and go for an afternoon of Wicker Park shopping afterwards.
Grass Fed is a skip and a hop north of the Damen stop on the Blue Line, or a slightly-longer-but-pleasant-in-the-spring-time stroll southwest from the Clybourn Metra platform.