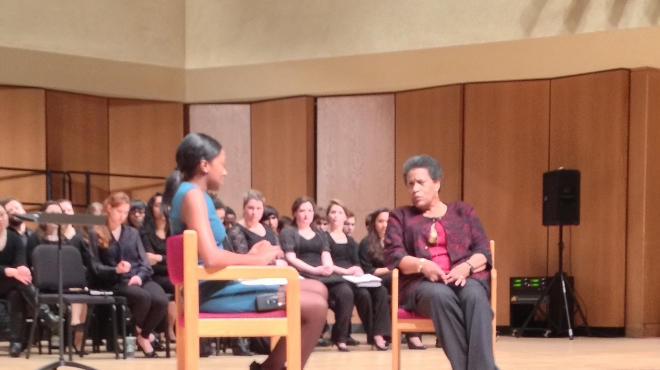 As the Martin Luther King, Jr. Keynote Speaker, civil rights activist Myrlie Evers-Williams discussed civil rights challenges past and present Monday night in Pick-Staiger Concert Hall.
"You are here," Evers-Williams said to students in the audience. "You are privileged to learn, to care and to take the two forward with you when you leave these hallowed grounds."
In 1995, Evers-Williams was the first woman to be elected chairperson of the NAACP board of directors. She was the first layperson to give an invocation at a Presidential Inauguration in 2013. Her former husband, Medgar Evers, was also an influential civil rights activist, and was murdered by a pro-segregationist in 1963. For over 30 years, Evers-Williams fought to bring her husband's murderer to justice.
In her address, Evers-Williams spoke about King's legacy and how his vision of equality remains unfulfilled.
"Dr. King was a shining light and guide for each and every one of us," she said. "But he knew what would eventually happen to him. You cannot be on the front lines of a struggle like the civil rights movement in America and not know you're in danger.
"He gathered that crowd up," she said referring to the March on Washington and King's "I Have a Dream" speech. "All the excitement and that commitment spread across the country because it became his March on Washington."
Evers-Williams said that a number of issues, including repressive voting laws, threaten promises of equality.
"Will you pay attention? Will you be creative? Will you work in your neighborhoods and tell people how important [voting rights] is?" she said.
Evers-Williams recounted how, during King's funeral, she found herself in a circle with Jacqueline Kennedy, Coretta Scott King and Ethel Kennedy.
"We all looked at each other, and there was a massive sigh," she said. "Here we were."
"What I remember most about that was Ethel Kennedy, [wife of Robert Kennedy], saying, 'You women are so strong. You lost your husbands and you still go forth.' Little did she know that she was going to be next."
Before the keynote, Mayor Elizabeth Tisdahl spoke about the civil rights issues facing the Evanston community. She said that while the city had made strides in equality in education, fair employment and fair housing, income inequality remains a serious challenge.
"If you cannot afford to live in Evanston," Tisdahl said, "the educational opportunities here do you no good."
The event also featured performances from a student jazz ensemble and the Alice Millar Chapel Choir.