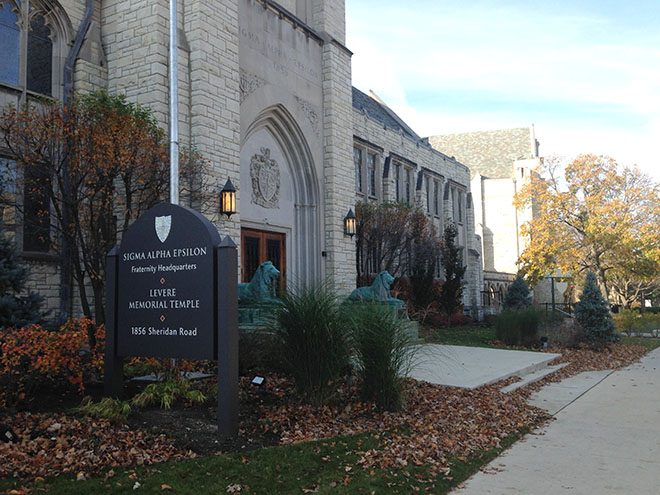 Recently, Wesleyan University and Trinity College have tried to forcibly integrate fraternities and sororities into co-ed houses, with more or less disastrous results. That's because forced integration is a practical nightmare that involves wrangling rising insurance premiums, losing the support of national organizations that forbid co-ed membership, and overcoming the inertia of members and alumnae resistant to change. But I think the theory behind attempted integration policies – that Greek houses would function just as well or even better if you stripped away the arbitrary and archaic gender lines dividing fraternities and sororities – is valid. I'd like to see it implemented at Northwestern, in the form of a new system of co-ed houses operating parallel to the Greek system.
Let me start by saying that when I decided to rush last year, it wasn't because I was itching to join an all-male social club. There are a lot of great things about Greek life that have been an important part of my college experience, but not one of them is only possible in a gender-segregated setting.
Obviously, co-ed houses would have no fewer opportunities for philanthropy and leadership than single-sex Greek houses, as evidenced by Northwestern's vast number of co-ed clubs, student organizations and professional fraternities. And living in a house on campus with a group of friends and your own meal plan wouldn't be any less awesome if you got to include your friends of the opposite sex. In any case, having men and women living in the same building shouldn't be an obstacle, since most on-campus university housing is already co-ed.
One of the most commonly cited advantages of Greek life is the community support that goes along with being part of a "brotherhood" or "sisterhood." But I don't think you would lose anything by being a part of a "siblinghood." It goes without saying that deep, trusting friendships can be forged between men and women, so it should follow that a group of men and women can form a meaningful support network in the same way fraternities and sororities can.
While I understand that there are some gender-specific issues men and women might feel more comfortable discussing or seeking help about from same-sex friends, they could still do that in a co-ed house. But they would also be able to talk about issues that affect everyone, and have those conversations across gender lines in a way that single-sex Greek housing generally doesn't encourage.
Here at Northwestern, fraternity men and sorority women are kept on opposite ends of campus, and when Greek life brings them together it's generally in a party setting that doesn't lend itself to a meaningful connection. When students living in Greek houses laze around and watch TV, eat meals in their kitchens or sit up in their neighbors' rooms for late night conversations, they're almost always with members of the same sex. Much has been written about the harmful effects of that insulation, but it's harder to imagine that the culture of misogyny for which fraternities are often vilified would be able to survive in a co-ed house where women would live alongside men as friends, neighbors and "siblings."
Co-ed houses could still throw parties, but with fewer of the gender imbalances inherent in the Greek social scene. Because of rules handed down from national organizations, sororities have varying restrictions on having men and alcohol in their houses. Fraternities have fewer and far more loosely-enforced restrictions, so they host virtually all Greek parties, control the spaces in which those parties are held and regulate the flow of alcohol. As a result, women are relegated to the role of perpetual guests, with little control over the parties they attend. The power men have in our gender-segregated party scene, even if it goes unexploited, is unsettling and unhealthy. But if men and women shared responsibility for bartending, working the door and risk management, as they would in a co-ed house, they would host a party where students could feel safer, be more at ease and have a better time.
Perhaps most importantly, co-ed houses would create a space for students who are interested in all the benefits of Greek life – living with friends, throwing parties, hosting events and raising money for charity – but don't feel like boxing themselves into its gender binary. Or maybe a student feels comfortable defining himself as a man, but would rather not join a social club that only has mixers with sororities because he's more interested in meeting and hooking up with men. Or maybe there are straight cis-gendered students who just think it's weird and harmful that as college students in 2015, we still let a dated "boys vs. girls" mentality have such a big impact on our social scene.
Co-ed houses, of course, won't address any of Greek life's issues with race, wealth, social stratification, alcohol, etc. But they would help alleviate a set of problems facing Greek life centered around gender. So if we can take a step in the right direction, why wouldn't we?
The answer, probably, is that it would be hard. New co-ed houses wouldn't have the support of large national organizations like new colonies of major Greek organizations would. They wouldn't have access to large insurance pools that drive costs down for fraternities, nor would they pay the low premiums that sororities pay because they don't host parties and have less liability. Students would have to organize themselves into social clubs, perhaps basing themselves out of an off-campus house, before petitioning the University for space on campus. Even then, they would have to compete with the Interfraternity Council and the Pan-Hellenic Association for new members.
But given time, cooperation from the administration and enough interest from the student body, Northwestern could develop a network of co-ed houses as vibrant as its Greek scene. We didn't have that alternative when we arrived on campus, but I hope that this generation of students will pave the way for future classes to have a more sensible social scene than ours.