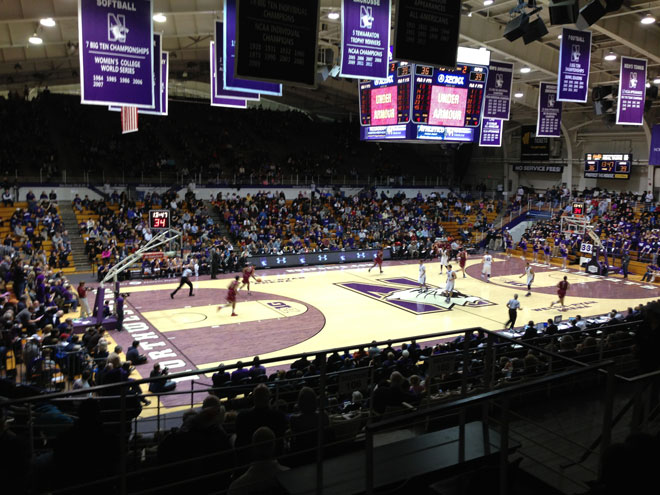 JerShon Cobb struggled to find his shot for 39 minutes and 58 seconds of Friday night's game, but with the game on the line, he was as cool as can be.
The junior guard drove the lane and hit a 15-foot runner with two seconds remaining, and Northwestern (3-2) escaped Welsh-Ryan Arena with a 63-61 win over Indiana University-Purdue University Indianapolis (1-4).
"We're really excited about winning that game," head coach Chris Collins said afterward. "That was not easy in any sense of the word."
Senior guard Drew Crawford led the Wildcats with 12 points and 10 rebounds, while junior guard Dave Sobolewski scored eight.
Northwestern struggled to come back from an 11-point, first-half deficit, and it took the 'Cats until 6:26 remaining to get the lead. They went back and forth against the Jaguars, and after IUPUI center Mitch Patton hit two free throws with 20 seconds remaining, Collins called a timeout.
He expected a man-to-man defense, and when IUPUI went to a 1-3-1 zone, the Wildcats had to adjust. Cobb took it upon himself to attack from the left wing and drill the floater.
"He was the guy we wanted with the ball, even though he didn't have one of his better nights," Collins said of Cobb, who finished with 8 points on 4-of-13 shooting. "He's our creator at the end of clocks. He's our late-game guy, and he just made a play."
The Jaguars had a chance from inside half court, but the shot went wide left, and Northwestern escaped.
Early on, such a result looked in doubt. Sophomore center Alex Olah was getting dominated by Patton down low, the pace was being slowed down on offense, and Northwestern wasn't hitting shots like it did in Wednesday's beat down of Illinois-Chicago. They headed into the half down 31-28.
Crawford, who went scoreless in the first half, took it upon himself to ignite his team. He opened the second half with a steal on one end and a two-handed slam on the other. The Wildcats continued to have trouble stopping the IUPUI offense, but they slowly wore the Jaguars down as the half progressed.
NU took a big blow when Sanjay Lumpkin was called for two personal fouls and a technical foul over the course of 23 seconds, but the 'Cats continued to claw back with sophomore guard Tre Demps replacing him.
Olah got his groove back late and made two straight jumpers to give Northwestern its first lead since they were up 8-7. The Wildcats went with a 2-3 zone down the stretch, which stymied IUPUI and gave Cobb the chance to win the game. "Switching our defense gave us a little bit of a push, and that gave us some momentum," Crawford said, "and we really played hard to finish that game."
NU will try to make it three straight wins when Gardner-Webb comes to town Monday.