As countless students sporting baseball caps and knit beanies walk along Sheridan Road on a chilly Evanston morning, Rim Badawi's covered head stands out among the masses. A staff member in Medill's finance department and a Syrian immigrant, she has worn a headscarf every day since 10th grade.
"Some [Muslims] don't believe it's a part of our religion, but I do. We believe it's for modesty, we believe it's to identify ourselves," Badawi said. "For me, I believe it's a big factor to show who I am, to be proud of who I am [and] to show my Muslim identity."
Veiling, or "wearing hijab," is a personal decision some Muslim women make to honor Allah in their daily lives, to visibly declare their Muslim identity or to be fashionable.
Although "hijab" is the name of the covering most worn on campus, as well as in the United States and Europe, the niqab, which covers the entire face except the eyes, and the burqa, a full face-and-body cover, are other popular forms of "wearing hijab" around the world.
The majority of Muslim students at Northwestern choose to take hijab rather than wear it.
"Taking hijab applies to men and women, and is about keeping yourself in moral check," said Anam Furrukh, a Weinberg freshman who feels that she holds herself accountable to her values without veiling. "I personally take hijab by not wearing sleeveless tops or short skirts. You won't see me in a tank top and mini skirt … Not speaking in a vulgar way is also a way to take hijab."
Some students don't wear hijab because they value the privacy of their religious practices. "I just think my religion is a personal engagement between God and myself, and it's not something I should publicize," said Belkiss Anane, a Weinberg freshman who does not veil. "I am not ashamed of my identity, I just don't go around saying, 'Hey, I'm Muslim.'"
Anane also maintains a skepticism toward the origins of wearing hijab. A native of the sun-bathed Tunisian island of Djerba, she said wearing hijab is not an inherited part of her country's cultural identity because it was constructed by the Persian Gulf countries hundreds of years after the death of the Muslim holy prophet, Muhammad.
"Their logic is if adultery is a sin, then everything that lead[s] to adultery is a sin, so they started making all of these theories like your hair can lead a man to want you and rape you, so you need to cover it," Anane said.
Furrukh said besides the fact that her family doesn't consider wearing hijabs an integral Islamic practice, various security concerns make them even less inclined to wear one.
"It's a big life decision, to decide wearing hijab," Furrukh said. "... I think they would feel more comfortable if I didn't wear it, just because of hate crimes."
Furrukh recounted a story of a close friend whose hijab was ripped off her head while taking the bus in Chicago. For some Muslim women whose identities are more closely knit with hijab, it's a difficult decision and sacrifice to part with their hijabs for personal safety.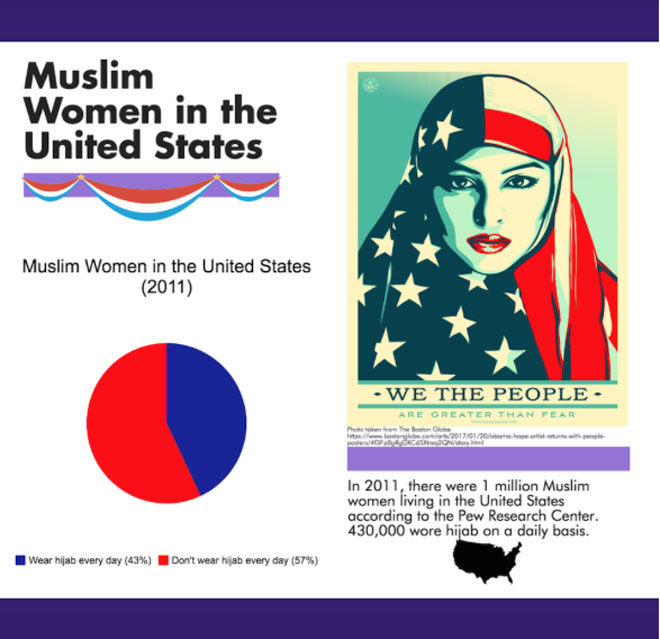 About 43 percent of the 1 million Muslim women living in the United States wear hijab every day, according to the most recent Pew Research Center survey from 2011.
Yet even a "hijab" that covers only the head and neck but shows the face makes some Americans anxious. In July 2015, the U.S. Air Force Research Laboratory re-published a report called "Countering Violent Extremism: Scientific Methods and Strategies," which described this fabric as "passive terrorism." This grouping of extremist Muslims with the American Muslim population in general at the federal level demonstrates that Islamophobia is rooted in fear of terrorism and that such sentiments and consequent outlashes have increased as a result.
Muslim students increasingly feel their identities threatened beyond campus by policies such as the travel ban.
President Donald Trump acted on this Islamophobia, issuing an executive order in the United States on on Jan. 27, that suspended the nation's refugee program for 120 days and a resitricted travel to the U.S. from seven "epicenters of terrorism" for 90 days, including Iraq, Iran, Syria, Libya, Yemen, Somalia and Sudan. A revised one that targeted six Muslim-majority countries was issued on March 6.
"I think if you talk to Muslims, they don't feel like it's necessarily just those seven countries," said Nermeen Mouftah, a postdoctoral fellow at the Buffett Institute. "They feel like it's a ban against Muslims."
There were over 1 million international students in the country during the 2015-2016 school year, and almost 2 percent were from these seven countries, according to the Institute of International Education. In an act of solidarity for its international students from over 100 countries, Northwestern University announced in February that it joined 16 other universities to file an amicus brief with the U.S. District Court of New York in a lawsuit opposing the executive order.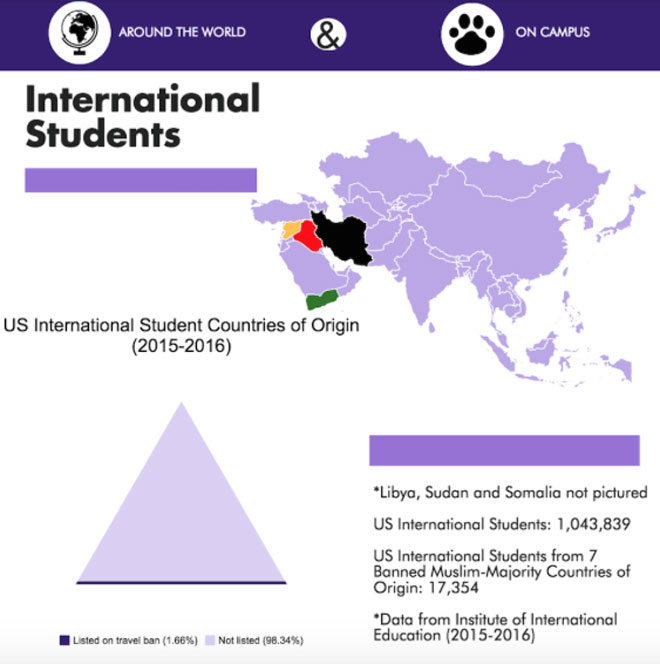 Even with its liberal stance, there is still a need for change on campus. "The way to get people to change is to branch out," said Furrukh. "The Muslim-cultural Students Association (McSA) is great and is it easy to make Muslim friends there, but if we don't branch out then we are left with a bunch of people that don't know any Muslim people."
McSA has made it their mission to inform students about the truth of Islam through branching out and educational initiatives. During the week of Feb. 20, McSA organized "Discover Islam Week," an annual week-long series of Muslim speakers. Famous Muslim public figures, ranging from comedians to scholars, spoke on their careers and leadership roles, addressing Islamophobia, politics, individual representation and their Muslim identities in society.
Ibtihaj Muhammad, an Olympic fencer and the first "hijabi" to represent Team USA, offered a message of strength from her experiences with discrimination as an African-American, Muslim athlete. "There's power in number and there's strength in believing in your journey and believing in your faith, your ethnicity, your gender, your sexual orientation," Muhammad said. "That's one of the things that makes us the strongest nation in the world in having so many people from so many different backgrounds." Despite the misunderstandings and fear that permeate the reputation of Muslims in the United States, the education initiatives on Northwestern's campus shows promise in combating this division.
Editor's note: This piece originally said that 60 percent of the 1 million international students in the country during the 2015-2016 school year were from the seven countries listed in Trump's travel ban. This is incorrect and was updated on April 28 at 5:05 p.m. Students from these seven countries make up almost 2 percent of the 1 million international students studying in the U.S. NBN regrets the error.