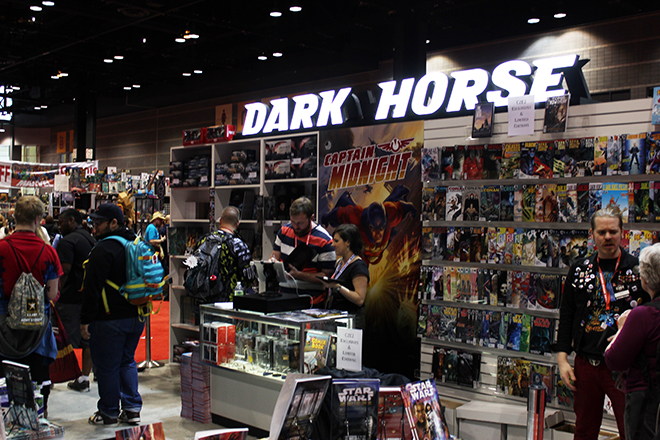 Hordes of people flocked to Chicago's McCormick Place this weekend for C2E2, the annual pop culture event bringing colorful cosplayers, entertainment aficionados and comic book lovers together under one roof. Consider it the iconic San Diego Comic Con but for the Midwest.
And in an age where smartphones have become bodily appendages and the generation of young people are constantly online, comic book publishers are utilizing technology and social media to market their products.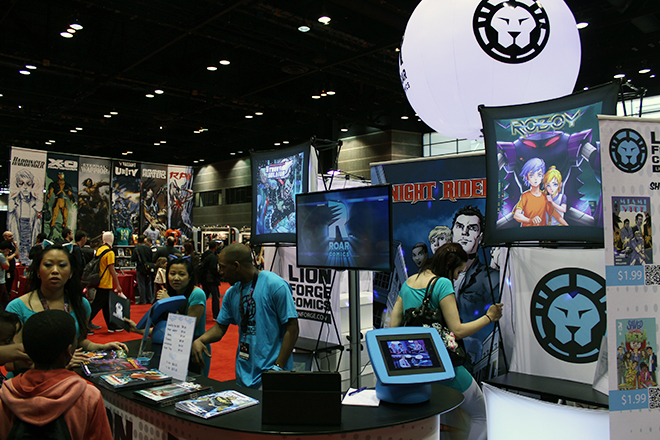 Carousing through the crowded floor of tables selling superhero paraphernalia and comic books, Lion Forge Comics' post is a bit different from most stands selling comics in plastic wrapping. A television plays a slideshow of various covers and convention attendees can swipe through digital issues on two mounted tablets.
Lion Forge Comics were digital first, distributed through the Amazon Kindle Bookstore, Apple iBook Store, Comixology and other virtual comic book stores. But at conventions like C2E2, the publisher also sells print copies so they can get their name physically into the hands of their readers.
"We usually have eight televisions and four tablets which is a major pull for the millennial generation," says Jesse Burgess, a brand ambassador for Lion Forge that was brought on specifically to manage social media. "They see something right up their alley, electronics that they know, technology right there in front of them."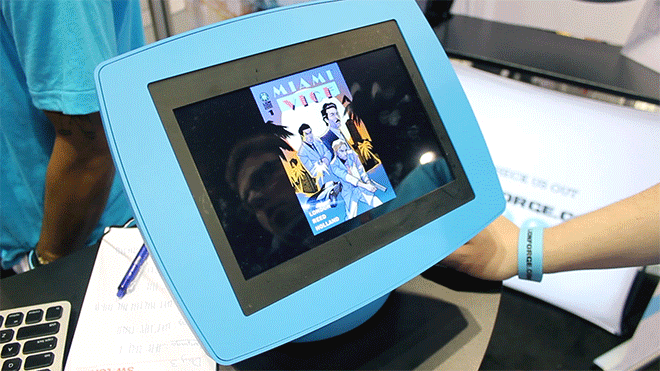 The publisher uses obvious social media platforms like Facebook and Twitter, along with Instagram to advertise their comics. Iconic figures within the comic book world, such as Yaya Han, are used to endorse their brand.
"People have their preferences. Tumblr fans are specific about the art. With Facebook you're working with a little more text, we can share what is being said in the press. Twitter is spur of the moment. It's the fastest way to connect with fans," says Aub Driver, a Public Relations and Social Media Strategist for Dark Horse Comics. Each social media platform is a different way to show off content. Dark Horse will post previews of their upcoming issues to whet fans' appetites.
Social media and online communities have also become vital places for independent, smaller comics to get their names known. Ryan Ferrier is a comic book writer who is currently working on D4VE for Monkeybrain Comics, and The Brothers James, Tiger Lawyer and Ultranova for Challenger Comics, a self-publishing comic collective. His first comic work was an online mini-series and he says there's no greater time than now to make your own comics and have them be seen – thanks to the internet.
According to Ferrier, who connects with his readers via Twitter and Tumblr, social media networks keep fans interested. "You can get their attention when you have something to sell, but when you're between issues you need to keep their attention," Ferrier says. He designs individual advertisements from scratch and posts them to start a buzz about his upcoming work.
Awww yiss. D4VE #4 is out a week from tomorrow. Pre-order the penultimate issue now. https://t.co/buPOdfTiIKpic.twitter.com/lamS88kNYM

— Ryan Ferrier (@ryanwriter) April 9, 2014
But even with thousands of followers on Twitter and the marketing capabilities of social media, Driver insists that conventions are as important even in an age being more and more dominated by digital.
"When you're at these shows, the prime objective is to sell the comics," Driver says. "Digital is a great add on, but when you're here at the show and you can touch them, engage with pages. The bread and butter is print at shows like this."
As for marketing to even younger demographics, Papercutz Graphic Novels continue to use print resources in getting kids to recognize their products. The publisher regularly reaches kids through libraries and local comic shops, handing out bookmarks to get their name known.
"Kids aren't sifting through the Kindle store," says Papercutz Production Coordinator and Marketing Assistant Beth Scorzato. Papercutz is a distributed publisher of Macmillan Publishers, so kids can walk into bookstores like Barnes and Noble and see their products.
Nostalgia is also playing a role in the marketing of comic books. Lion Forge has begun publishing digital comics based off of memorable '80s and '90s names like Miami Vice, Knight Rider and Saved By The Bell. According to Burgess, interest in these names are about split between the younger generation that isn't phased by reading off tablets and an older one that recognizes the characters from afternoon television programming.
So tweet it, share it, reblog it – social media is quickly becoming the Superman of marketing.