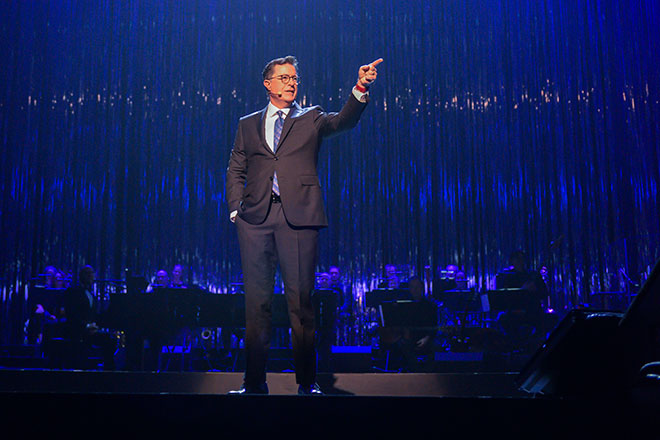 Where else can you hear Stephen Colbert make a masturbation joke and watch a live performance of a number from the 1956 Waa-Mu show?
"A Starry Night," the grand ending of the School of Communication's CommFest weekend, took place on Saturday in the newly completed Ryan Fieldhouse. Hundreds of current students, faculty and alumni gathered, dressed to the nines, to watch the variety show, which highlighted the talents of School of Communication students past and present.
Stephen Colbert hosted the event, which began with a video message from him and fellow Comm grad Seth Meyers. During his monologue, Colbert poked fun at the originality (read: lack thereof) of CommFest's name, and hinted that perhaps guests had an ulterior motive for coming back to Northwestern this weekend, saying "Nothing lures alumni back more than the chance to visit their campus on 4/20."
From there, countless famous faces took the stage – there were introductions made by Tony Roberts, Marg Helgenberger, Dermot Mulroney, Nancy Dussault, Henry Lennix Frank Galati, Stephanie March, Sharif Atkins, Kathryn Hahn, Kimberly Williams-Paisley and Laura Innes. Especially well-received acts included Communication senior Lucy Godinez's performance of "Breathe" from In the Heights, Brian d'Arcy James' rendition of Hamilton's "You'll be Back," and Sondheim's "Bounce," sung by Richard Kind.
Beloved professor emeritus Frank Galati, a noted director, writer and actor, gave a heartwarming speech about Northwestern, explaining how he fell in love with the school when he was a Cherub at age 17. He went on to praise a former student in one of his acting classes, whom he revealed to be no other than Stephen Colbert.
Kathryn Hahn was all of us when name-dropping fellow School of Comm alumna Meghan Markle, who will marry Prince Harry next month and become literal royalty. "I, for one, am shitting my pants with excitement," she said of the upcoming wedding. (Who isn't?)
Past and present collided when current and former members of the Mee-Ow improv group joined forces to recreate a past sketch called "Laugh, Comic, Laugh!" There was even more cross-generational collaboration when current students joined Waa-Mu veterans Nancy Dussault and Tony Roberts for the performances of "Miss Student Body" from Waa-Mu 1965, Silver Jubilee, and "One Stinking Drinking Fountain" from Waa-Mu 1961, Don't Make a Scene, respectively.
Heather Headley closed the show with a jaw-dropping rendition of "Home" from The Wiz, the only performance to receive a standing ovation from the audience. The other performers – professional and student alike – then joined her for the grand denouement, singing in a pitch-perfect harmony about toasts to the past and future.
And perhaps no one represents the future better than Siobhan Esposito, an stuent admitted to the Class of 2022, who will pursue a dual-degree in communication studies and jazz studies in the School of Communication and Bienen School of Music.
"It's nice to see how all the alumni were so connected to the school still," Esposito said. "Especially coming in as a student, how I'd be connected to people who already went to Northwestern, that's really cool."
Communication freshman Harrison O'Callaghan said he was grateful that he was able to attend the event. Although he didn't know what to expect from the show going in, he left impressed.
"It was really great just to see how far back Northwestern's connections went," he said. "Not just with the alumni – just how far back in general this school's history goes in communication and theater, and just creativity."
Some might argue that CommFest is just another piece of evidence that Northwestern is obsessed with itself, but at least Colbert was self-aware when he gave a dry reminder to guests at the end of the show: "Don't forget to buy your tickets for the next gala in 2168!"