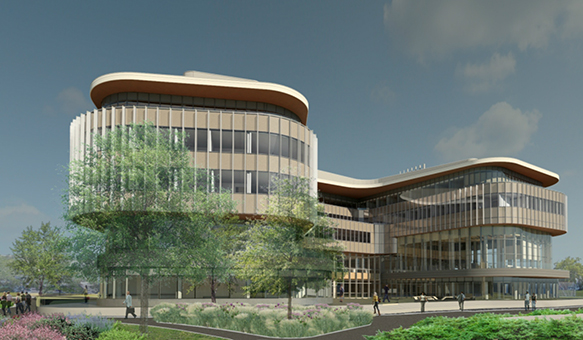 The perpetual cycle of construction on campus continues, as the north campus construction will enter the next phase on Monday with construction beginning on a new "global hub" for the Kellogg School of Management and the partial opening of the North Campus Parking Garage.
The global hub will house the department of economics and Kellogg's MBA program, according to a press release from Northwestern University, and will be built to face the Lakefill on what is now a surface level parking lot between the Technological Institute and Lakeside Field. The 40,000 square foot building will hold lecture halls, classrooms, offices, food service and a large open atrium entrance way.
Because the new building will eliminate parking spaces, the new North Campus Garage by the Henry Crown Sports Pavilion (SPAC) will partially open for the first time on Monday as a part of the next phase of construction to stop any net parking loss.
"There undoubtedly will be some disruptions on the north end of campus as a result of all this construction," said Ron Nayler, associate vice president for facilities management, in the press release. "But in the end, we're going to have state-of-the-art facilities for our academic programs, for athletics and recreation and for student housing. And we'll actually end up with more parking. We hope members of the campus community will be patient in regard to the temporary inconvenience necessary to create the facilities needed to meet our ambitious goals for the future."
The North Campus Parking Garage was scheduled to be completed in "early 2014," when it will contain approximately 1,152 parking spaces, a new weight room and fitness classrooms, offices for fitness and recreation staff, space for audiology and speech clinics and classrooms for the McCormick School of Engineering and Applied Science. The second floor of the garage is designated space for student startup ventures.
Other North Campus construction projects in the works are improved athletic facilities — such as new team locker and meeting rooms, new sports medicine spaces, and the fixing and expansion of SPAC and the Norris Aquatics Center, and improving the field hockey and lacrosse/soccer fields — as well as a new residence hall on Lincoln Street.