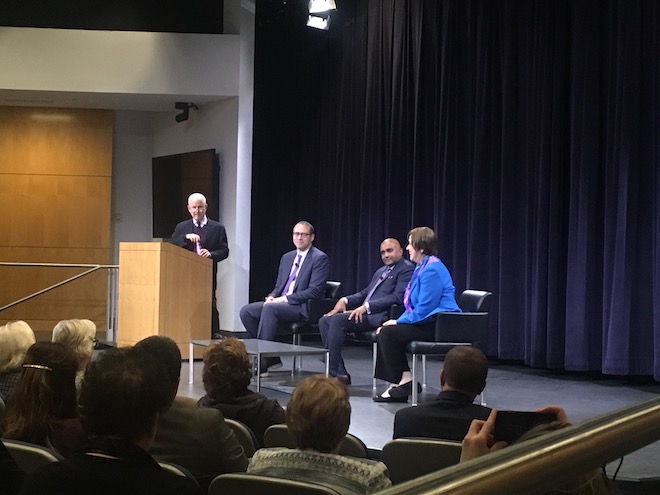 If you passed by the glossy McCormick Foundation Center on Thursday morning, you may have seen well-dressed people, many wearing purple ties or jackets, bustling into the jam-packed auditorium.
Staff, faculty and students came together on Thursday to listen to President Morton "Morty" Schapiro's annual "Conversations with the President" series in Evanston. Schapiro spoke about the research and teaching initiatives the university is taking, as well as concerns about budget.
Schapiro first highlighted Northwestern's remarkable progress in research during the past decade.
"It's unprecedented," he said. "Our sponsored research has gone up 53 percent during that period [2006 to 2015]," Schapiro said, citing data from National Science Foundation.
Schapiro said there certainly is still room for improvement, however. An econometrician by trade, Schapiro explained that the number implies compound annual growth rate of 4.93 percent, which is high, but is an "uneven rate of growth." The compound annual growth rate for Feinberg was 6.3 percent, and for all other schools, 2.0 percent.
The goal is to increase the current $677 million per year in sponsored research to one billion, while promoting growth evenly among various schools, he said.
Schapiro also emphasized that research is not just about boosting rankings or promoting Northwestern's excellence. "It's about human lives. The sooner we get to that billion, more lives are going to live longer lives, more enjoyable lives," he said.
Schapiro then commented on the academic rigor Northwestern developed during his tenure. "It's a pretty good thing that the market has realized that there's something special that happens here at Northwestern University," he said. "Within a decade we've gone from an admit rate of about 30 percent to this year, an admit rate of between 8 and 9 percent."
He also stressed that Northwestern University's strong academic performance coincides with growth of diversity. Students eligible for Pell Grant, a type of federal grant, increased from 9 to 19 percent in the past decade. The number of students from the local community, such as Chicago Public Schools and Evanston Township High School, increased as well.
"To be need-blind in experience, not just in admissions, is our challenge," Schapiro added, addressing the difficulty of catering to students of such diverse backgrounds but committing to it. He thanked the "tremendous explosion in fundraising" that enabled such diversity and growth in the university.
During the latter portion of his speech, Schapiro discussed the budget situation. He said he was committed to reducing this year's budget by 50 million dollars in order to account for last year. He reassured the audience by adding that 50 million dollars is only 2 percent of the total operating budget.
Schapiro's speech was followed by a panel with three other senior staff members: executive vice president Nim Chinniah, provost Jonathan Holloway and vice president of student affairs Patricia Telles-Irvin. Few questions for the panelists were selected from online submissions and directly from the audience.
One particular question revolved around what university's overall strategy is to make campus a safer place, especially given the shooting hoax that occurred in the winter.
"We have a lot to do in terms of communication," Chinniah said. "If you're an individual locked in a classroom, you're kinda saying, 'who do I listen to?'" he explained. He said there were multiple debriefs after the incident to discuss what they have learned and refine their responses to an emergency situation.
The conversation concluded on a high note, once again emphasizing purple pride.
"Everything we put our name on it should be the best of the values of Northwestern," Schapiro said, "whether it is performance, performing arts, humanities, social sciences, law, medicine, STEM field, and athletics."