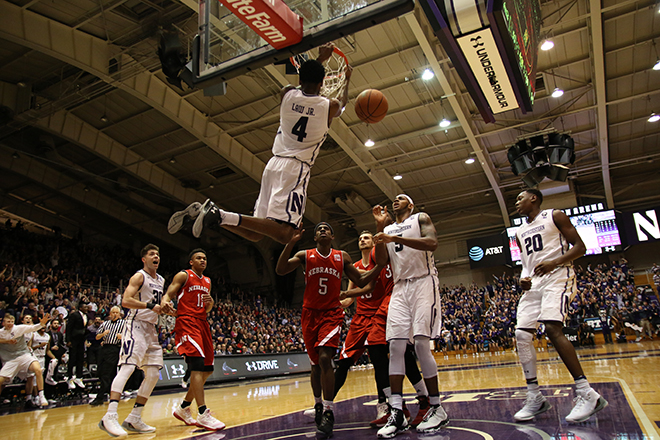 Dererk Pardon hit the floor hard. With 8:40 left in the game, the sophomore center got up grimacing. As he was helped to his feet by his teammates, he was regaled with rousing chants of "MVP" from the Northwestern fans, a recognition for a job well done.
On Thursday, Dererk Pardon was the difference. He scored a season-high 19 points and added three blocks and a steal – oh yeah, and he recorded 22 rebounds. Yes. You read that right. Twenty. Two. The most rebounds by a single Wildcat player in a single game since 1966 led Northwestern (17-4, 6-2 B1G) to a 73-61 victory over Nebraska (9-11, 3-5 B1G).
"For him to come out and have this kind of performance is just incredible," said Northwestern head coach Chris Collins. "I'm so proud of him. Dererk did not play his best at Ohio State [a 1-7 shooting performance in NU's upset win], and he took it really personally.
Speaking of 1966, it had been that long since Northwestern won five straight conference games. Not since 1944 had the Wildcats begun conference play with a 6-2 conference record. Welcome to 2017.
"Our guys were really motivated," said Collins. "The opportunity to win five consecutive league games, that was something that they brought up, that they used as motivation for this game, to try to continue to do some things that haven't been done here."
Bad shooting plagued both squads in the first frame – at one point neither team scored for over three minutes before Isiah Brown snapped the drought with a tough transition layup to level the score at 16.
Pardon was a monster on the glass from the get-go, with nine boards in his first nine minutes of action, none bigger than when he cleaned up a bad Brown miss with a putback slam with about two and a half minutes left in the opening period. Brown redeemed himself shortly after by making a jumper after a sweet juke and following that up with a contested three to give the 'Cats their largest lead in a while at 32-26.
Nebraska's Michael Jacobson missed a shot at the buzzer, and it was halftime. Or so it seemed. After a conference, the officials deemed that there were still 0.7 seconds left to play. The teams had been off the floor for over five minutes, but they returned just long enough for McIntosh to receive the inbound and hold onto the ball until the horn sounded, making for the most inauspicious end to a first half of basketball ever. Northwestern headed into the locker room, again, with a 32-29 lead.
At the start of the second, Nebraska pulled to within one, but a Pardon putback and McIntosh made three put the Cats up six. The bucket gave Pardon his second double-double of the year in just 24 minutes of game time.
After a stretch of sparse scoring, UNL's Glynn Watson, Jr. tried to push the pace, but Webster's pass couldn't be handled by Evan Taylor, and McIntosh chased it down. Accelerating the other way, he served up an alley-oop on a silver platter, and Law gobbled it up and threw it down. Welsh-Ryan Arena erupted.
Incensed by a perceived no-call shortly afterwards, Nebraska coach Tim Miles dropped to the ground and pounded the floor in protest. Miles then followed a referee out to midcourt, yelling the whole way. But instead of receiving a call reversal, he received a technical foul. Bryant McIntosh gladly accepted the ball and sunk both free throws, giving the 'Cats a 63-53 lead with 4:12 to go.
Just over two minutes later, Lumpkin buried a three from the top of the key. It was the icing on the cake. The nail in the coffin. The butter on the corncob. This game was finished. Webster converted a layup with 25 seconds showing to end a stretch of nearly six minutes without a Husker field goal, but he and Watson missed far too many shots down the stretch. The Wildcats made their shots, and finished strong for a 73-61 win.
"It's a make-or-miss league," said Collins. "When you get open shots, do you make them? Certainly, if McVeigh makes some of his shots and we miss ours, we could be sitting up here with them winning the game. Even Webster and Watson had some clean looks that they normally can make. There's no question: we knew we were going to have to play well to beat them, and I thought we did enough."
The Huskers tallied 41 rebounds, led by nine from Jacobson, but one of the best rebounding teams in the conference was outdone by Pardon and Northwestern.
In addition to the big man's big night, the Wildcats were led by 20 points from Law and 10 from Brown, who was playing added minutes in relief of an ailing Scottie Lindsey. McIntosh struggled shooting again, going 3-of-13 from the floor, but still finished with nine points and nine assists against just one turnover.
The Wildcats have a couple of days off before they're back in action against Indiana on Sunday night. Tim Miles didn't hesitate – he called this Northwestern team an NCAA Tournament team as long as it wins enough games. Thursday night's win was another good one to add to the resume, as the team and the fans start to believe that this could very well be the year.