Born and raised in Mexico City, Weinberg sophomore Sophie Lencioni moved to the United States in 2015 to attend Northwestern. As a dual citizen with an American father and a Mexican mother, Lencioni arrived with an open mind about whether to stay or leave the U.S. after college. But now, with Trump as the current president of the United States, she's not so sure staying is the right choice.
"Initially, I wanted to do four years of college and work for one year here," Lencioni said. "Especially because I need to have lived in the States for at least five years to give my American citizenship to my children. I wanted to work for an embassy, but now I don't feel comfortable doing that with an administration that doesn't respect me or my community."
When Lencioni visited the U.S. as a child, she remembers people assumed her Mexican mother was her maid and even tried to hire her. Lencioni's dual citizenship gives her a job-hunting advantage over other international students, but she faces the same dilemma: should she stay or should she go?
Lencioni says racism exists in Latin America as well. "If in America it's bad, in Latin America it's very, very bad," she said. "Even though Trump is awful, it's getting a conversation going about race. In Latin America, there's so much internal racism that isn't discussed openly. I still see America as a place of freedom where you can have open discussions and a place that ensures security as well as a woman."
For her, she says living in Trump's America is better than enduring the social and political situation back in Mexico.
International students all across the country have to decide whether they want to remain here after college, living in an era of Trump's travel bans and looming H-1B work visa reforms that may complicate the job search process. The president's stance on immigrants and visitors affects the future of many students who have come to the U.S. for college education, and his administration may make changes that can worsen their chances of staying after graduation.
According to the Institute of International Education, 1,043,839 foreign students studied at U.S. colleges and universities in the 2015-2016 academic year. Many of these students may worry about landing jobs out of school, and Northwestern's international community is no exception. Regardless of which country they are from, most students on campus still hope to stay in the U.S.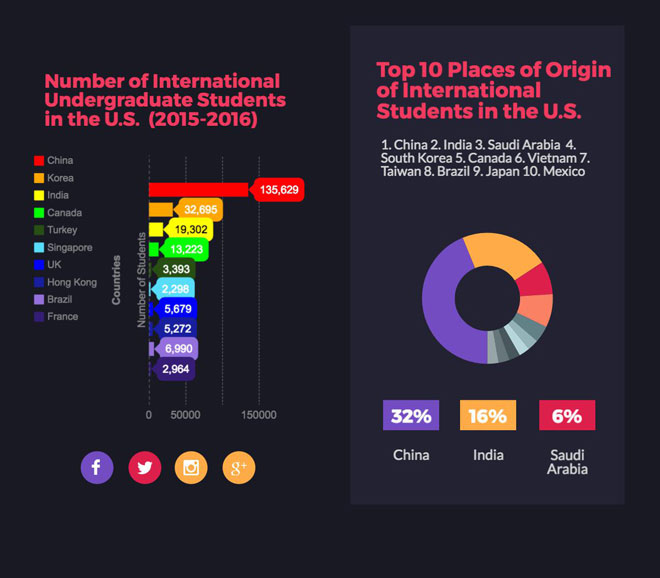 The Northwestern International Office's 2016-2017 statistics report stated 1,247 recent alumni are on Optional Practical Training — a 12- to 36-month temporary employment directly related to their major area of study. However, after the OPT expires, students holding an F-1 nonimmigrant student visa must find a company to sponsor them to apply for an H-1B work visa, granted through a lottery process.
"Every step of the way, there's anxiety," said Mahera Walia, a Weinberg senior from New Delhi. Even though Walia had already secured a post-college job in Boston, she's still worried about the work authorization process ahead of her. "First is will I get a job? Second is will I get a good job? Third is once I get the job, will I get the visa? It's a nonstop process."
Even with the challenge of obtaining work authorization, many international students still hope to remain in the U.S. after college.
"Industries here are bigger. The jobs you get here straight out of college are more challenging than how jobs would be at home," said Armaan Dhingra, a McCormick freshman from Dubai, United Arab Emirates. Dhingra said he does not have a specific post-college plan yet, but he definitely does not want to go back to Dubai for now. "Companies at home are reluctant to hire people that are young and fresh out of college. Dubai would be a great place to live when you're older with enough experience to get a job that pays really well, but I'd definitely like to start my career here."
Like Dhingra, some students said they believe they're more likely to land an entry-level job in the U.S. Selin Halman, a Weinberg junior from Munich, said she never planned to go back home. Although she loves the life she had at home, she wants to stay in the U.S. right after college. "My plan has always been to stay in America for at least the first three years after college for the work experience," she said. "I love the culture here, especially among young people."
Other students hope to learn new skills and gain experience at a job in the U.S. to enrich the future they will have when they return to their home country.
"Back home, I have a family business with supermarkets," said Yahia Bsat, a McCormick sophomore from Saida, Lebanon. "My father definitely wants me to go back and take over the business, but right now I want to try to get a job here for a few years right after I graduate and explore. Later, I'll bring the experience and skills I learn here back home to contribute to my family business."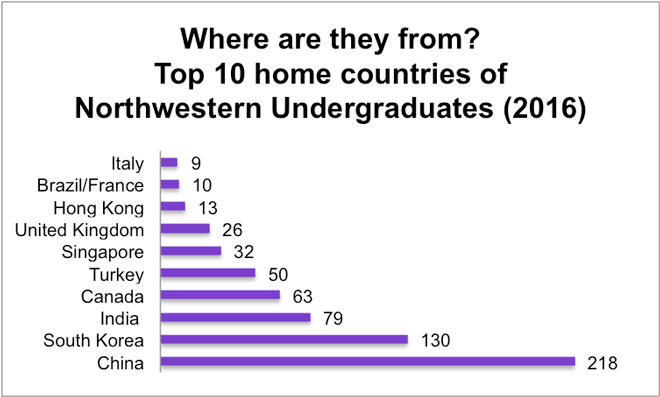 Difficulties continue to arise as a proposed amendment may decrease recent graduates' chances of finding a sponsor. In January 2017, U.S. Rep. Zoe Lofgren (D-Calif.) proposed the High-Skilled Integrity and Fairness Act (2017) that would increase the H-1B salary requirement to $130,000 from the $60,000 set in 1998. The legislation aims to prevent companies from hiring cheaper H-1B workers to replace U.S. workers.
"I'm definitely worried more because of Trump," said Yoko Kohmoto, a Communication junior from Okayama, Japan. Kohmoto grew up in the U.S. and attended different schools on a student visa for many years, but she still faces the challenge of finding a way to stay in the country after college. "Especially with the new High-Skilled Integrity Act, it's not looking great because there's no way I'll make $130,000 right out of college when I'm trying to land marketing jobs. So I'm thinking of graduate school now."
Still, some students say they do not wish to go through the complicated job search, especially with the new president's "America-first" policies.
"A lot of my friends here just give up [on] finding jobs in the U.S.," said Brandon Lin, a Bienen junior from Hong Kong. "They know the chances of getting a job without citizenship is hard. All of my friends from Hong Kong and Taiwan feel the same way. The pay in Hong Kong is pretty good, so they look there."
Even now, international students at elite universities should be able to find jobs after graduation, said Professor Daniel J. Galvin, the director of undergraduate studies in political science. "Employers are probably still going to be very happy to support the visa. That is one area of political consensus — that we want high-skilled immigration. The white-collar jobs that Northwestern students want to get will still be available. A degree from Northwestern is still valuable."
The Institute of International Education listed China, India, Saudi Arabia, South Korea, Canada, Vietnam, Taiwan, Brazil, Japan and Mexico as the top 10 countries represented in the enrollment. The International Office reported that 815 internationals attend Northwestern as of fall 2016, accounting for about 10 percent of the undergraduate population.
"I'm set on trying to stay here. The chances of me finding a way to stay for more than two years are a lot lower than I like them to be," said Huy Do, a Communications sophomore from Vietnam.
Like many other internationals, Do hopes for a miracle despite the numerous challenges they face against the administration. He said Trump has not scared him away from staying in the United States after college.
"If I ever go back home, it'll be the last resort. I want to raise my family here, for the freedom and the education. A part of me is still really hopeful for a miracle, for my ability to find a job to allow me to stay here," Do said.