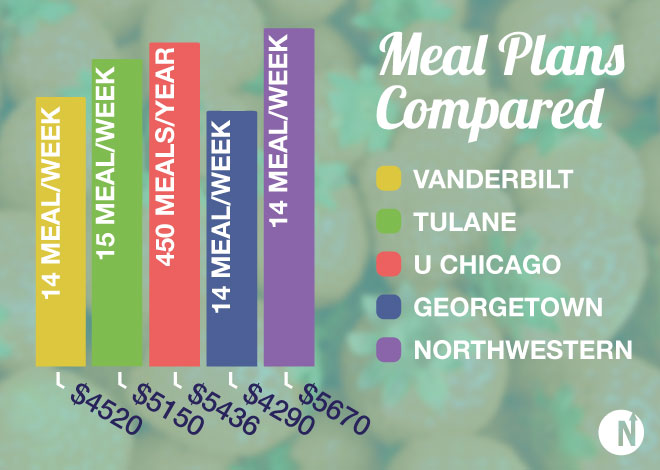 Sitting in the mid-afternoon ghost town of the Foster-Walker dining hall, Weinberg sophomore Naomi Stevenson sipped a tall glass of neon-blue Powerade. She had just finished lunch: a plate of salad, one slice of pepperoni pizza and some fries. And she did not think it was worth the price.
About half of Northwestern undergraduates are on one of nuCuisine's meal plans, said Julie Payne-Kirchmeier, assistant vice president of student auxiliary services. These can cost anywhere from $5,181 to $5,844 for the year. The WildCat Weekly 14, the default option for incoming freshmen in 2013, provides 14 meals each week, coming out to about $11.25 each time students chow down.
"It's obscene," Stevenson said. "I could eat at Chipotle for cheaper than that. And this isn't any better than restaurant food."
Northwestern contracts with Sodexo to provide workers and meals for campus dining. But University Food Services, part of the Division of Student Affairs, calls the shots on prices. The University maintains dining facilities and provides utilities, while Sodexo pays for overhead such as labor, food and supplies. Each year, as the University works to set pricing, nuCuisine presents its costs.
"We give our opinion," said Erich Geiger, residential dining operations director for nuCuisine. "We don't get a vote."
Meal plans at Northwestern cost about $1,000 more per year than similar-sized peer institutions Georgetown University and Emory University. The 8,000 undergraduates at each of those two schools share just one dining hall, as opposed to the six facilities at NU.
"This is more like a family-size dining room," Geiger said. "It encourages the conversations that solve cancer, or figure out the new energy source, because it's not the huge, mindless, massive building."
However, Geiger said, this also means staff, supplies and maintenance for each facility, translating to a steeper price tag. Michael Fagan, a Weinberg sophomore, said it's worth the extra money.
"I like the options, and it's nice you don't have to walk across campus," Fagan said. "There are days when it's getting really cold, and I haven't left Willard. I just walk downstairs and walk back up."
But Weinberg freshman Stephen Rhode said he could see some advantages to a one-building system. "It might be a better way to increase school unity and bonding instead of just eating with the same people all the time," Rhode said. "I feel like if there was one centralized dining hall, I'd definitely see more people."
Rates also jumped over $200 per plan in 2012 after Northwestern's student-driven Living Wage campaign helped nuCuisine staff demand higher pay. The four-year contract negotiated between the workers' Unite Here Local 1 union and Sodexo included a $10 minimum wage, yearly raises and free health care. The minimum wage in Illinois is $8.25.
"It's very generous," Geiger said of the contract. "We're not complaining. We're simply saying that's a component. Somebody's gotta pay for it."
Despite the additional cost, Lexxi Becker, a junior in Weinberg, said she supports these measures. "The dining hall workers do so much for us," Becker said. "It's important for Northwestern to treat all employees well."
But Willard chief cook Tom Breitsprecher, a union steward for nuCuisine employees, said, in the end, the campaign didn't live up to workers' hopes.
"Because Sodexo's paying so much for the health insurance, we didn't get the big raises we were asking for," Breitsprecher said. "I haven't seen a doctor in well over a year, maybe two years … A lot of people don't use health insurance regularly."
As for what students want on their plates, dining hall food isn't as simple as meat and potatoes anymore. Payne-Kirchmeier said an increase in student demand for specialized options, from vegetarian and vegan to local and organic, has added to costs as well.
"Our students here are, we'll call them, 'culinarily savvy,'" Payne-Kirchmeier said. "Their expectation of what you get from a meal plan is different than maybe some other students on other campuses."
The money students pay for meal plans goes back into the dining program, paying costs of both the University and Sodexo, Payne-Kirchmeier said. Sodexo also takes a level of profit, which nuCuisine district manager Steve Mangan declined to discuss, though he said it isn't much.
"If you had a million dollars to invest, you wouldn't be doing a dining service," Mangan said.
The contract between the University and Sodexo runs through 2018, so meal plans are not going away anytime soon. And as a daily part of life at Northwestern, Geiger said students are getting much more out of their dining halls than just a full stomach.
"It's the living and learning environment. It's the community that food creates," Geiger said. "Your opinion of the school will be about the friendships you make and the relationships you develop, and a lot of that happens at the dinner table."