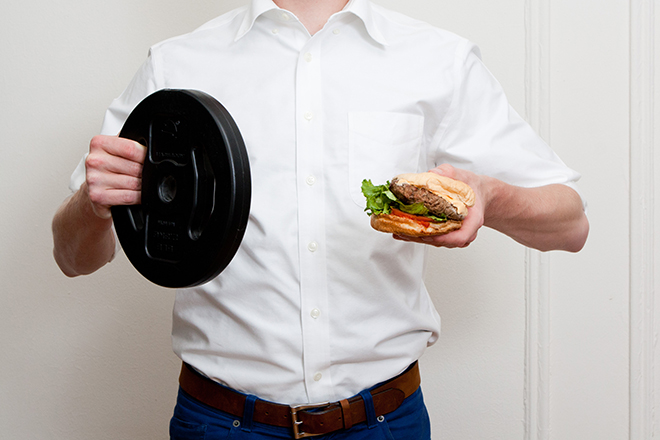 The Evanston restaurants we crave come with consequences of the specifically "extra pant size" nature. But don't worry. Enterprising Wildcats can have their cake—or Andy's or Edzo's—and eat it too, if they burn it off with these NU-inspired exercises.
EAT: One Andy's small vanilla custard, 525 Calories
DO: 10 walks of shame from Elder to 1835 Hinman
Everyone loves a good cup of frozen custard from Andy's, but something that delicious comes with a price. A small cup of vanilla custard without toppings contains approximately 525 Calories. To burn off this sweet treat, ten back-to-back 12-minute walks of shame (or maybe strides of pride) at around 3.5 mph are necessary. Who knew a walk of shame could taste so good?
EAT: One Five Guys hamburger with fries, 1,226 Calories
DO: Four free Fusion Dance Company classes
A burger and fries is a classic American combination. It's also a perfect way to ingest about half of your daily caloric intake in one meal. Though we love Five Guys, this 700-Calorie hamburger and 526-Calorie french fry meal is huge. Five Guys brags that there are more than 250,000 ways to order their burger, so there are probably just as many ways to burn it off. One method is to attend four hours of hip hop classes with Northwestern's Fusion Dance Company. Yes, you'd need to twerk for straight four hours to compensate for this savory Evanston go-to. It's unclear if that's terrifying or wonderful.
EAT: One slice of Lou Malnati's deep dish cheese pizza, 470 Calories
DO: All four floors of stairs in Kresge, 30 times
We get it. You can't say no to Lou Malnati's deep dish pizza at your 20th PA group reunion this year. Throwing back slices may offer solace as your peers recall embarrassing Wildcat Welcome moments, but realize that a single slice of deep dish has about 470 Calories. With that in mind, imagine how taxing a jog up all the stairs to the fourth floor of Kresge would be. Now imagine doing that 30 times. That's right: It would take nearly 30 trips up and down all of Kresge's stairs to burn off the Calories from one slice of deep dish.
EAT: One full serving of Le Peep's blueberry pancakes, 1,027 Calories
DO: Five straight hours of intramural volleyball
Le Peep is one of the best brunch places in Evanston. Unfortunately, while Le Peep advertises "the best breakfast food in the country," it also has some of the town's most unhealthy food. The blueberry pancakes, for example, contain 1,027 Calories. To burn off Le Peep's enchanting pancakes, you would have to play moderate-intensity intramural volleyball nonstop for 300 minutes. And as much as NU students love their intramural sports, that's a lot of bumping, setting and spiking in the hottest depths of hell (aka Blomquist Gym), and for much longer than is comfortably acceptable.