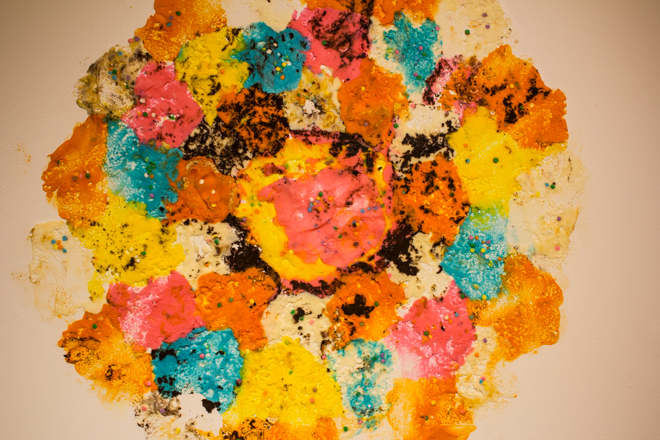 In a single Northwestern experience there are many built-in milestones: marching through the Arch, going to your first football game, declaring your major, joining a sorority or fraternity, dropping a sorority or fraternity – the list goes on. College, like most transitory periods of life, comprises a succession of milestones, flying by toward an unknown, unformed future.
Embracing the Chaos, this month's exhibit in the Dittmar Gallery, is a call to slow the pursuit of milestones and to memorialize the mundane – fitting for its convenient space in one of the busiest places on campus. Located just behind Norbucks, Dittmar Gallery is often a stop for students waiting in the long morning line for coffee or walking from one meeting to the next. This month's exhibit highlights the work of Chicago artist Erin Elizabeth, whose experiments in celebration and mundanity disrupt what she calls the "hierarchy of experiential value."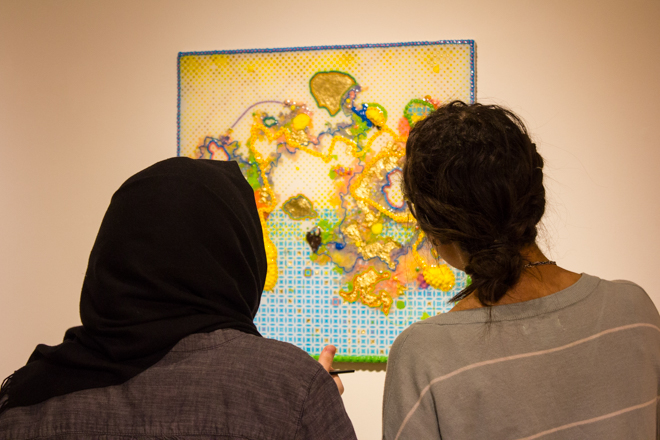 Elizabeth incorporates traditional symbols of value, like gold leaves, with more common celebration fare, such as cake frosting and sprinkles, to draw contrasts between what is conventionally treasured and what is typically seen as customary or banal. These pieces chronicle a passage through motherhood and adulthood not through milestones, but through the particularities of experience – in "Momdala," thinly cut baby food labels are arranged in intricate concentric circles; in "Serenity Now!!" sprinkles fill a sandbox-like basin, bringing a celebratory air to common playground fare.
Vibrant colors and youthful textures pepper the exhibit, which is fitting since she cites her children are one of the main inspirations for the exhibit. Her use of baby food containers and colorful frosting and sprinkles in some notable pieces serve as conservation of these souvenirs from the daily life of a mother. "On Marking It" features a vibrant smearing of cupcake frosting on the gallery wall, with the remnants of the crumbled cakes collected just below. "The Inevitability of Conclusion" includes the smashed cake from her son Joey's first birthday, with its dented appearance preserved in resin, giving it a plastic sheen reminiscent of freeze-dried food. By preserving these moments of destruction or chaos, Elizabeth memorializes what is often obscured or purposely forgotten and brings value to strife, struggle and disarray.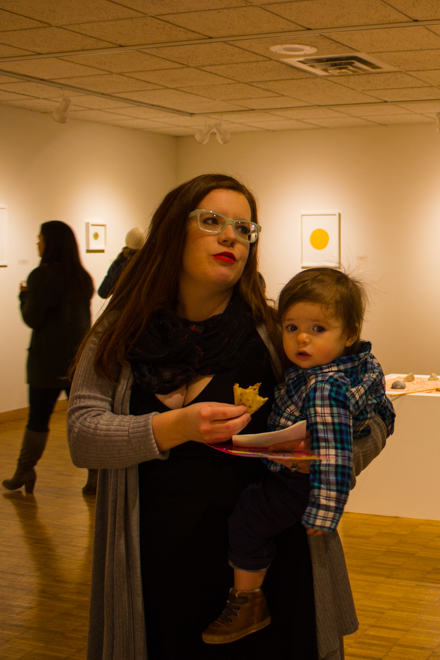 When students return to our chaotic, busy, pre-professional Northwestern environment, we often forget that there is value in both composure and confusion. When asked about the larger messages of her exhibit, Elizabeth says, "What I'm always reminded of is to be more present, to not be looking forward to the next thing, or the next thing."
Embracing the Chaos will be on display from Jan. 6 to Feb. 12 in the Dittmar Gallery, located on the first floor of the Norris University Center.