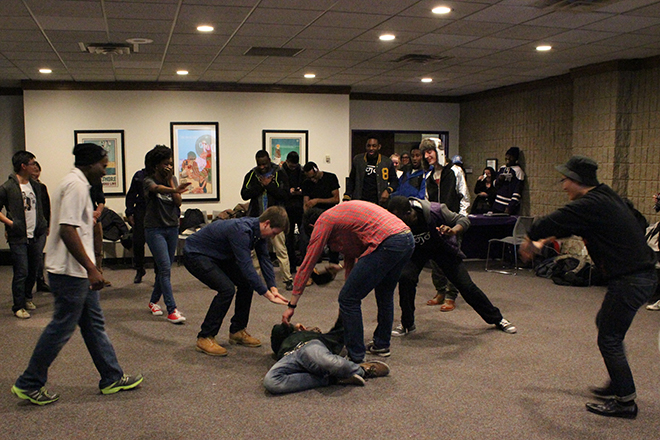 Expectations were high as students gathered to freestyle rap together Saturday night at an NU Freestyles event put on by Don't Only Just Observe (DOJO).

"I hope someone just drops legendary bars," said Michael Gross, a junior in Weinberg and DOJO executive board member.

DOJO, started last March, is a student group meant to cultivate the hip hop community at Northwestern. Every month or two, they hold freestyle events where any student, regardless of experience level, can come rap. Saturday night's event, which took place in the Lake Room in Norris, was the seventh NU Freestyles so far.

"It's a really great space for people who are creative-minded," Gross said.

For some, DOJO's benefit extends beyond just the group itself.

"DOJO provides a really great outlet for the community," said Steffany Bahamon, a sophomore in McCormick and another DOJO executive board member.
Throughout the night, different beats were played as participants gathered in a circle and took turns freestyling. In addition to open freestyling, students played a number of games involving rap, including one to help everyone learn each other's names. Later on in the night, participants rapped based off of one-word suggestions, written by students at the beginning of the night, that they had pulled out of a box. Words included "mediocrity," "lasagna" and "aliens."

The night ended with an opportunity for people to perform any material that they had written beforehand, followed by more open freestyling. Hannah Wald, a Weinberg sophomore who had never tried freestyle rap before, found the experience exciting.

"Once you get into it, you don't really stop," she said.

Aaron Clarke, a freshman in Weinberg, agrees, saying he likes the way freestyle lets him play with language and how words interact.

"I like the kind of spontaneous creation," Clarke said. "I also like the capacity for community to be made."

One of the goals of DOJO is to create a positive environment for everyone to try freestyle rap in, something that many students appreciated. 
This encouraging attitude invites a wide range of skill levels.

"No one felt bad if you weren't the best," Wald said. "Everyone was supportive."