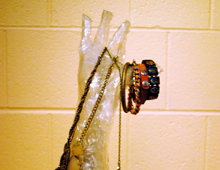 Living in a tiny dorm means that you don't have a lot of room for your many, many things. Between trying to maximize all of your storage space for clothes, shoes, books and food, you might not have a place to put your jewelry. Don't stuff your gems into a tiny box, though. Your bling is beautiful and should be put on display. Here are some do-it-yourself projects to help you show off your jewely even in the tiniest of dorm rooms.
Give yourself a hand
A cool way to showcase your jewelry is by using a hand-shaped stand. Don't spend money on one, though. Make one using your own hand as a mold. Start with a roll of packing tape. With the sticky side facing up and away from your arm, wrap the tape around your forearm up to your wrist. Then, with the sticky side facing down, wrap a few more layers around your forearm so it's sturdy enough to stand up on its own. Repeat this process, wrapping the tape around your wrist, hand and fingers.
To remove the mold from your hand, take a pair of scissors and cut the tape. Make sure not to cut the tape too high, just enough to slide your arm out. More importantly, be careful not to cut your real arm in the process. Retape the part of your mold where you cut through, and you have a mold in the shape of your arm to hang all of your necklaces, bracelets and rings on. If the stand is still not standing on its own, you can put a water bottle or cup through the bottom to steady it. Also, if clear packing tape isn't your thing, you can paint over the tape in your favorite color.
Wall so hard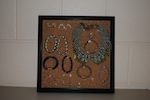 While closet space and desk space might be hard to come by, you can use your wall to show off your jewelry. The two basic accessories you need are cork board and thumbtacks, but you can add a lot of extras to make it even more decorative. The first way to liven up a simple cork board jewelry display is to wrap your cork board in cloth. Even using a simple solid color will look a prettier than the coarse-looking cork. Make sure you have a large enough area of cloth to wrap around the back and then staple the cloth to the cork or glue using a hot glue gun.
Another thing you can do is frame it. It'll make your jewelry look more like a painted masterpiece than a place to display some accessories. The picture frame can also be functional depending on what you get. A frame that pops out from the wall about an inch can hold even more jewelry or catch anything that may fall off. You can also replace your thumbtacks with some small door knobs or drawer handles. Make sure they're thin enough so you can even hang earrings off of them. They're a lot better looking than tacky colored thumbtacks. Glue the handles and knobs using a hot glue gun.
Let it all hang out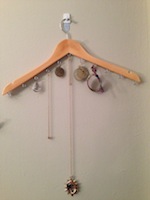 All you need to make your own one-of-a-kind hipster accessory organizer is a wooden hanger and some screw eyes. You can buy wooden hangers at any CVS, Bed Bath & Beyond or Target. You can also steal them from your neighbor's dorm room. It's probably best to ask beforehand, though. You can find screw eyes, little metal loops with a screw ot one end, at most art stores. Blick Art Materials is a great choice, which is located on Maple Avenue a few stores down from the movie theater.
To start, decide how many pieces of jewelry you want to hang. Collect a corresponding amount of screw eyes and screw them into the underside of your hanger. If the hanger is super thick, you might need to use pliers. Otherwise, the screws should go in easily. That's all there is to it. Who knew it was so easy to be creative? You just gained a functional and fashionable accessory. If you want to get even crazier, you can paint your hanger to match your room's color scheme. Last but not least, grab a command hook and hang your glamorous creation on the wall. Everyone will marvel at your incredibly chic and ingenious idea. Except for that person you stole the hanger from. They'll just be suspicious of your DIY projects forevermore.