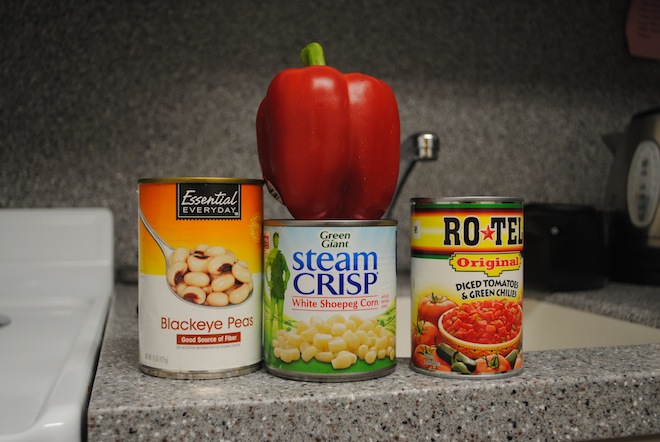 It's important that everybody learn how to cook two things in their life: a meal for yourself (and a significant other, if you desire), and an appetizer or something else you can bring to a dinner party. This dip is a great example of the latter. It might require a few more ingredients than non-cooks have ever touched, but preparation could not be easier. And, despite the name, it's vegetarian.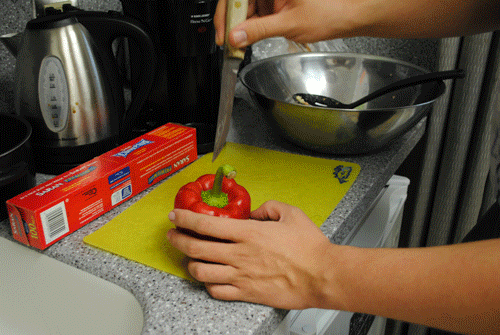 The key ingredients are black-eyed peas (the titular "caviar"), shoepeg corn and Italian dressing. I also used Ro-Tel, black beans and a fresh bell pepper and onion. You can mix it up with the exact contents as you see fit: black olives, whole corn and all sorts of other things work too. On the tools side, you'll need a can opener, a bowl to mix and serve in and some plastic wrap to cover it.
The easy parts here are the canned goods: open the cans and drain the liquid out of the can. If you don't have a strainer, just hold the lid down to prevent the contents from escaping, and don't sweat it if you don't get everything out. Pour everything into the bowl.
If you've never cut up a pepper before, here's how my roommate taught me to do it this summer: take your knife and slice around the stem, then pull to remove the seed-covered core. Run some water inside to help remove any lingering seeds, then slice down the sides and cut it into small chunks.
Once you've got all of the ingredients in the bowl, drizzle the dressing over everything and mix the contents until you have a nice uniform appearance. Then cover the bowl and refrigerate. Leave it overnight for best results.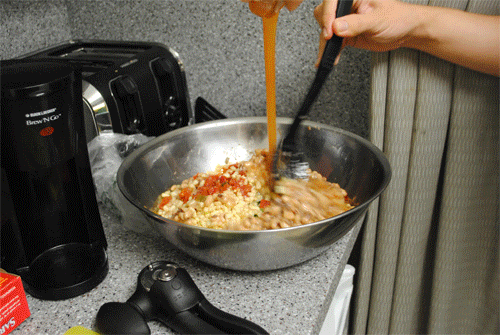 I made a pretty massive bowl here for a large party (2 cans of everything but the black beans), but you can scale this as you desire depending on the crowd you expect and the size of your bowl. This is ridiculously simple and yet it looks complex enough to impress. Most importantly, it's delicious.

And don't forget chips for dipping.